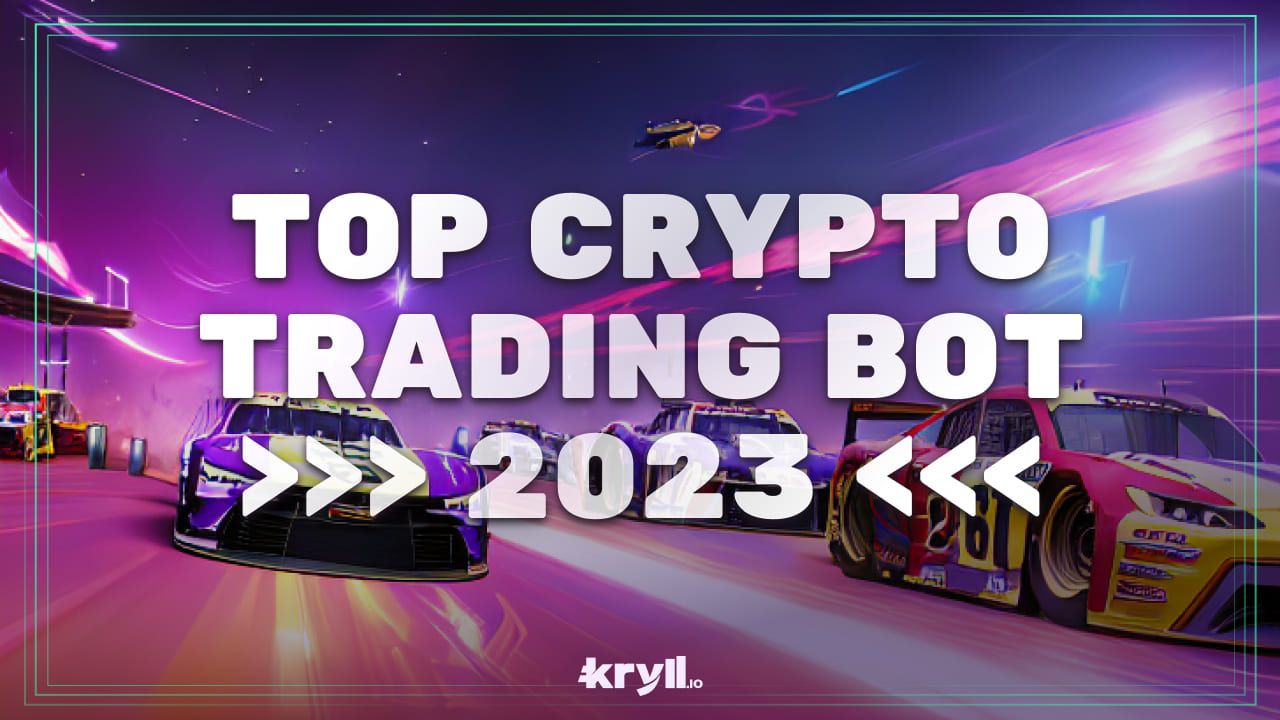 Crypto Trading Bots 2023: Our Ranking of the 5 Best Trading Robots Trading on the cryptocurrency market in 2023 can be time-consuming and complex. That's why there are many crypto trading bots available to help traders automate their trading strategies. However, it can be difficult to choose among the many available trading bot platforms on the market.
There are two types of crypto bots: some are pre-configured strategies that can be used immediately, while others must be configured by the user according to their preferences. The principle of how bots work is as follows: they interact with cryptocurrency exchange platforms (such as Coinbase, Binance, etc.) to analyze market data and place buy or sell orders based on the bot's pre-defined configuration (e.g. based on price, technical analysis, or AI).
In this article, we will review the 5 best platforms for automating crypto and bitcoin trading in 2023, highlighting their strengths and weaknesses.
The advantages of trading with robot

Discipline: Trading with a bot sticks to a predefined strategy to achieve the set objectives. At no time will human emotions enter the equation.
Trade while you sleep: The other very important advantage of automated trading is that your bot will monitor the market 24/7.

No need to be a pro: Trading on the basis of technical indicators is not for everyone but thanks to robots developed by experienced traders you can trade like the professionals.
Reaction time: Being reactive in trading is crucial. If an upward or downward movement is triggered then every second counts to take advantage of it.

Diversification: Automated trading allows you to position yourself in dozens of different assets at once without having to monitor all these markets one by one.
Top 5 Bitcoin & Crypto Bots (2022)

1- Kryll.io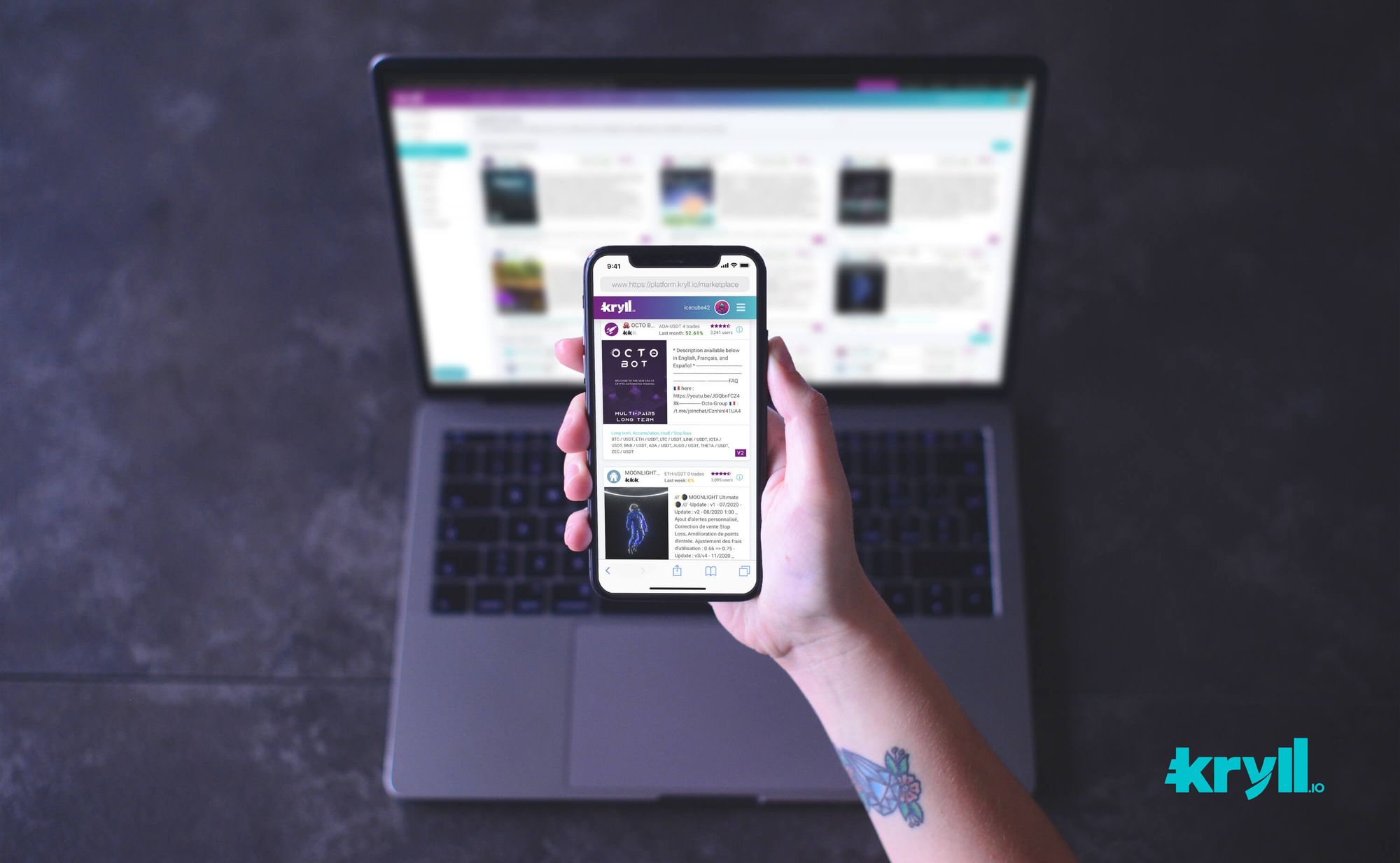 Kryll.io is a platform that allows cryptocurrency traders to create trading strategies without the need for programming knowledge. To do this, they can use a visual editor that allows them to move blocks of actions using a "drag and drop" system. This editor includes basic action blocks such as buying and selling, as well as technical blocks such as RSI, Ichimoku, Bollinger, and candle patterns. This tool is suitable for both beginner and professional traders.
In addition to this feature, Kryll.io offers a marketplace of trading strategies created by traders and tested by the community. These strategies can be used by anyone with a few clicks. The creator of the strategy is paid each time their strategy is used through a rental system.
Kryll.io users can also use the trading terminal to improve their manual trading using stop-loss and take-profit. They also have the option to exchange their cryptocurrencies without having to log into their exchange platforms using the swap function.
In terms of pricing, Kryll.io uses a pay-per-use system with no required subscription. Fees are calculated based on the trader's current capital, for example at a rate of 0.0333% per day. A KRL token holding system also allows users to receive discounts on platform fees, up to -95%.
Recently, the Webhooks function has been put in place and futures strategies are appearing on the marketplace, so be sure to check it out.
Kryll.io is compatible with several exchange platforms, such as Binance, Binance US, Kraken, Bittrex, HitBTC, Kucoin, and Coinbase Pro.
Pros ✚
Allows you to create trading strategies for free and without coding skills, using blocks.
Free and unlimited backtesting (up to 7 years).
Nothing to install on your computer, everything works in the cloud 24/7.
Marketplace that allows you to choose from a multitude of ready-to-use strategies.
Ability to monetize your own strategies.
English, French and Spanish communities.
Pay-per-use pricing, no subscription required.
KRL Token Holding Program to get discounts on fees (up to 95% off).
Swap feature to sell your cryptocurrencies in a few clicks, without connecting to exchanges.
Mobile application available (iOS/Android) to follow your strategies.
Reactive support and team always available.
Secure: because the platform does not require withdrawal rights on API keys.
Cons ➖  
Low Futures strategies on the marketplace
Still few exchanges available (even if new ones are added regularly)

2- Pionex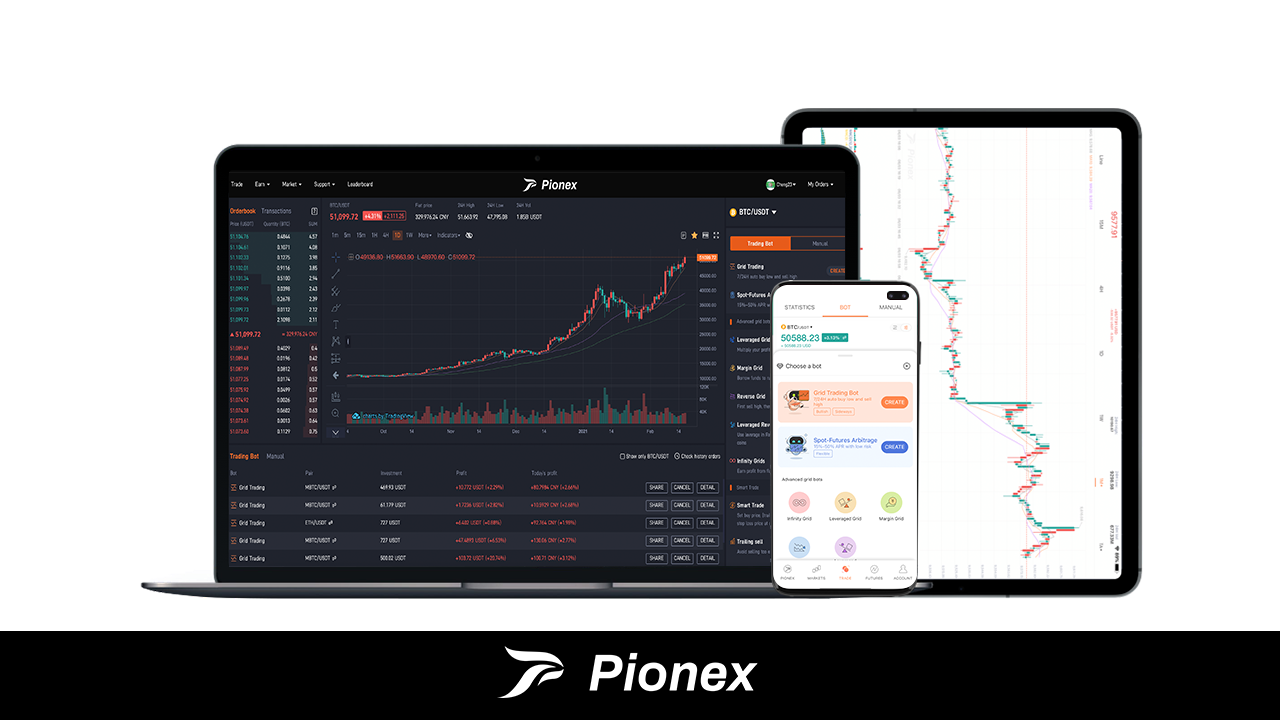 Pionex stands out by offering a platform that combines an exchange with tools for automating trades, very popular in Asia. Among the bots offered are the Trailing Buy Bot, the Trailing Sell Bot, the Smart Trade Bot, the Grid Trading Bot, the arbitrage bot, and the leveraged trading bot (up to x5).
The other strength of Pionex and the support of many exchanges including Binance, Huobi, Coinbase Pro, Pionex, FTX, KuCoin, OKEx, Bithumb, Gate.io, Bitfinex, Poloniex, Bittrex Liquid, ProBit, BigONE Indodax, Lban, Bitbns, Bitget,Bybit, BitoPro, CEO Global, HBTC, Hydax, MEXC, ShuBao.
The mobile application (Android & iOS) is easy to learn and the bots are easy to use.

Pros ✚
No subscription fee (0.05% fee per trade).
A plethora of exchanges available.
Many bots available.
Cons ➖
Impossible to fund your account with FIAT.
Leverage limited to x5 on margin trading.
3- Botsfolio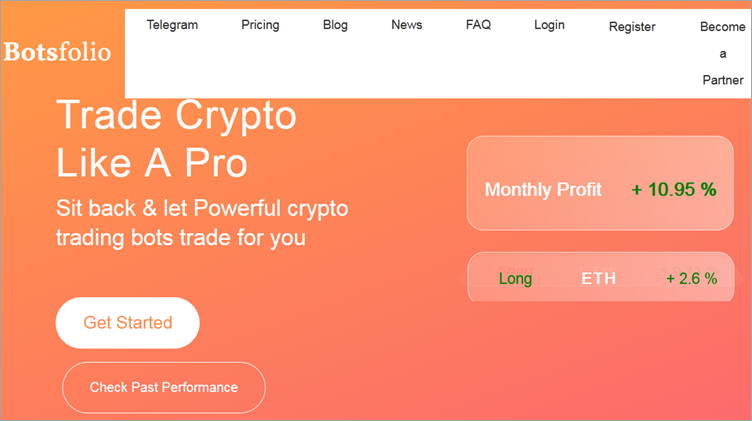 Botsfolio allows you to invest money in cryptocurrencies by connecting a cryptocurrency exchange account and defining your investment strategies. No trading skills or experience are required. You don't need programming knowledge to create and set up trading bots. You can then track the progress of the trading and the profits or losses on the dashboard.
It supports automated trading for those with accounts on the Binance, OKx, and Coinbase Pro cryptocurrency exchange platforms. These accounts are linked via API keys. After depositing money or crypto on these platforms, you can then connect the accounts to the bot and decide to invest money among scalping strategies, futures trading, value investment, and covered trading.
You will define the amounts to be distributed across each of these strategies and the bots will automatically apply the rules.
Pros ✚
Great UX and well thought out platform.
Telegram signals
Many exchanges supported
AI integrated

Cons ➖
Can be complicated for beginner traders.
Subscription system a bit complicate to understand.
Big wallet pay a lot of fees
4 - CoinRule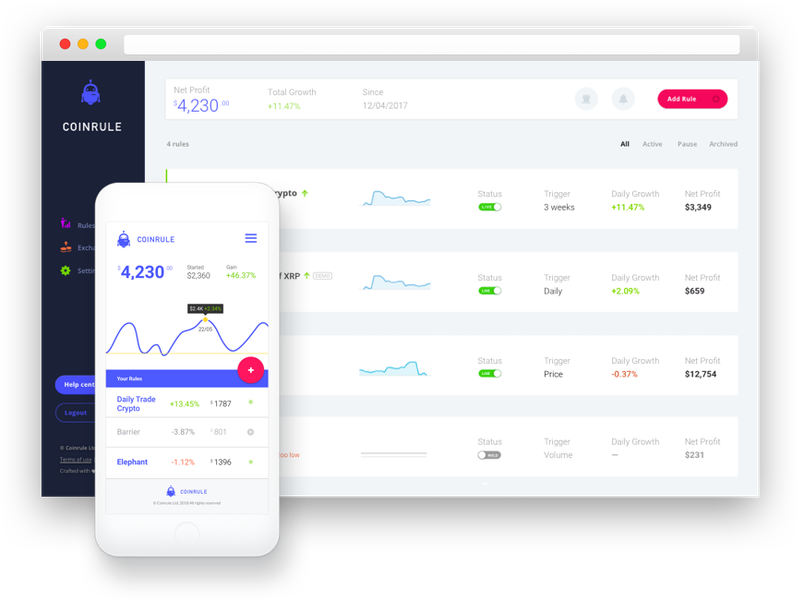 CoinRule allows you to create your own trading bots using a rule system without any programming knowledge. The platform, which operates entirely online, also offers over 150 pre-defined bots that can be used immediately.
Pros ✚
You can create bots without programming knowledge.
Cons ➖
No mobile application.
Not for beginners.
"Rules" system sometimes a bit complicated to use.
5- Stacked Invest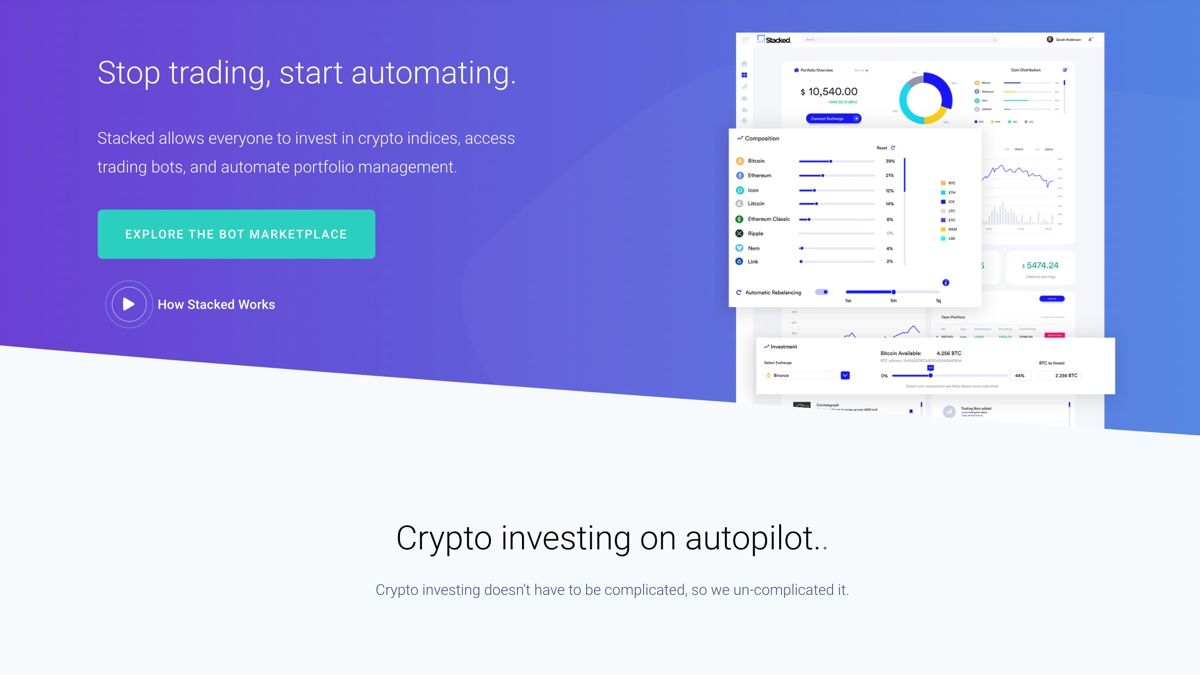 Stacked Invest is a relatively new platform in the world of crypto that mainly targets beginner traders. With a clear and simple interface, Stacked Invest offers a wide variety of trading strategies designed by professional traders that can be quickly implemented.
The exchanges compatible with the platform are Bybit, Binance, Bitfinex, Okx, and Bitmex.
Pros ✚
Easy to use
Numerous features (Rebalancing, staking, lending)
Portfolio manager
Cons ➖
No mobile app.
Basic subscription required and an additional subscription is required to use each bot, which can add up quickly.
As you can see, each crypto bot service has its pros and cons, and the pricing must also be taken into account in order not to cut into your profits. It's up to you to choose what suits you best!

‌Happy Trading,
Website : https://kryll.io
Twitter : @Kryll.io
Telegram EN : https://t.me/kryll_io
Telegram FR: https://t.me/kryll_fr
Telegram ES: https://t.me/kryll_es
Discord : https://discord.gg/PDcHd8K
Facebook : https://www.facebook.com/kryll.io
Support : support@kryll.io