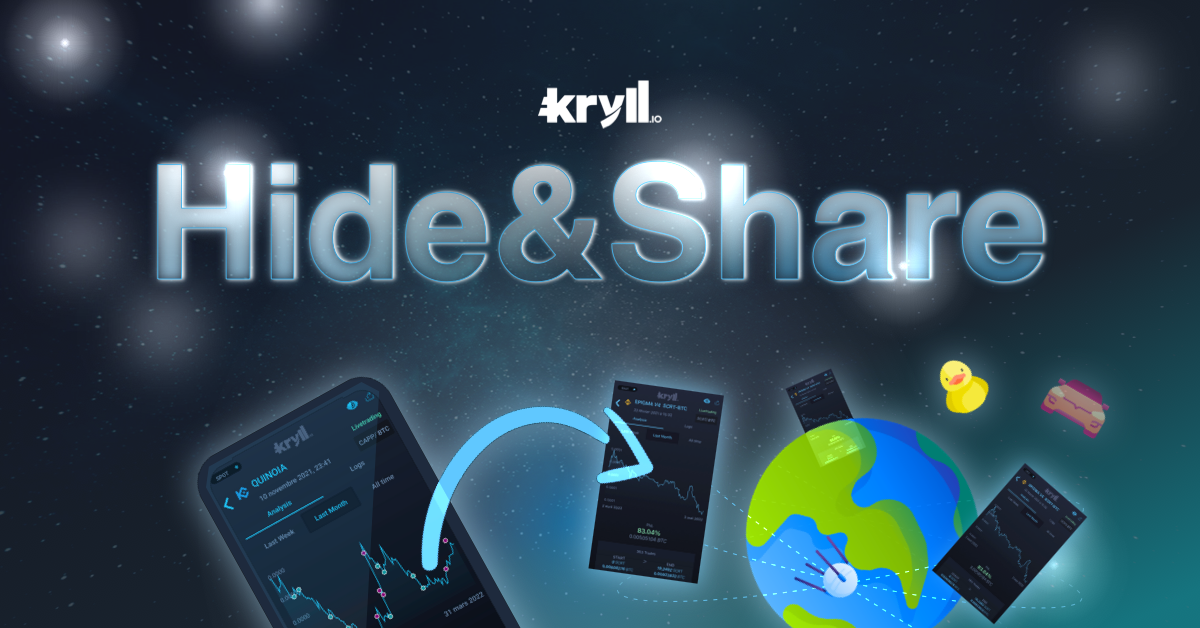 Las nuevas funciones "Hide & Share" están disponibles en la versión V2.11 de la aplicación móvil
El equipo de Kryll.io te presenta la nueva aplicación móvil. Y como fue prometido, nuevas funcionalidades se iran añadiendo con el paso del tiempo.
COMPARTIR ESTRATEGIAS DE MANERA FÁCIL
Una de las nuevas opciones puestas en marcha por nuestros equipos es la tan esperada función "Compartir". Ahora puedes compartir tus estrategias con tus amigos y todas tus redes sociales con sólo pulsar un botón.
🚨 New app update (v 2.11) is now live on iOS / Android

What's new?

- "Hide&Share" feature: You can now hide your portfolio capital and/or share your strategies results

- Stop&Swap: You can stop a strategy and revert back to your assets

Changelog ➡️ https://t.co/y86HKwkXmN pic.twitter.com/b63rsHsTKi

— Kryll (@kryll_io) May 17, 2022
La función "Ocultar" te permite mostrar tus estrategias omitiendo los resultados y las sumas implicadas en ella, de modo que puedes mostrar a tus círculos o al público la eficacia de tus estrategias manteniendo cierta privacidad sobre las cifras asociadas a ellas.
Estas características ya están disponibles actualizando tu aplicación en las respectivas tiendas de aplicaciones. Descarga la aplicación móvil de Kryll para iOS / Descarga la aplicación móvil de Kryll para Android.
Ten en cuenta también que la última actualización de la app móvil V2.1.1 trae la función stop & swap, que te permite detener tu estrategia y convertir tus criptoactivos.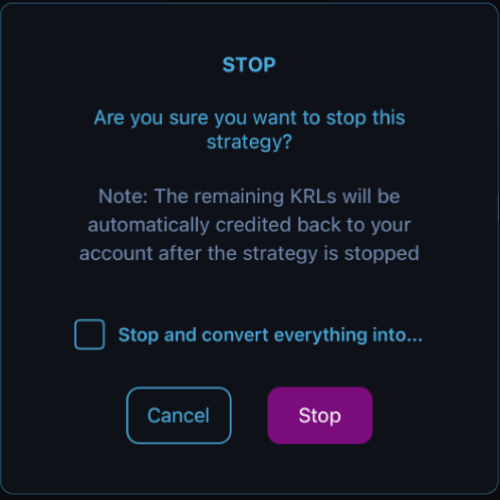 Como de costumbre, nuestra comunidad desempeña un papel muy importante en nuestras acciones y actualizaciones, por lo que estas características tan esperadas ya están disponibles. Mantente conectado en nuestras redes sociales para participar en futuras encuestas y formar parte de la evolución de kryll.io.

Felices operaciones!!!
Sitio Web: https://kryll.io
Twitter: @kryll_es
Twitch: https://www.twitch.tv/kryll_es
Telegram EN: https://t.me/kryll_io
Telegram FR: https://t.me/kryll_fr
Telegram ES: https://t.me/kryll_es
Discord: https://discord.gg/PDcHd8K
Facebook: https://www.facebook.com/kryll.io
Youtube: https://www.youtube.com/c/KryllESLatam
TikTok: https://www.tiktok.com/@kryll.io
Soporte: [email protected]