November 2, 2022
Coindesk releases an article on the status of Alameda Research LLC (founded in 2017 by Sam Bankman-Fried - "SBF", founder of FTX) It is learned that the $15 billion capital of Alameda and FTX consists mainly of FTT (FTX's token) and its distribution is concentrated on FTX and Alameda.
November 6, 2022
Binance, which had invested in FTX at the beginning, sold its shares against FTT and BUSD. Faced with rumors about the solvency of the FTT token, Binance's CEO, CZ, announced on Twitter the gradual sale of its 23M FTT tokens ($584,000,000). SBF retorts by saying that these are rumors launched by its main competitor.

The community, already affected by scandals (Celsius, Luna or 3AC), panics and provokes a "BankRun": $6 billion in value is withdrawn in less than 72 hours. The FTT token collapses and FTX blocks withdrawals. The market falls heavily which does not prevent SBF from shorting USDT to make profits! CZ (Binance CEO), Justin Sun (Tron CEO) and Huobi offer to help FTX, but the estimated debt (between 15 and 50 billion dollars with owed to about 100,000 creditors) dissuades them.
November 11, 2022
SBF is now bankrupt and resigns as CEO and is replaced by a lawyer (the one in charge of the liquidation of Enron in 2001). SBF, lost within 1 week, approximately 16 billion dollars. The next day, November 12, FTX is reportedly the victim of a hack worth about $400,000. Binance publishes its Proof of Reserves revealing $69 billion in assets to reassure its users.
Why did FTX collapse? It was a Flywheel.
1- The "Flywheel"

The use of a "Flywheel" system to distort the company's balance sheet: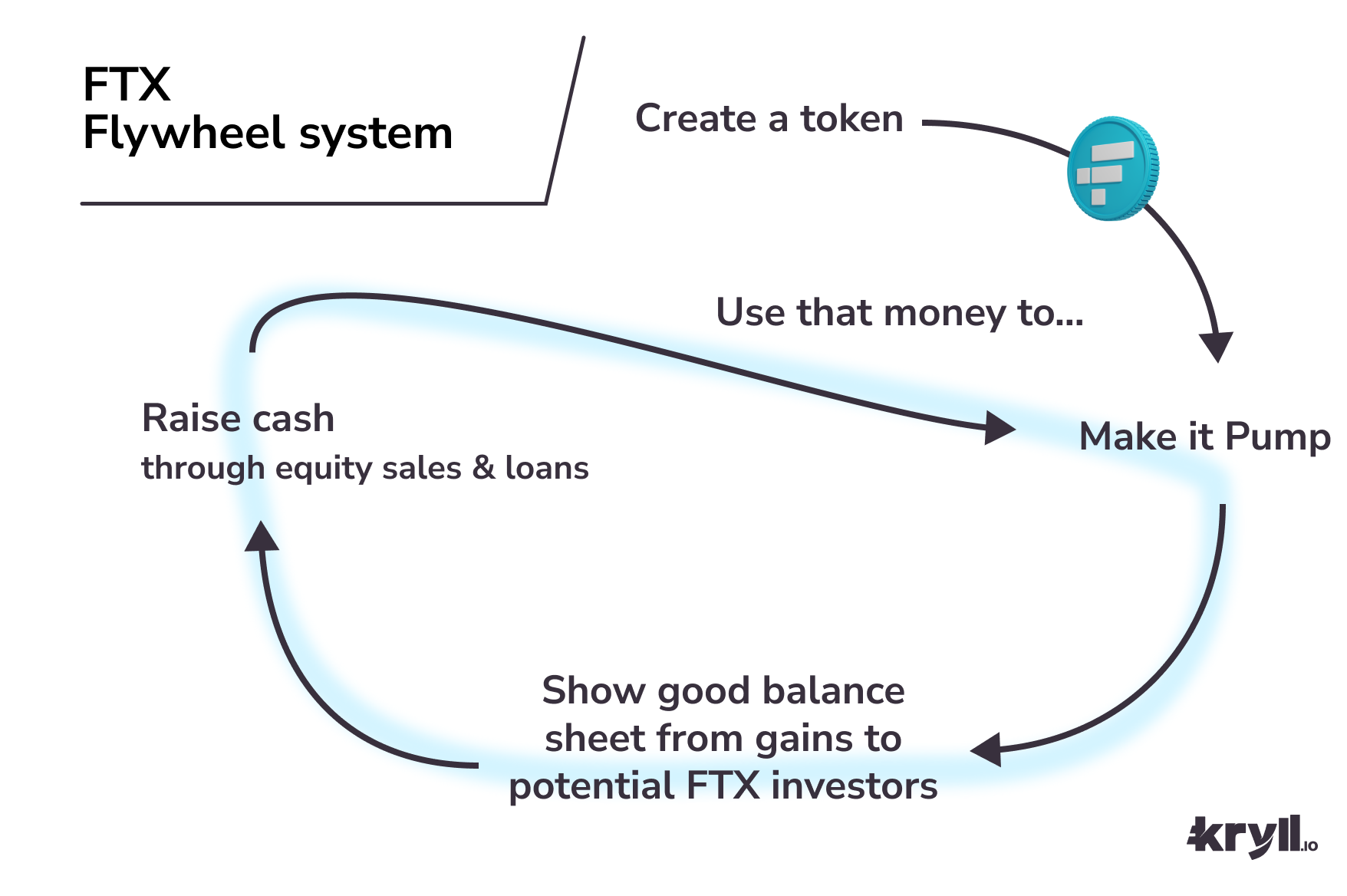 2- Concentration and illiquidity

Alameda's capital (FTX) is based on assets with very low liquidity and with a very low allocation: FTT represented 88% of these assets. In addition, FTX held only $134 million of the $14.6 billion reported in the balance sheet. Also, we learned that 93% of FTT tokens are held by only 10 portfolios.

3- Massive and unsuccessful investment

For several months, SBF has been trying to save several crypto companies as the market continued to sink: Alameda suffered a series of losses. Only 3 people knew about these operations! User funds were used for loans with collateral FTT or in investments in more than 130 projects...

The road for a better future?

This bear market could possibly have the merit of having evacuated the majority of bad actors and will allow a rebuild of an ecosystem of products and projects on a healthier foundation. Maybe in a few years we'll be able to enjoy a Netflix series inspired by this extraordinary case! In any case the script is already ready!
Do not hesitate to join us on our Telegram and Discord groups as well as on our other social networks to share your opinion and your feedback on the Kryll.io platform.

‌Happy Trading,
Website : https://kryll.io
Twitter : @Kryll.io
Telegram EN : https://t.me/kryll_io
Telegram FR: https://t.me/kryll_fr
Telegram ES: https://t.me/kryll_es
Discord : https://discord.gg/PDcHd8K
Facebook : https://www.facebook.com/kryll.io
Support : support@kryll.io