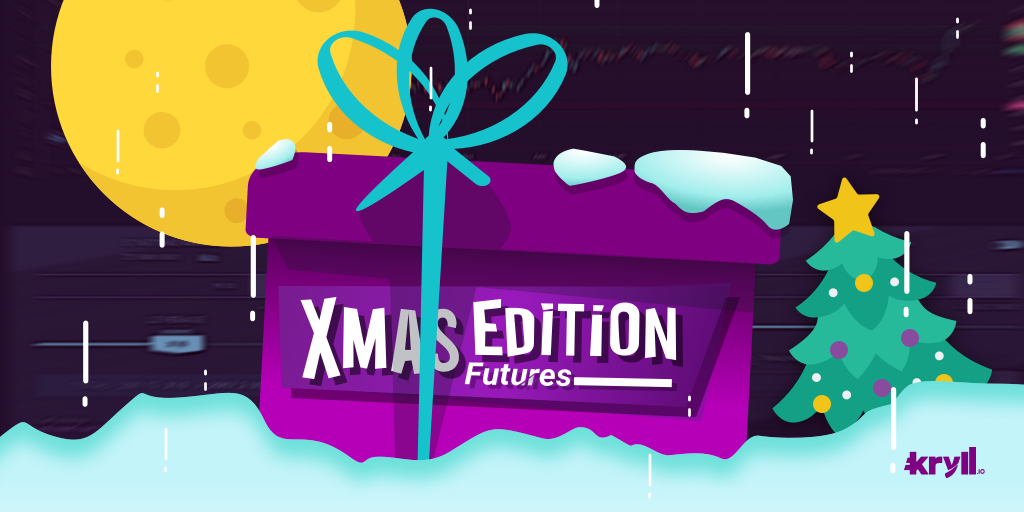 Version française disponible sur ce lien.

In the last months there have been fewer updates on the Kryll platform and there is a reason for this. The team is working tirelessly on a major update of the platform with a functionality that many have been waiting for: Support for Futures trading on the Kryll platform!

And in this holiday season we have a great gift for you, The Kryll Futures are open in beta to the community, with a restricted access for the moment.
Caution: leveraged trading can involve significant risks to your capital. You may lose the amount of your initial capital. These products are not suitable for all investors. In addition, the Future version of Kryll.io is under active development and may contain bugs. By activating this version you agree to accept responsibility for any losses incurred as a result of using this version. Do not trade with money you cannot afford to lose. Be sure you understand the risks involved !
What are Futures ?
Futures allow you to use leverage trading (up to x125 on Binance Futures). You can open Long (position will increase) or Short (positions will decrease).

Controlled risk = Better profit opportunities

Leverage allows you to generate higher profits without committing the full amount of your capital. For example you can trade with $100 and apply leverage x10, you will then trade with $1000. However, you can still get liquidated and lose your $100 (not $1000). To learn more about futures you can read this article from Binance Academy.
Note: Futures trading and the use of leverage should be used with care. A highly volatile market can generate rapid losses.

Why use Kryll to trade Futures?
Futures trading can be tricky, with Kryll you can automate your trading by easily adding take-profits, stop-losses through the powerful and intuitive trading terminal and reduce risk.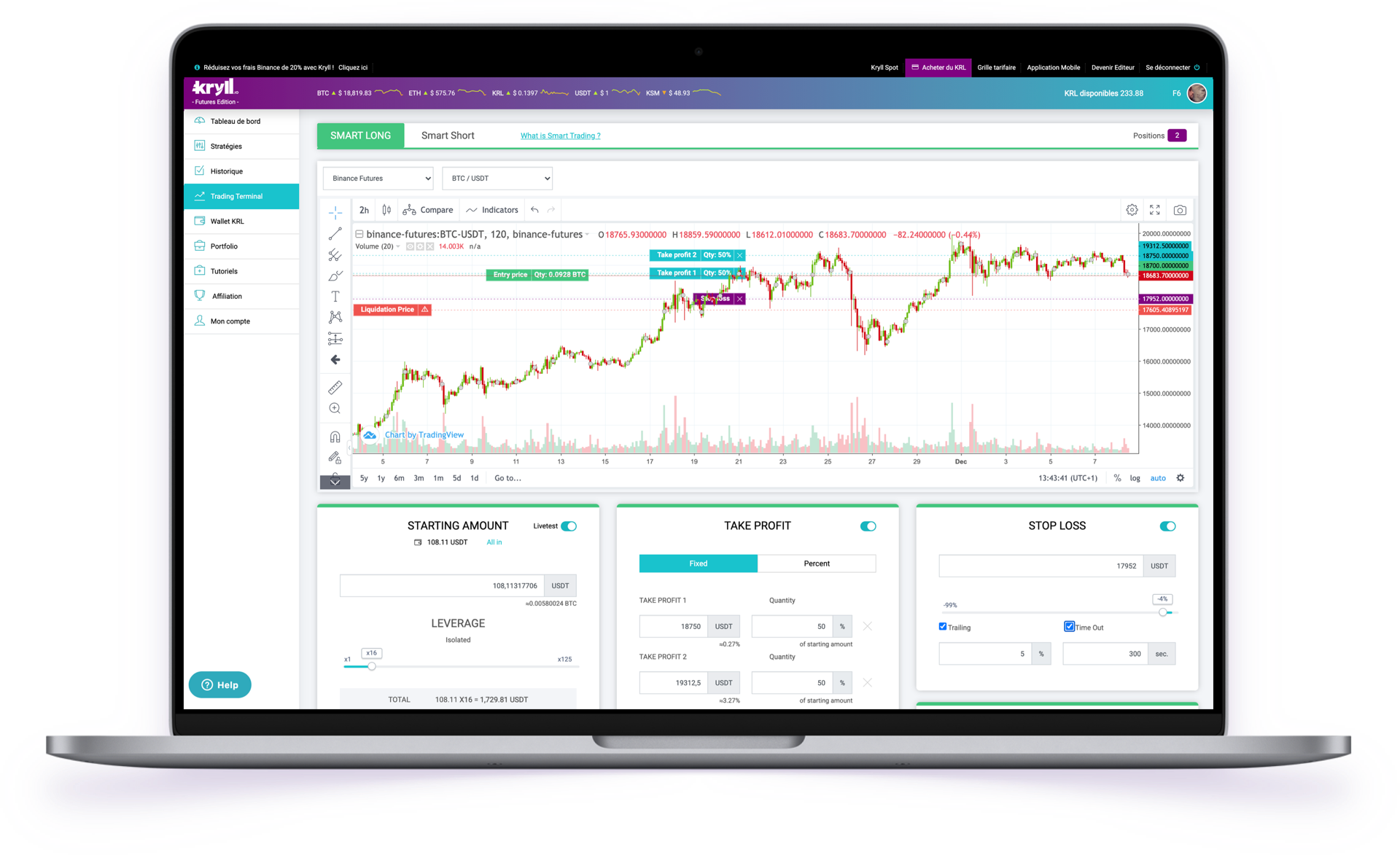 Benefits :
Protect your assets by quickly integrating stop-losses.
Easily secure your earnings with multiple take-profits.
Trigger orders with technical analysis blocks.
Receive email notifications when an order is placed (buy or sell).
Create futures trading strategies with visual blocks.
Of course, you can also use futures strategies created by other traders directly on the marketplace.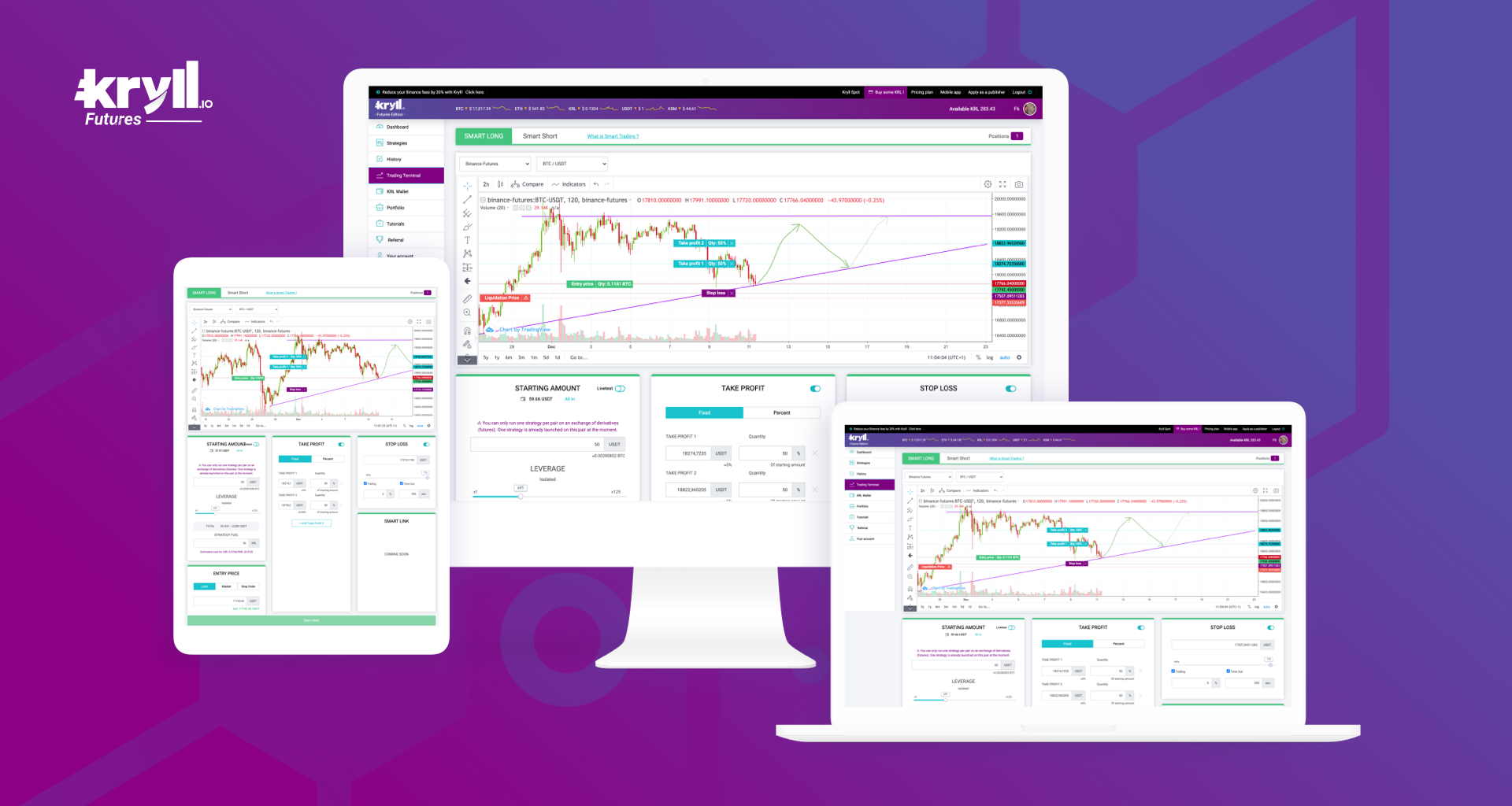 What will the Christmas Edition include?
The "Christmas Edition" update will allow Futures trading on the Kryll platform via Binance and will include new features:

A new Futures trading terminal dedicated to Futures, allowing you to launch Long or Short trades with stop-loss or take profits, in just a few clicks.

Integration of the Futures functionalities on the strategy editor with the arrival of the Long, Short and Close blocks. You will be able to create powerful futures strategies.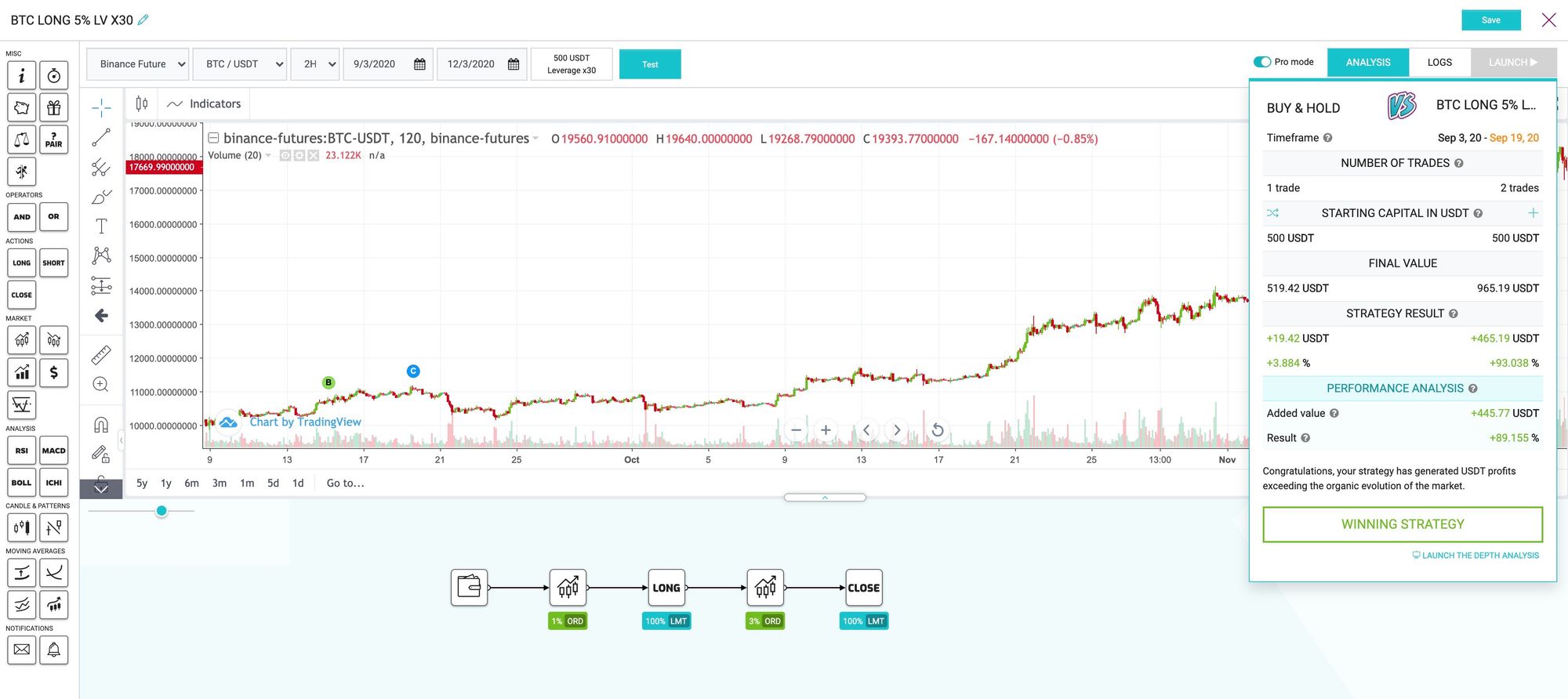 At this time the use of Futures on Kryll will only be supported on the Binance exchange. Other exchanges will follow soon.

This beta update will only be open to a limited number of users. Would you like to be part of it?

To be a beta tester of Futures on Kryll, you must fill out this form : https://forms.gle/194c9pKNM5dTvfRp9

Users with a holding program of at least 5OOO KRL will be given priority; therefore, do not forget to indicate in the form, the priority pass code: HOLDING
Please note that there is no guarantee that you will be a beta tester of the new Futures features on Kryll, we will only validate a small number of users in successive waves
You still need a minimum of 50 KRL to launch strategies/Smart Trades but these will not be debited.

Website : https://kryll.io
Twitter : @Kryll.io
Telegram EN : https://t.me/kryll_io
Telegram FR : https://t.me/kryll_fr
Discord : https://discord.gg/PDcHd8K
Facebook : https://www.facebook.com/kryll.io
Support : [email protected]