Master the intelligence gathering for traders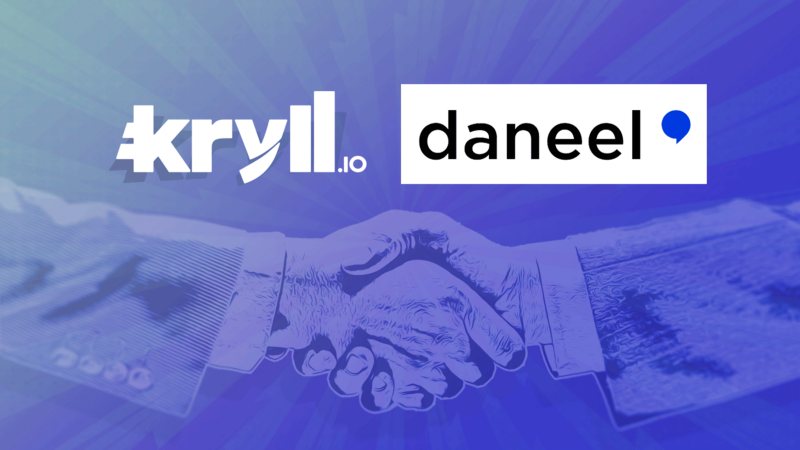 15st October, Sophia Antipolis, France. 
Kryll.io, the automated crypto trading strategies platform is pleased to announce a partnership with Daneel.io, an artificial intelligence that allows to have the purified topicality of the Blockchain ecosystem. A major asset on a market, information is very often manipulated, it saves time and efficiency in data processing. Daneel makes it possible to obtain a score of the overall market sentiment per asset. In the Blockchain sector, there is no shortage of information but quality is often lacking. They are talking about more than 1 million tweets a day, 250,000 comments on specialized forums, 500 daily articles in the press not to mention the countless discussion groups on Facebook and Telegram.
Daneel users will be able to discover the power of the Kryll.io platform and take full advantage of powerful and simple tools to enable them to trade with confidence.
Philippe Longère, PhD, CTO and Co-Founder at Kryll.io, said, "We are thrilled to welcome the Daneel community to Kryll and to strengthen this partnership with the great team at Daneel, which I am confident will benefit all our users in the long term."
Fabien Ducoudray, Business Director at Daneel.io, stated "This partnership is in line with the development of our product. we look forward to offering Kryll users in the near future essential data from the analysis of the Blockchain sector with the various major media. Kryll has a simple and innovative product that will, I'm sure, improve our users' trading experience."
Luca Benevolo, Chief Executive Officer at Kryll.io, commented "We are very pleased to have been able to build this partnership with a FrenchTech company that has distinguished itself in the field of AI on the Blockchain information. This partnership will tend to evolve in the coming months in order to offer the best to our automated trading."
Kryll Contact: Paul Collorafi, Chief Marketing Officer
email: paul@kryll.io : https://kryll.io
Daneel Contact: Harold Kinet, Head of Communications : https://daneel.io