Through the automated trading strategies marketplace Kryll.io, we came in contact with a collective of traders based in Argentina. Kryll.io decided to find out more about this beautiful story !
ideas become reality when you put energy and passion!
Can you quickly introduce Smart Investors (SiA) and its members?
We are a team of 4, united by the passion of trading, crypto-currencies and friendship. Diego and Jorge work together in a company that imports and distributes professional electronic equipment for sound and lighting for more than 10 years, they are brothers and live in Buenos Aires, Ezequiel lives in Cordoba and works for a TV channel while Marcelo is an electronic engineer in an international telecommunications company, he lives in Mar del Plata.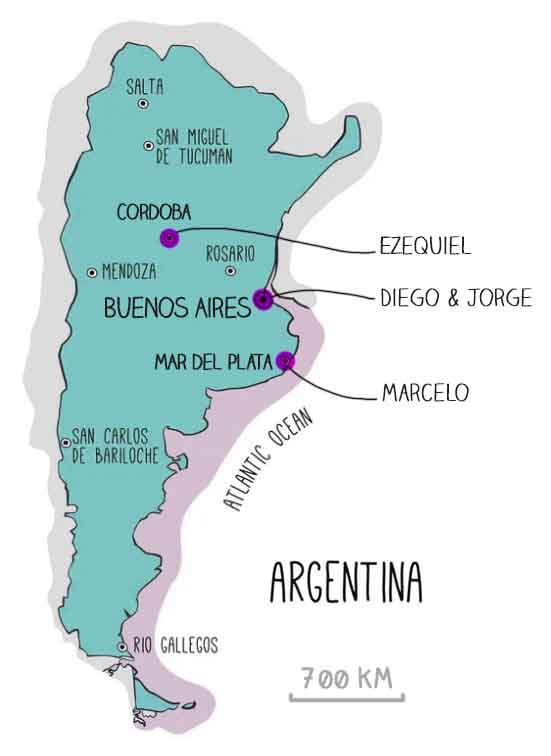 How did you hear about Kryll.io?
We know a lot of people in the investment world and they are constant sources of information, but our first real encounter with Kryll.io was through a well-known trader, @faustodelarrosa, we met on Twitter.
How did you get the idea to create a Team like "SiA"?
Smart Inverstors was born in 2019 with the idea of gathering the data available on the web to use it intelligently in our investments on the one hand and to share it with other trading enthusiasts on the other.
As part of this process, we discovered Kryll.io and we focused all our analysis and energy on this platform, because we were getting very good results. It is easy to use and we quickly understood that we could offer people two fundamental things: "increase capital and save time", time is so precious! So we focused on the trading strategies so that they would do the work for us and at low cost.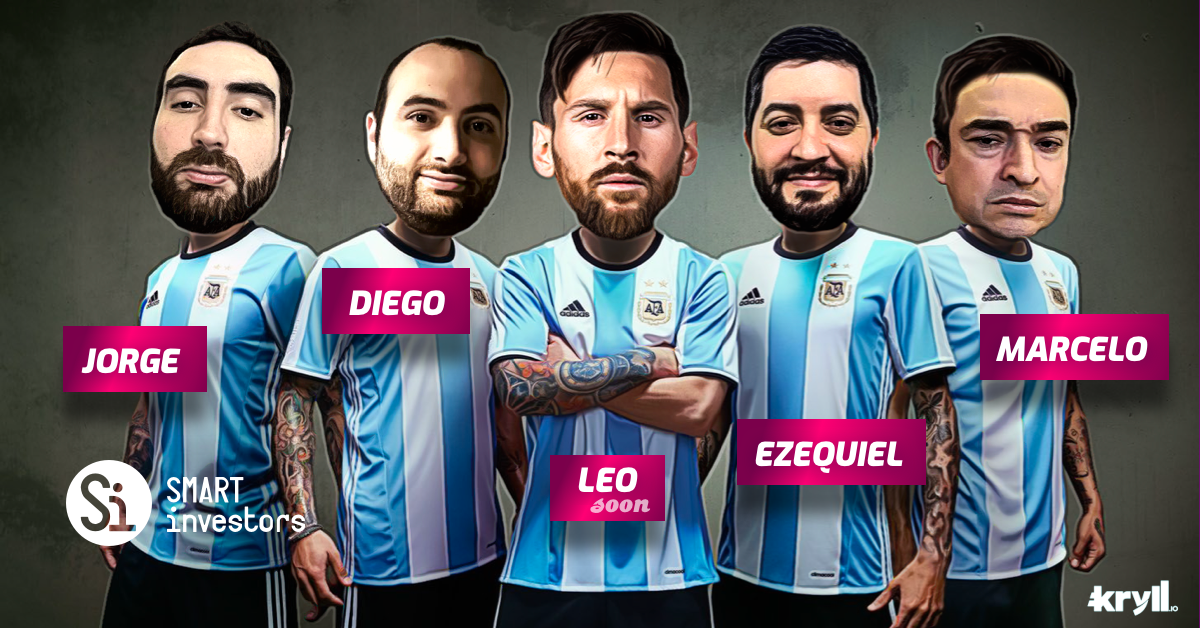 How do you manage to work as a team?
Nowadays, it's easy to work remotely. We are in constant communication on various messengers with a preference for Telegram. We use all the tools that allow us to discuss our ideas, to project them and to concretize them (video conference with "zoom", shared disks, etc...)
Focusing on Kryll, we shared all the tests and improvements we were making with our strategies. Even though we know the limitations of backtests; they are based on past behavior; we managed to get great results! We are constantly sharing our testing and progress on the editing of our strategies.
Recently, you launched the "SMARTV1000", the editor seems easy to use, powerful, complex... ?
We are very happy to have launched our first strategy, it is the result of a lot of work, hours of testing and modifications to get the best possible result!
The strategy has been tested on a large number of crypto-currencies and it works really well on many of them. Although we know that backtests are performed on "past behavior" we managed to get excellent results. We let the users judge for themselves! The editor is very easy to use and it is really powerful, it reflects well the results of the strategies on the market.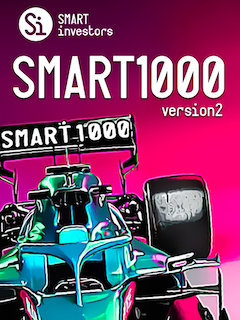 How does the group create a strategy?
Good question. In our case, we proceed as follows: one of the members proposes a starting idea which he will concretize in the form of a rough strategy (like a diamond) from there, all the team will "brainstorm" to improve it : additions of blocks, new conditions, modifications of the time slots, etc... Each person can test their proposal and the whole team shares their feedback, we proceed in an iterative way in order to obtain the best possible results!
You seem to have a global vision, from creation to promotion of the strategy, how did you proceed, step by step?
Indeed, we have a global vision. Each of us has a different profile, with complementary experiences, some of us are more technical and others more in communication and customer relations. Beyond that, it's also the friendship that allowed us to get into action and accomplish our goals: create a team that will become a strategy editor on Kryll.io!
The process is intense, it requires effort and a lot of determination. We came to Kryll and used a variety of very good strategies, but we were a little frustrated because they were not ours. There was something missing and we were convinced we could do better.
financial success requires capital and time, we are here to help you enjoy both.
Before using Kryll.io we were wasting a lot of time trying to catch trades, daily and for months. We didn't have the time! By using Kryll's tools, we were able to do it! We have managed to make sure that the trader's psychology does not compromise the trading in different scenarios, there are no secrets, it is essential to have a plan and stick to it. Thus, we have more than 50 strategies for different groups of tokens depending on their volatility among other things, the best ones will be published gradually! The objective of SiA, with Kryll.io, is to accompany you to make the best possible investments! There are no secrets, there is a plan.
Finally, we believe that it is essential to always provide information to the user. We have been in your shoes! We are traders and we understand the fears and concerns when it comes to investing. To that end, we have a team that manages social media and provides support by remaining attentive to the needs of those who use our strategies, financial success requires capital and time, we are here to help you enjoy both.
How do you plan to communicate about your strategy, create and strengthen a community of users?
We communicate on the main current communication channels to ensure outreach (Twitter, Instagram, Facebook, Youtube, Telegram), collect concerns and answer questions from new "Kryllians". Good strategy results combined with good customer service will make our users feel like part of a team and that will grow our community.
What are your plans for the future (crypto and others)?
We are already working on new strategies, currently we have 4 that are ready to be published on the Marketplace of kryll.io. Of course, we continue to improve day by day, because there is no limit to this! The next step for our "kryllianos" friends, especially Spanish-speaking ones, will be to continue to help and accompany them. We also plan to create a Youtube channel to make trading with Kryll.io even more accessible to everyone!
Also we have a dream, to represent Kryll.io in Argentina!
What would you like to see evolve on the platform?
We would like to see a new block for all those who love precision: it would be great to be able to work by the minute for even more accuracy! This would make the editor even better!
What advice would you give to a group that also wants to launch its strategy?
Go for it, try it! Teamwork pays off but you have to persevere because ideas become reality when you put energy and passion into them.
Thanks to the SIA team for this interview. Kryll.io wishes them all the success they deserve. We invite you to visit their Twitter or Telegram and the first "SMART V1000.2" strategy they published on the Marketplace!

Website : https://kryll.io
Twitter : @Kryll.io
Telegram EN : https://t.me/kryll_io
Telegram FR: https://t.me/kryll_fr
Discord : https://discord.gg/PDcHd8K
Facebook : https://www.facebook.com/kryll.io
Support : support@kryll.io