Version française disponible ici.
Attention : Trading in leveraged products can involve significant risks to your capital. As a result, you can gain several times the amount of your initial capital or lose it completely. These products are not suitable for all investors. In addition, the Future version of Kryll is a development version and may contain bugs; by activating this version, you agree to accept responsibility for any losses incurred as a result of using this service. Do not put money on the line that you cannot afford to lose. Be sure you understand the risks involved, and make inquiries if necessary.
The Trading Terminal allows you to centralize your manual trading no matter which pair or trade you use.
With this feature, no more worries of misunderstanding, no more hidden costs, no more irrational choices, welcome to the future!
Smart trading is divided into several distinct parts which are represented by numbers in the image below.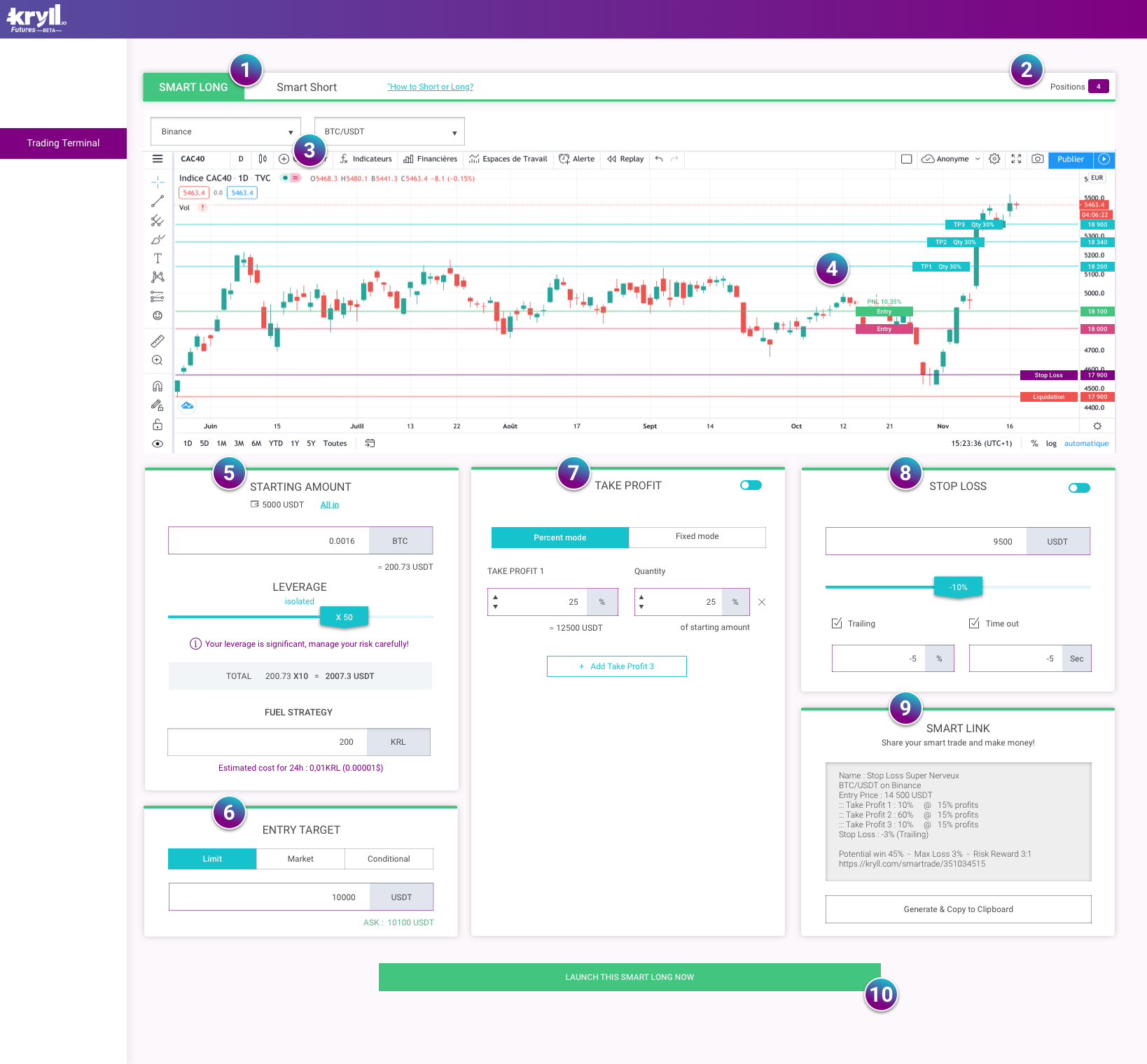 Configuration globale

1: In this part you will be able to choose if you go for long or short.

2: By clicking on the position button, you will be taken to the section that contains all the information about your current and past trades. Go further in this guide to find out more on this page.

3: Your trade and the pair you wish to trade on are selected here
NB: On the Futures version of Kryll.io, you can launch only one automated strategy / Smart trade per pair.
4: Need a little visibility? Kryll is happy to offer it to you! Necessary for any trader, a TradingView chart contains all of your favorite indicators as well as the display of your pair's price on your trade in real time.
But this graph is not just for the sake of looking good, here will be displayed pads that correspond to your entry points, Take Profits or Stop Loss. So you have a direct view on your next winning trade!
To make it easier for you, Kryll has also set up a system that allows you to move your target prices directly on the graph! All you have to do is "grab" the pad you want to modify, and move it wherever you want, Kryll takes care of the rest.
Now, let's move on to the main course, the push configuration!
Configuration du trade
Everything below the chart is about the configuration of your smart trade, each element has its importance and can be configured as you wish.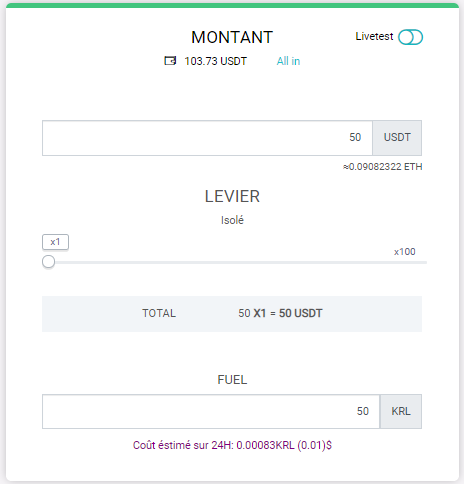 5: Let's start with the amount allocated to your Smart Trade
Start by entering an amount in USDT; this will be the final amount that your strategy will use, regardless of your leverage. No more confusion about how much money you invest in an automated strategy!
If you are on a pair that supports future trading, you will be able to choose your leverage. Once again, in order to give you complete peace of mind, all trades are automatically made in "isolated" mode, which means that if you are liquidated, you will only be liquidated for the amount invested and never again.
A brief summary of your futures wallet is also available so that you always have the amount you are going to exchange in front of you.
To finish with this section, you will be able to choose the number of KRL you want to block in this smart trade. And no, the billing does not take into account the leverage, we are not here to ruin you!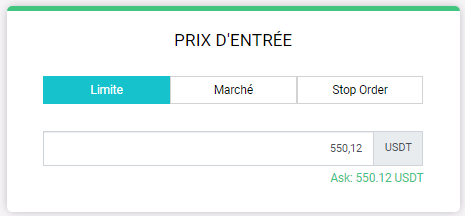 6: Now it's time to set up your entry price, be it Long or Short, you will have the choice between an entry at a defined price (Limit), an entry at market price (Market) and a conditional entry (Stop Order).
For more visibility, the ask or bid is available at any time if you no longer have your eyes on the chart!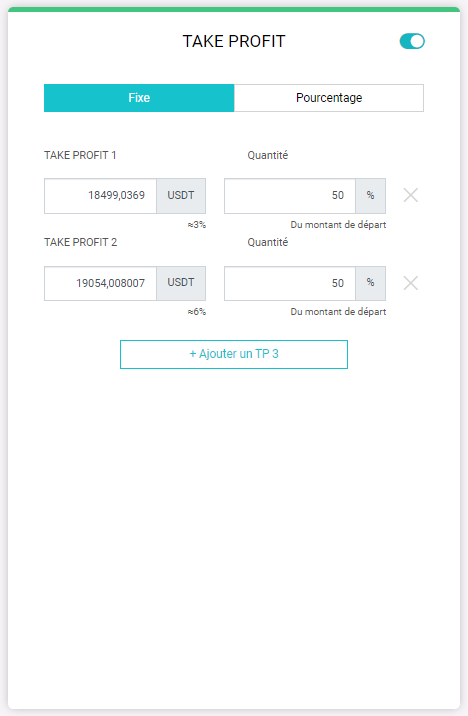 7: The section that will make you rich! If you decide to activate a Take Profit, your strategy will have its first target, it's up to you to define its price ! You will notice that there are two Take Profit modes, these 2 modes are simply a visual aid for those who prefer targets in percentages or rather in real prices.
You can add up to 3 Take Profit per Smart Trade, and you don't have to have 100% of your capital in Take Profit, you can very well decide to have funds that will not be sold at such or such price.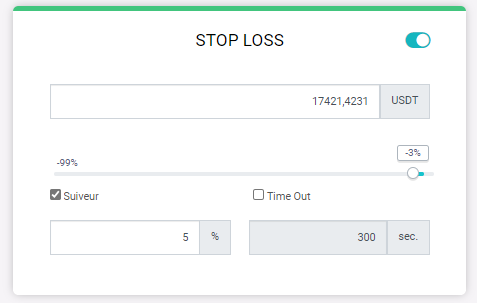 8: Because security is the best weapon of an efficient trader, you will always have the choice to activate a Stop Loss.
You will notice several fields in this section.
The first field is the raw value of your Stop-Loss. If the price drops below this, you will exit your position.

You can always choose to add a trailing stop to this Stop-Loss, in which case the smart trade will wait for a fall or rise (depending on the direction of your position) in the price to get you out of your position (unless the price exceeds your gross stop loss, which always takes precedence).
For the more experienced, there is a Timeout option that will check if the price is still below your Stop-Loss after x seconds, where x is the value you entered.
9: Winning together is always more fun (and it makes you earn money)
The Smart Link section allows you to generate a link that will allow anyone clicking on the link to automatically enter all your settings. If he/she launches the trade with your settings, you will receive a share of the fees we charge him/her (at no extra cost to him/her).

10:Let's go!
Watch your idea materialize on the TradingView chart, confirm that this is what you want and now it's time to launch your Smart Trade!
Positions
Now that you have launched your first trade, you can go and relax, Kryll takes care of everything. However, if you want to admire your winnings or study your past, you can do so with a page containing all the information you will need!
In this page you will have a list of your open and closed positionsEach position has all the necessary information to help you understand what is going on, or what has happened.
You can click on each of these positions to display on the TradingView chart the various parameters you used for that particular smart trade and whether your long / short / close positions have passed.
Kryll Future is a revolution, it is up to you to exploit it to the best of your abilities and creativity!
Bon trading à tous !

Réseaux sociaux et ressources utiles:
Notre site: https://kryll.io
Twitter : @Kryll.io
Telegram : https://t.me/kryll_io
Discord: https://discord.gg/PDcHd8K
Facebook : https://www.facebook.com/kryll.io
Support: support@kryll.zendesk.com