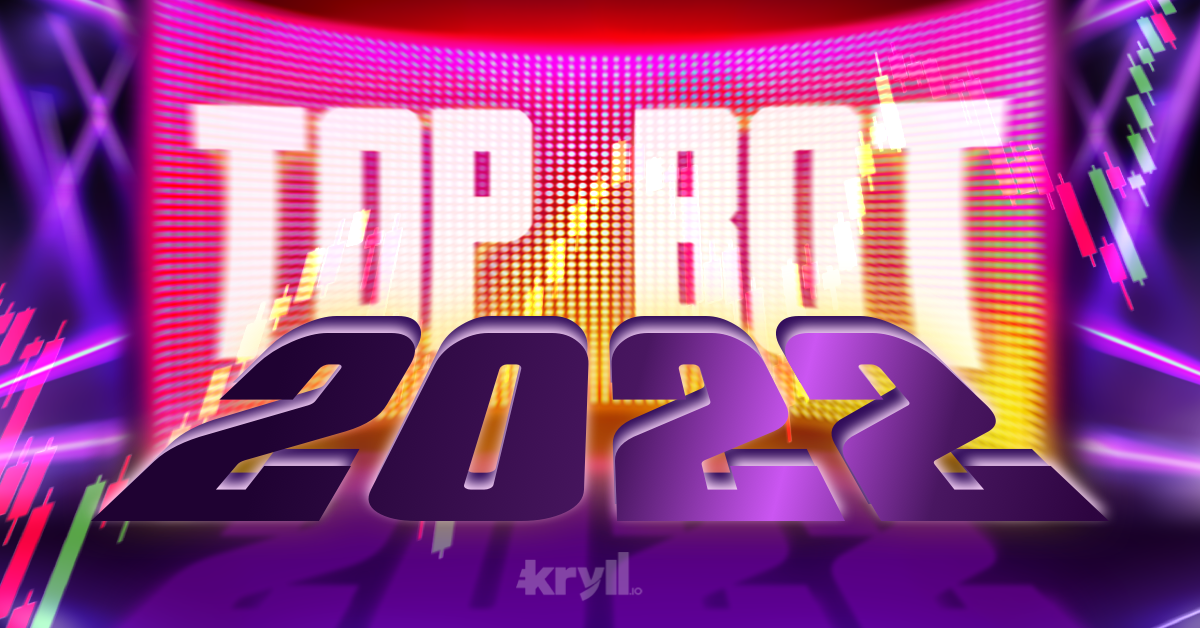 Cryptocurrencies trading in 2022 can be time consuming and challenging. That's why many crypto bot services exist but it can sometimes be difficult to choose from the many platforms available on the market.

Some bots are already configured and ready to use. Other bots must be customized by the user to meet his expectations.

The principle of a bot does not change: These programs interact with Bitcoin exchanges to analyze data and prices in order to place buy or sell orders according to the predetermined configuration of the bot (price triggering, technical analysis, AI etc.).
In this article we will review the 5 best crypto & Bitcoin trading bots platforms in 2022 with the pros and cons of these programs.
The advantages of trading with a Bitcoin Bot (or other cryptocurrency)

Discipline: Trading with a bot sticks to a predefined strategy to achieve the set objectives. At no time will human emotions enter the equation.
Trade while you sleep: The other very important advantage of automated trading is that your bot will monitor the market 24/7.

No need to be a pro: Trading on the basis of technical indicators is not for everyone but thanks to robots developed by experienced traders you can trade like the professionals.
Reaction time: Being reactive in trading is crucial. If an upward or downward movement is triggered then every second counts to take advantage of it.

Diversification: Automated trading allows you to position yourself in dozens of different assets at once without having to monitor all these markets one by one.
Top 5 Bitcoin & Crypto Bots (2022)

1- Kryll.io (30% off for 2 weeks when you register)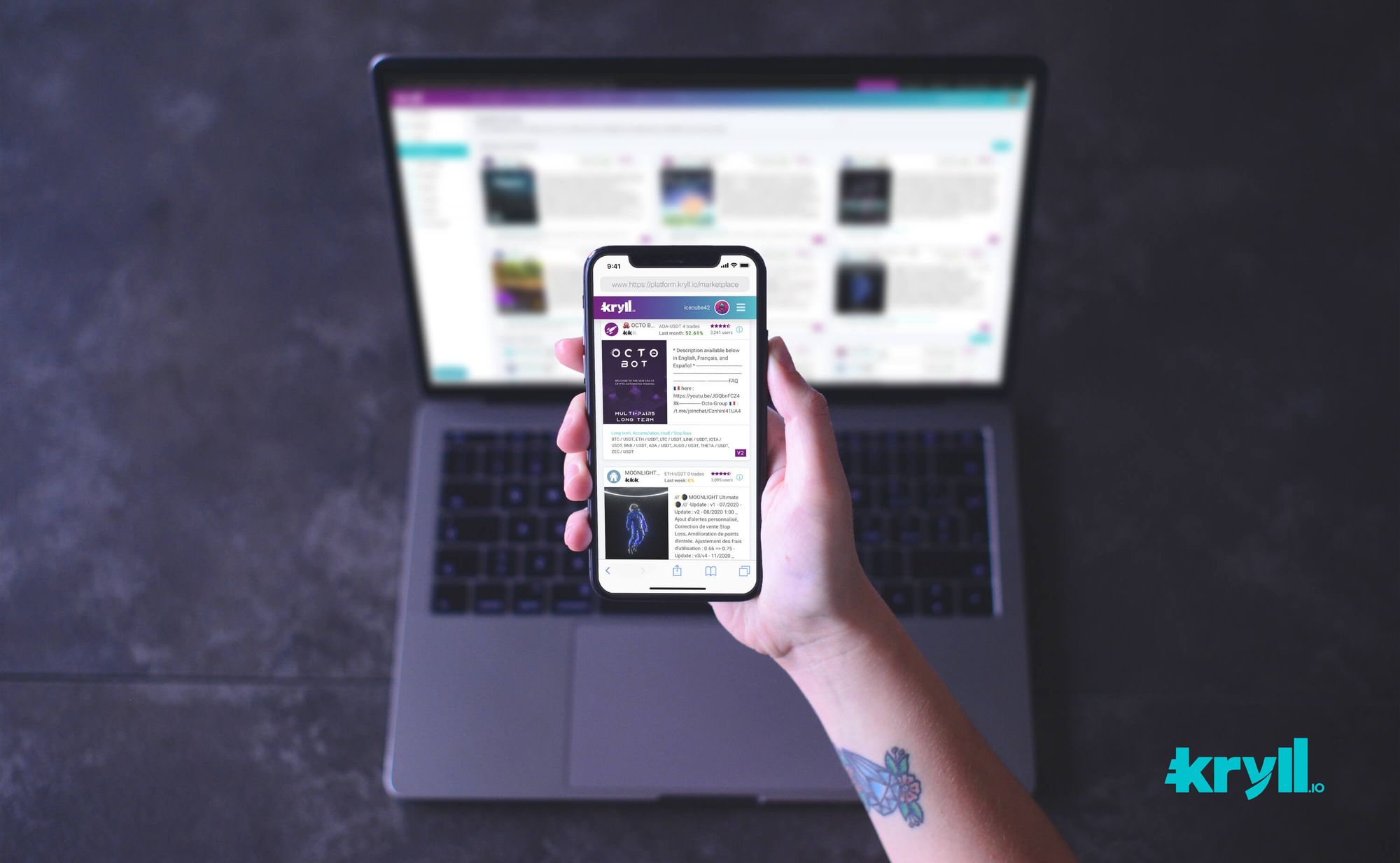 The Kryll.io platform allows you to create crypto trading strategies without any programming knowledge thanks to a visual editor where you can move blocks with a drag & drop system. You can find basic blocks triggers like buy/sell or technical blocks (RSI, Ichimoku, Bollinger, Candle pattern). This feature is aimed at both novice and professional traders who will find on the platform the necessary tools to create trading strategies.
The platform also offers a marketplace of strategies already created by traders, tested and rated by the community, which can be used by all with a few clicks. The creator of the strategy will then be remunerated for each use of his strategy through a rental system.

You can also use the Trading terminal to boost your manual trading through the use of take-profits or stop-loss. A Swap feature is also available to exchange your cryptos without having to log in to your exchanges.

Regarding the pricing, it is a pay-per-use system (0.0333%/day of the current capital, for example for a $200 strategy = $2/month), no subscription is required. A KRL token holding program also allows you to benefit from discounts on platform fees (up to -95%!).

Supported exchanges : Binance, Binance US, Kraken, Bittrex, Liquid, HitBTC, Kucoin, FTX and Coinbase Pro.
Pros ✚
Allows you to create trading strategies for free and without coding skills, using blocks.
Free and unlimited backtesting (up to 7 years).
Nothing to install on your computer, everything works in the cloud 24/7.
Marketplace that allows you to choose from a multitude of ready-to-use strategies.
Ability to monetize your own strategies.
English, French and Spanish communities.
Pay-per-use pricing, no subscription required.
KRL Token Holding Program to get discounts on fees (up to 95% off).
Swap feature to sell your cryptocurrencies in a few clicks, without connecting to exchanges.
Mobile application available (iOS/Android) to follow your strategies.
Reactive support and team always available.
Secure: because the platform does not require withdrawal rights on API keys.
Cons ➖  
A marketplace that is a bit old in terms of interface (a V2 is under development
Still few exchanges available (even if new ones are added regularly)
essayez la plateforme !!!
2- Pionex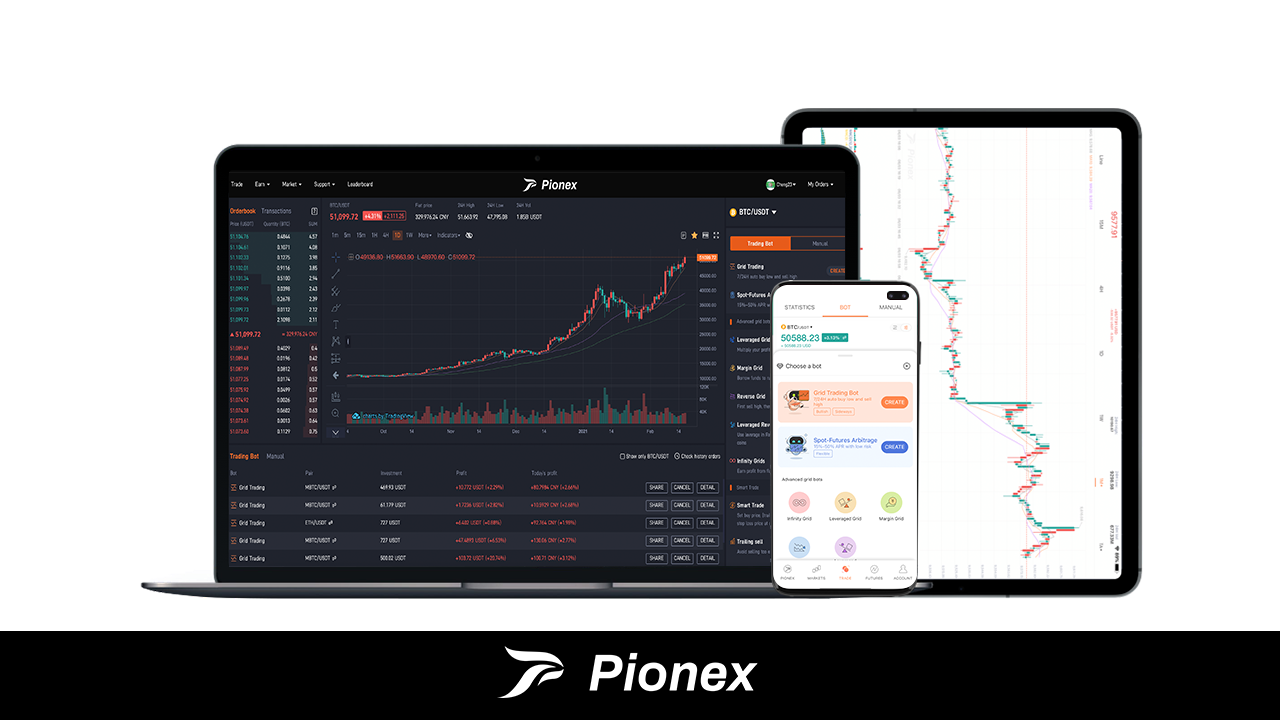 Pionex takes the second place in this ranking thanks to their platform that combines trading and tools to automate trades. The service is widely used in Asia and allows you to use a set of bots like the Trailing Buy Bot, the Trailing Sell Bot, the Smart Trade Bot, the Grid Trading Bot, and the arbitrage bot and the leveraged trading bot (x5 maximum).
The other strength of Pionex and the support of many exchanges including Binance, Huobi, Coinbase Pro, Pionex, FTX, KuCoin, OKEx, Bithumb, Gate.io, Bitfinex, Poloniex, Bittrex Liquid, ProBit, BigONE Indodax, Lban, Bitbns, Bitget,Bybit, BitoPro, CEO Global, HBTC, Hydax, MEXC, ShuBao.
The mobile application (Android & iOS) is very easy to learn and the bots are easy to use.

Pros ✚
No subscription fee (0.05% fee per trade).
A plethora of exchanges available.
Many bots available.
Cons ➖
Impossible to fund your account with FIAT.
Leverage limited to x5 on margin trading.
3- 3 Commas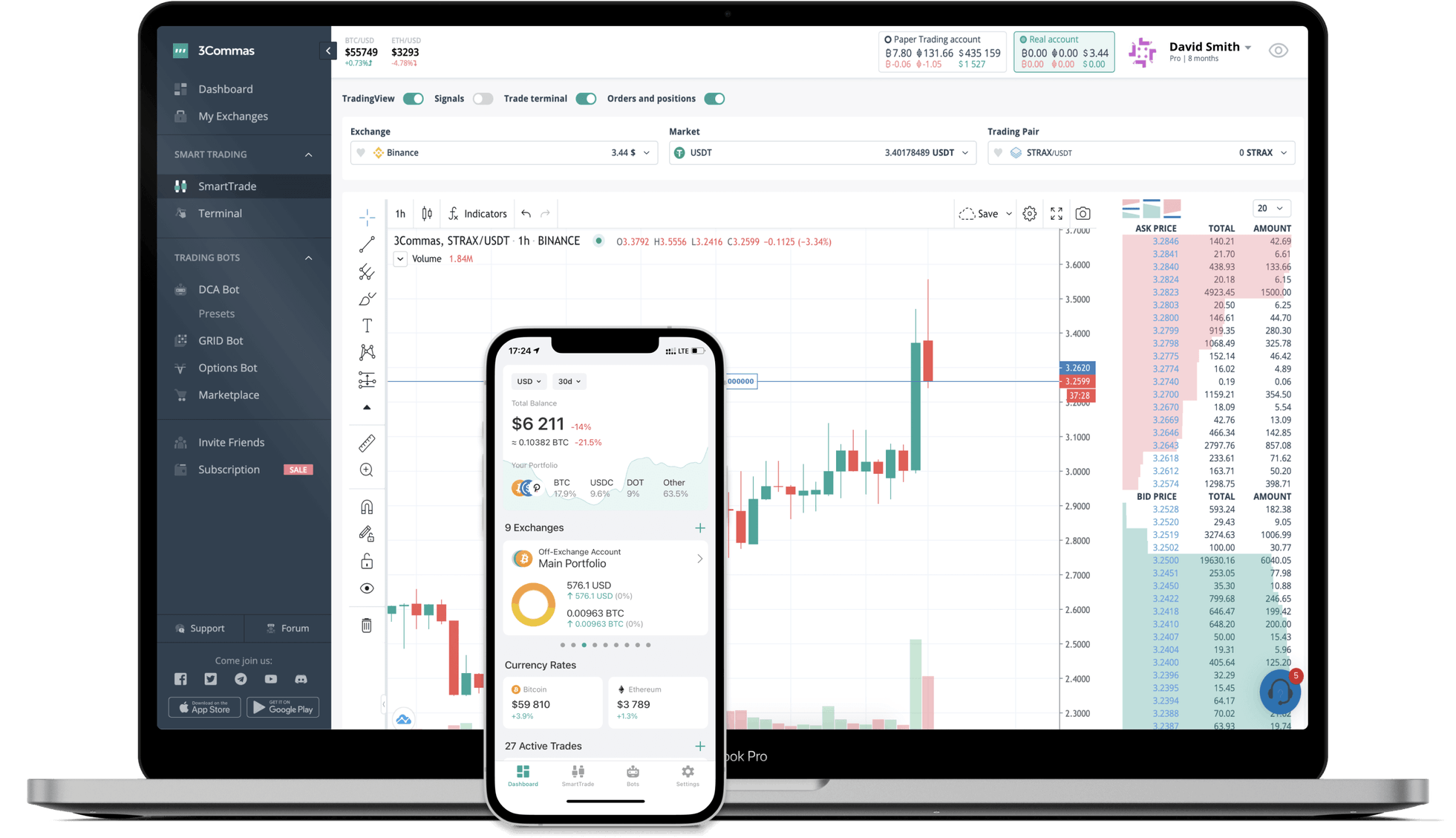 The 3commas platform has improved over time. It allows you to set up a trailing stop very simply or use grid trading or DCA. The bots work in the cloud and do not require you to leave your computer running. Another advantage of the platform is that you can trade on several crypto pairs at the same time.
A Marketplace is also available in partnership with groups providing signals, however an additional subscription is required to access these signals.
Pros ✚
Great UX and well thought out platform.
Grid trading and DCA.
Marketplace of trading signals.
Many exchanges supported (18).
Several free bots.

Cons ➖
Can be complicated for beginner traders.
Subscription system a bit expensive (between 14 and 99€/month).
Marketplace signals require an additional subscription.
More and more exchanges offer Trailing-Stop for free.
4 - CoinRule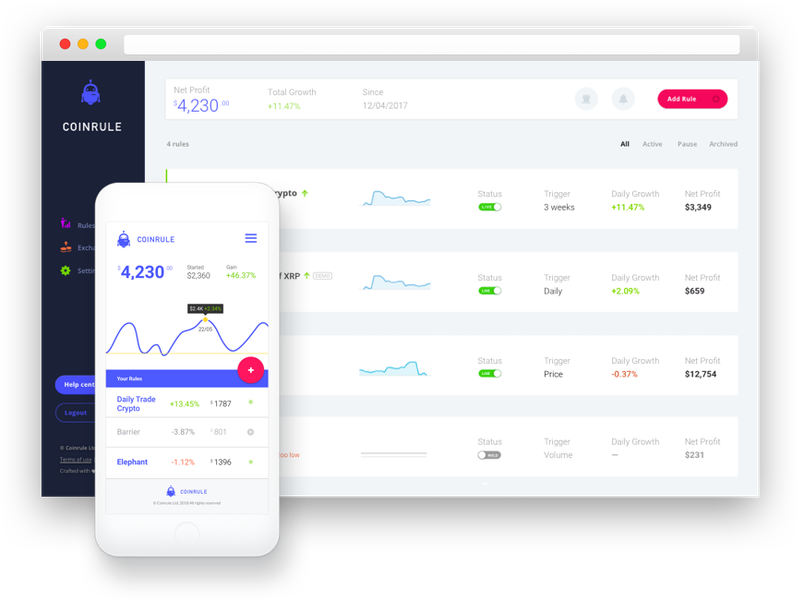 CoinRule offers a system of "rules" to create your own trading bots without programming skills. No need to install any software as everything runs in the cloud. More than 150 bots already created are available and ready to be used.
Pros ✚
You can create bots without programming knowledge.
Cons ➖
No mobile application.
Not for beginners.
"Rules" system sometimes a bit complicated to use.
5- Stacked Invest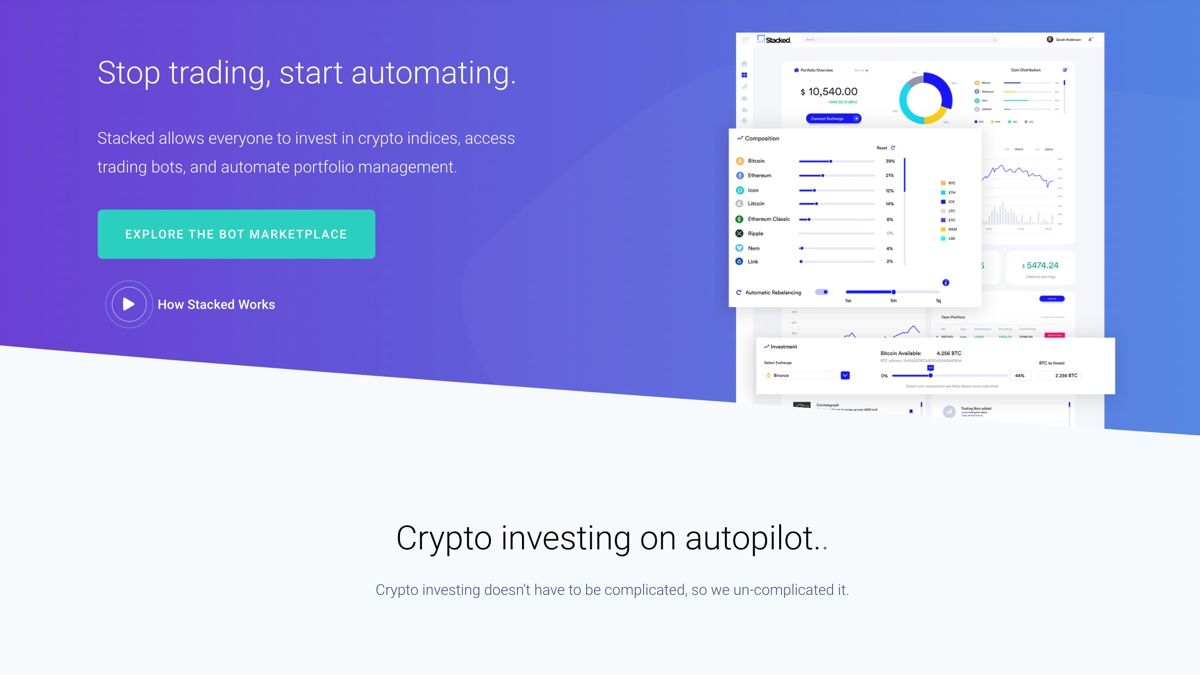 Stacked Invest is a fairly new service in the crypto world, focused on beginner traders with a clear and simple usability, the service offers a marketplace with a wide selection of strategies created by traders that can be used quickly. Compatible exchanges are: Bybit, Binance, FTX, Bitfinex, Okx and Bitmex.
Pros ✚
Easy to use
Numerous features (Rebalancing, staking, lending)
Portfolio manager
Cons ➖
No mobile app.
Basic subscription required and an additional subscription is required to use each bot, which can add up quickly.
As you can see, each crypto bot service has its pros and cons, and the pricing must also be taken into account in order not to cut into your profits. It's up to you to choose what suits you best!
Website : https://kryll.io
Twitter : @Kryll.io
Telegram EN : https://t.me/kryll_io
Telegram FR: https://t.me/kryll_fr
Telegram ES: https://t.me/kryll_es
Discord : https://discord.gg/PDcHd8K
Facebook : https://www.facebook.com/kryll.io
Support : support@kryll.io