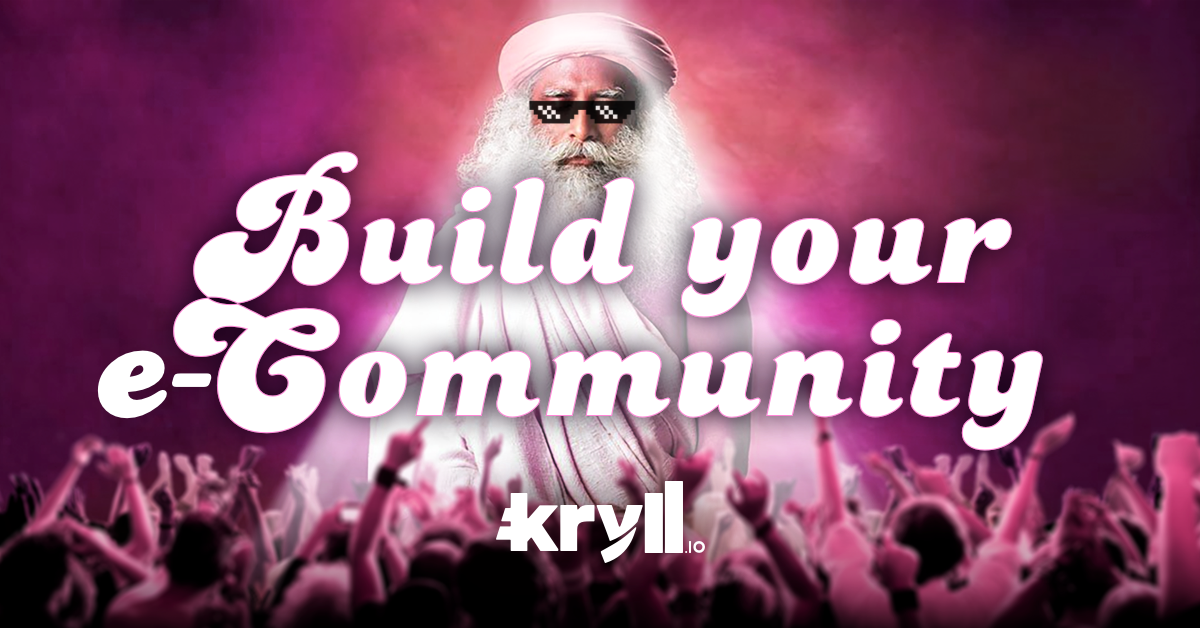 At Kryll.io we have set up an affiliate program that allows our users to generate passive income while promoting the Kryll.io platform.

To optimize this vector you need a community.

Whether it is virtual or real, a community is built and today we are going to give you some good practices to put in place when you start creating an online community.

1) Take care of your visuals and videos.

It seems obvious but the quality of your visuals is essential. A beautiful visual makes people want to discover more about you and your business. Especially in the crypto industry, the first image you see often gives you an overall idea of the project.
Poor quality visuals (low resolution, poor framing, low light, etc.) will create an unprofessional and counterproductive image.

This is the kind of detail that matters a lot, and that can make your number of followers go up, or stagnate.

2)  Publish quality content!

Whether it's images, behind-the-scenes videos of your latest kryll strategy or articles, it doesn't matter, what matters is that the content appeals to your future audience. With time, you will learn to know the expectations of your community and to identify what hits the bull's eye.
It will then be easier for you to choose THE perfect photo or catchphrase when sharing.

You can for example post the latest performance of your Kryll.io strategy, if you have good performance the returns will be there.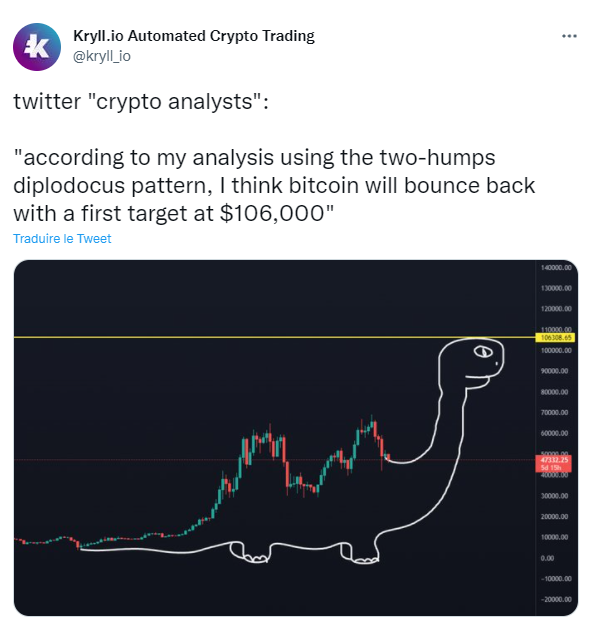 As you can see above, humor is also a feature that can work to build your community.

3.  Get your audience involved

They are the first customers of your publications, they are in a way your salesmen. If your audience feels listened to and considered they will recommend you to others. Don't hesitate to involve them by asking questions or organizing polls.
An audience that feels taken into account by you will thank you properly.

Offer regular events to your community, contests, giveaways, etc...
The engagement of your community is one of the most important aspects when you want to build a solid community that will follow you in your projects.

4)   Work on your texts, your storytelling.

If you have the skills and time to write your content, make sure you adapt it to each of your social networks. You can't write on Facebook the same way you do on Twitter or a blog. On the one hand, because some networks offer a limited number of characters and on the other hand, because the audience has slightly different expectations.

5.  Post regularly and focus on quantity

Posting frequently is essential in building an online community, and what is even more important is to publish qualitative content, if you post 1000 times a day of blank pages, there is little chance that your community will grow.
You can for example repost articles that you find interesting or news.

As you will have understood a community is built little by little, but know that even the most followed influencers all started with 0, then 10, then 100 followers. So nothing prevents you from starting today to build your community and why not be part of the TOP 5 Kryll.io refferers.

How does the Kryll.io affiliation work?

Kryll offers an affiliation program, for this you just have to go to the "Referral" tab. Here you will find all the necessary tools to promote the platform via your affiliate links.

Notice: In order for a referral to be assigned to you, he must register on the Kryll platform using your affiliate link.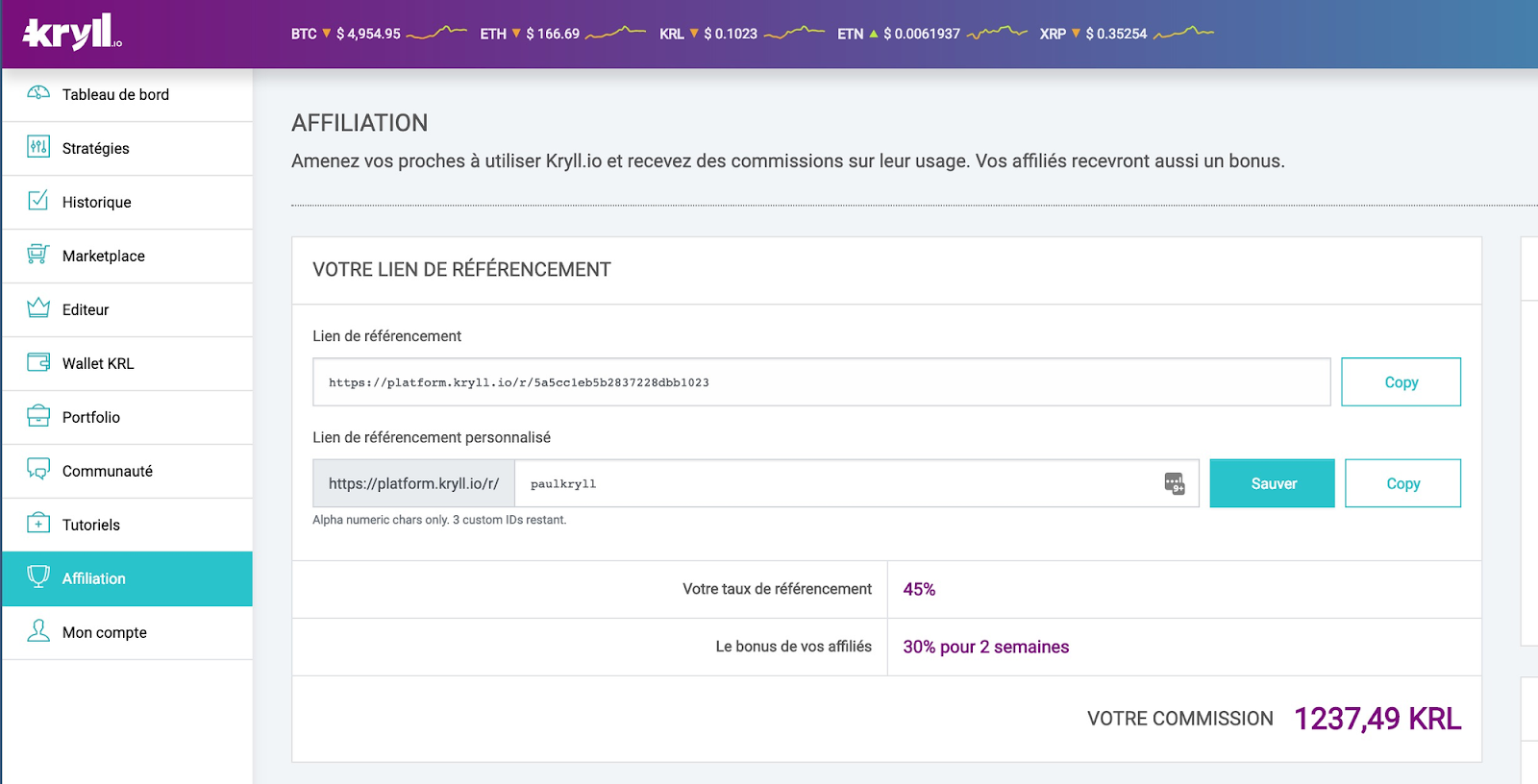 Referral link: This is the link you have to share and your affiliates have to sign up with in order to be counted.

Custom referral link: You can customize your affiliate link to be easier to remember, here the address will be https://platform.kryll.io/paulkryll. You can change this link up to 5 times, the old custom links will still work.

Your referral rate: This is the % commission rate you will receive on the fees your referrals will pay on the platform. This rate can range from 20% up to 45% like here if you participate in the holding program.

Your commission: The total commissions that your referrals have generated, these commissions are automatically added to your Kryll account (in KRL).

Find a complete and detailed article: HERE and find us at the beginning of next month for a new review of the TOP 5 refferers.

Below the TOP 5 Refferers for December 2021.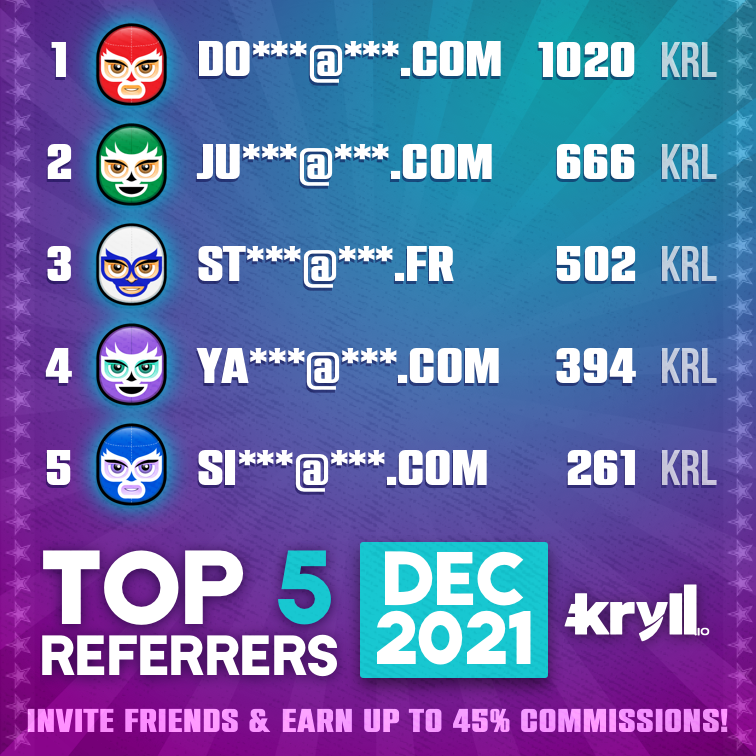 To get your affiliate link, go to https://platform.kryll.io
Website : https://kryll.io
Twitter : @Kryll.io
Telegram EN : https://t.me/kryll_io
Telegram FR: https://t.me/kryll_fr
Telegram ES: https://t.me/kryll_es
Discord : https://discord.gg/PDcHd8K
Facebook : https://www.facebook.com/kryll.io
Support : support@kryll.io