2021/02/25 09:59:17 - Listing token IDEA on Kucoin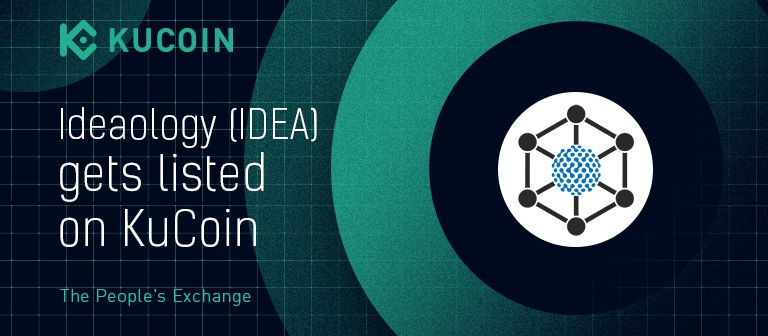 Trade on Kucoin with Kryll.io. Sign up with this link to get 30% off your Kryll.io fees for 2 weeks!
KuCoin is extremely proud to announce yet another great project coming to our trading platform. Ideaology (IDEA) is now available on KuCoin. Supported trading pair is IDEA/USDT.
Please take note of the following schedule:
Deposits Effective Immediately
Trading: 9:00 on February 26, 2021 (UTC)
Withdrawal: 14:00 on March 1, 2021 (UTC)
Project Summary:
Total Supply: 500,000,000
Market Cap: $2,250,000
Issue Date: 2020-09-30
Consensus Protocol: ERC20
Circulating Supply: 20,000,000
24hr Volume $21,389
Issue Price: $0.05
Cryptographic Algorithm:-
* The key metric numbers are calculated as at February 23, 2021
Ideaology is a blockchain business network ecosystem created to unite three user groups. Innovators, developers and investors connected in one platform create an ecosystem which covers four steps from the IDEA to crowdfunding.
Ideaology (IDEA) is erc-20, hybrid utility/payment token with three main purposes on Activeidea platform:
1. Optional payment gateway;
2. Hold on Ideaology personal wallet and achieve benefits for up to 50% discount on fees and crowdfunding voting right;
3. All investments on ActiveIdea crowdfunding will be made with IDEA token.
Official Website: https://www.ideaology.io/
White paper: Click to view

Trade on Kucoin with Kryll.io, sign-up with this link and save 30% off for 2 weeks!
Website: kryll.io
Twitter: @Kryll.io
Telegram EN: https://t.me/kryll_io
Telegram FR: https://t.me/kryll_fr
Discord: https://discord.gg/PDcHd8K
Facebook: https://www.facebook.com/kryll.io
Support: support@kryll.zendesk.com
=> N.B: create a second kryll account with this link and have more than 10 live strategies (if no holding program) or increase your holding program.