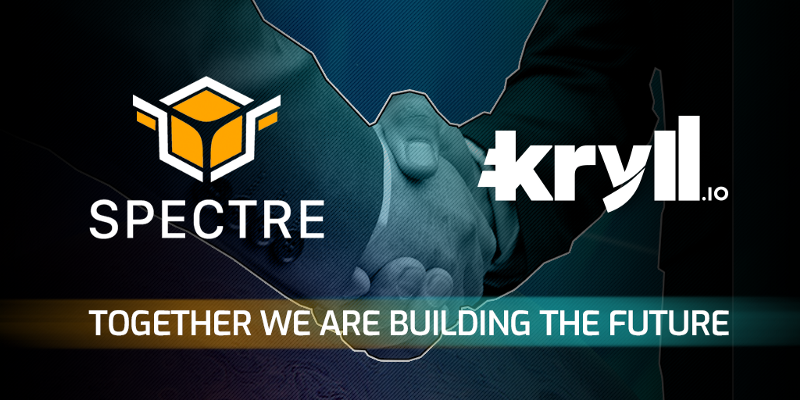 01st March, Sophia Antipolis, France. Kryll.io, the automated crypto trading strategies platform is pleased to announce a partnership with Spectre.ai, the world's first broker-less trading platform that raised up to $16.6M by the end 2017. Spectre.ai is planning to integrate Kryll.io technology in their platform allowing its users to benefit from some kryll features on Forex, Crypto and CFD trading.
In addition to bringing to Kryll.io new users expert in Forex and trading to challenge the product and push for continuous improvement of the platform, this partnership is a strong signal for our project. Indeed, the adoption of our WYSIWYT™ technology by a player such as Spectre.ai reinforces our mission to simplify trading tools.
Philippe Longère, Ph.D, CTO and Co-Founder at Kryll.io, stated "We're thrilled to welcome Spectre.ai SXUT holder in the Kryll's community and deeply value this partnership with Spectre's awesome team on the long run that will benefit to all our users."
Athol Nourse, Business Development Director at Spectre.ai, stated "This partnership is all about optimising the value proposition. We look forward to offering Krylls clients a seamless & safe trading environment and I am confident that this will have a big impact on our future growth and assist in getting mass client adoption onto the Spectre trading platform. Kryll has an "easy to use" product which has mass appeal and this will enhance our clients trading journey experience."
Luca Benevolo, Chief Executive Officer at Kryll.io, commented "Following the successful wave of crypto ambassadors that joined Kryll.io, I am very pleased to announce our first major partnership. The Spectre.ai platform will integrate our powerful automated strategies editor thanks to the WYSIWYT™ technology allowing their users to diversify their assets"
Regulatory notice: Please ensure to declare any capital gains or dividend income to your local taxation authorities to ensure you always remain compliant. Investing in cryptocurrencies is a high-risk activity and you can lose everything.
Company Contact: Paul Collorafi, Chief Marketing Officer
https://kryll.io