Free to Try, Stake to trade!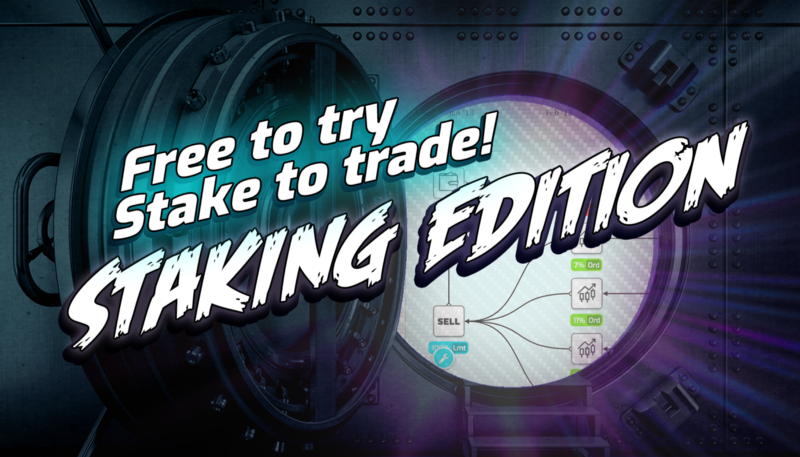 Following a high demand we announced the Staking Edition on July 10th. This version will be open to everyone. Staking Edition contain all functionalities without any restriction.
Free unlimited backtesting on more than 350 pairs
Live simulation
Live Trading (Require 5,000 KRLs to be staked -not locked-)
No change for investors who can already enjoy the Funder Edition since the end of August, they will also have access to this version as well with full features enabled.
I Don't have 5,000 KRLs, Can I use the Staking Edition ?
Yes! But Live Trading is disabled until you deposit 5,000 KRLs in your Kryll wallet. These KRLs are not blocked, you can remove them when you want but you need to have at least 5,000 KRLs in your Kryll account to have the Live Trading enabled.
Staking Edition : Free to try, stake to trade
The Staking Edition will be released on early October. Strategies use in live trading will be cost-free until November, after this period, the strategies will require the KRLs available on your platform to run.
You are not committed! If you want to withdraw your KRLs from the platform for any reason, you will no longer have access to the Staking Edition full features until you make a new deposit. You can use the platform without staking any KRL but won't have the full features enabled such as live trading. For additional info you can rely on the following table :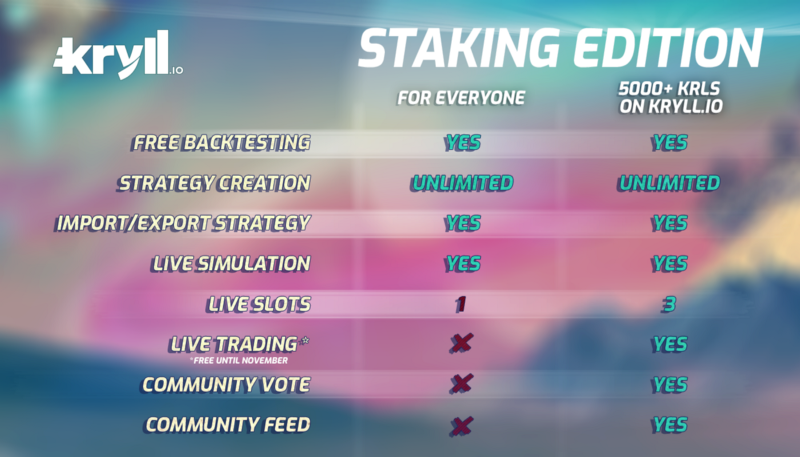 What's next
As you have noticed, we are focused on the active development of the Kryll platform. The Staking Edition will be the 5th update in one month. The next milestone is the release of the mobile app planned for November 2018.
You can acquire KRLs on the following exchanges :
https://app.liquid.com/exchange/KRLETH
https://app.liquid.com/exchange/KRLBTC
https://idex.market/eth/krl (DEX)
Thank you to our community that is growing every day more and more.
Be sure to follow us on all our social networks.
Our website: https://kryll.io
Twitter : @Kryll.io
Telegram : https://t.me/kryll_io
Discord: https://discord.gg/PDcHd8K
Facebook : https://www.facebook.com/kryll.io