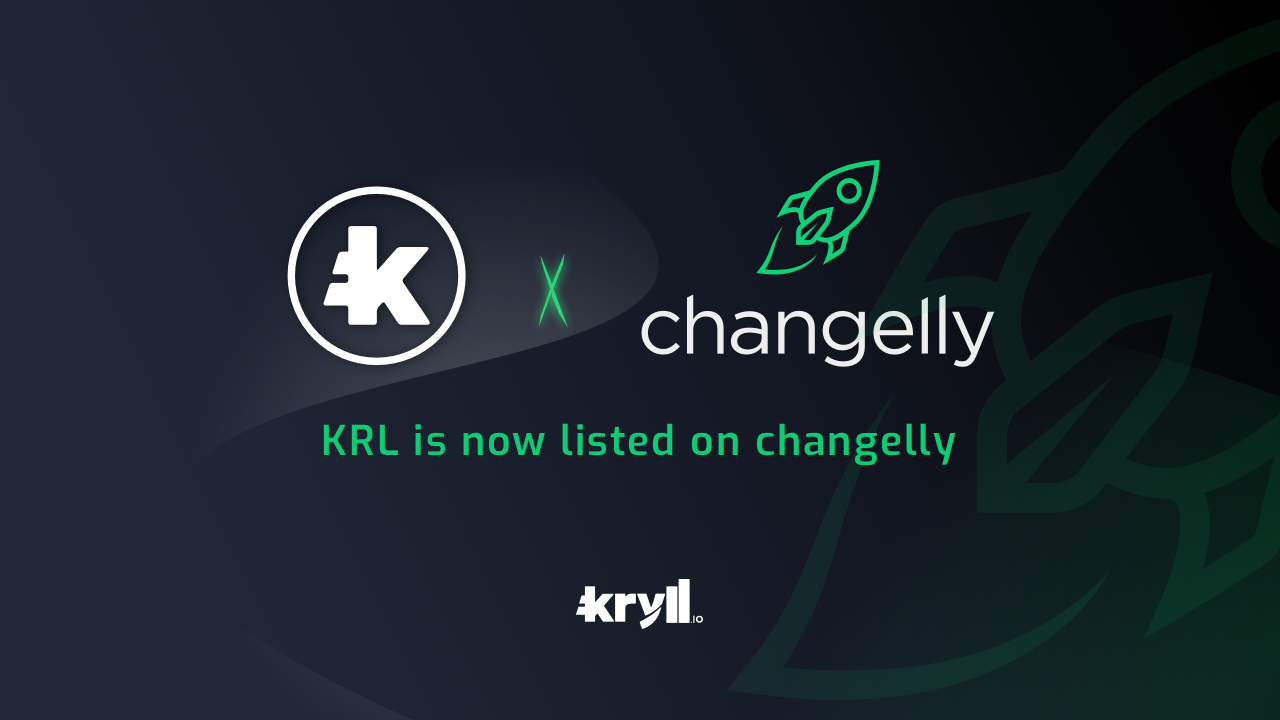 Our goal, to make the KRL token ever more accessible!
It's with great joy that Kryll's team announce that today the KRL token is listed on a new exchange. Thanks to our new partner Changelly, the Kryll token (KRL) is now available on the exchange. The long term vision of Project Kryll is even stronger today thanks to our new trusted partner Changelly. And that's not all, because more is coming very soon.
The exchange of the kryll token via the Changelly platform is now possible.
Note: Trading on the Kryll platform using KRL pairs (KRL / USDT, KRL / BTC, KRL / ETH) is free on Bybit, KuCoin, Coinbase Pro, Liquid and HitBTC exchanges.
About our partner
Changelly allows you to trade any supported crypto (over 150 at the time of writing this article) with each other directly from your wallet. The platform also offers a system for the immediate purchase of cryptos in euros, dollars or British pounds. The site is available in French, but only for the basic elements of the interface.
Changelly works as follows.
The platform has a trading algorithm that is connected with the world's largest cryptocurrency exchanges (Binance, Poloniex, Bittrex, etc.).
When you want to buy a cryptocurrency, Changelly observes the selling prices of these different exchanges to offer you the cheapest tokens on the market. When you confirm a buy or sell order, Changelly will complete the transaction on the most favorable exchange and then send the tokens to you.
Using Changelly has several advantages: Best price calculated for instant purchase, ease of use, security,   And transparency of fees.
About Kryll

Kryll is a community automated trading platform launched in 2018. Thanks to Kryll you can easily use automated trading strategies created by a community of traders. These strategies work 24/7 without any action on your part.
Traders can also create their strategy using our powerful visual editor which requires no programming knowledge and can then monetize their creations on the Kryll Marketplace by offering their strategies for hire. The platform costs are paid using the KRL token which also allows to obtain advantages and reductions (up to -95% on the platform costs) thanks to the "holding program" (more information on the holding program here).
To get started on the Kryll platform, you can read this complete guide.
Happy Trading,
Website : https://kryll.io
Twitter : @Kryll.io
Telegram EN : https://t.me/kryll_io
Telegram FR : https://t.me/kryll_fr
Telegram ES : https://t.me/kryll_es
Discord : https://discord.gg/PDcHd8K
Facebook : https://www.facebook.com/kryll.io
Support : support@kryll.io