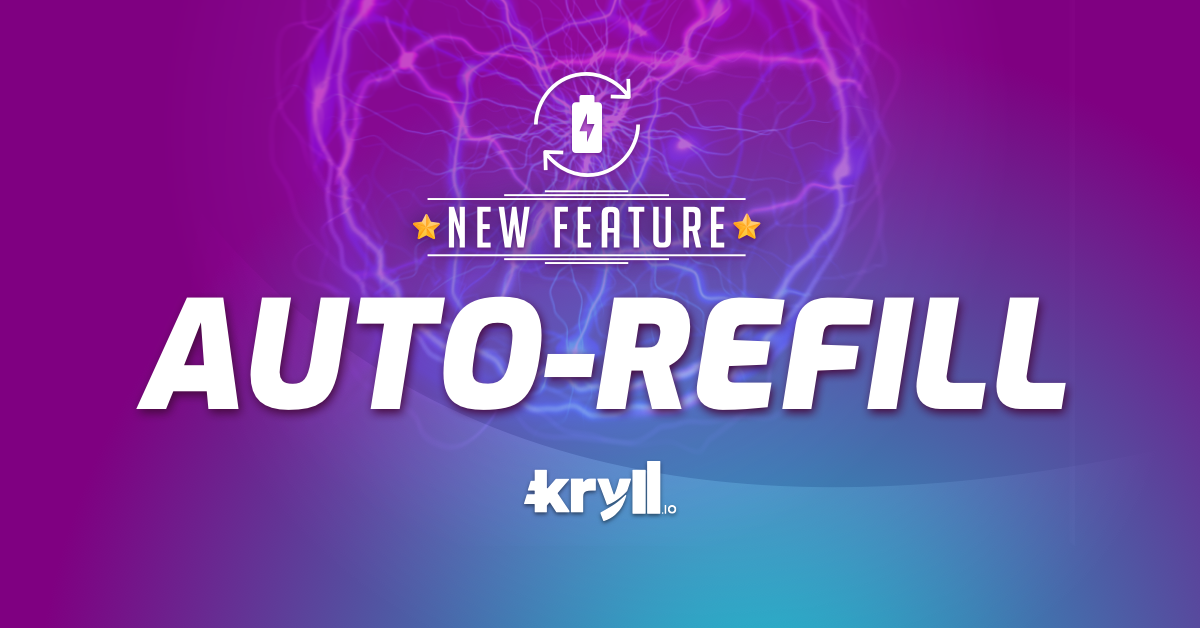 It is with great pleasure that we regularly add new features to the platform and this latest update is likely to please the community that has repeatedly suggested the wish to have such an option on Kryll.
You have guessed it, it is the auto-refill which allows to recharge a strategy in KRL in an automatic way! No more risk that your strategies stop because of insufficient KRL, for example if you are on vacations ;)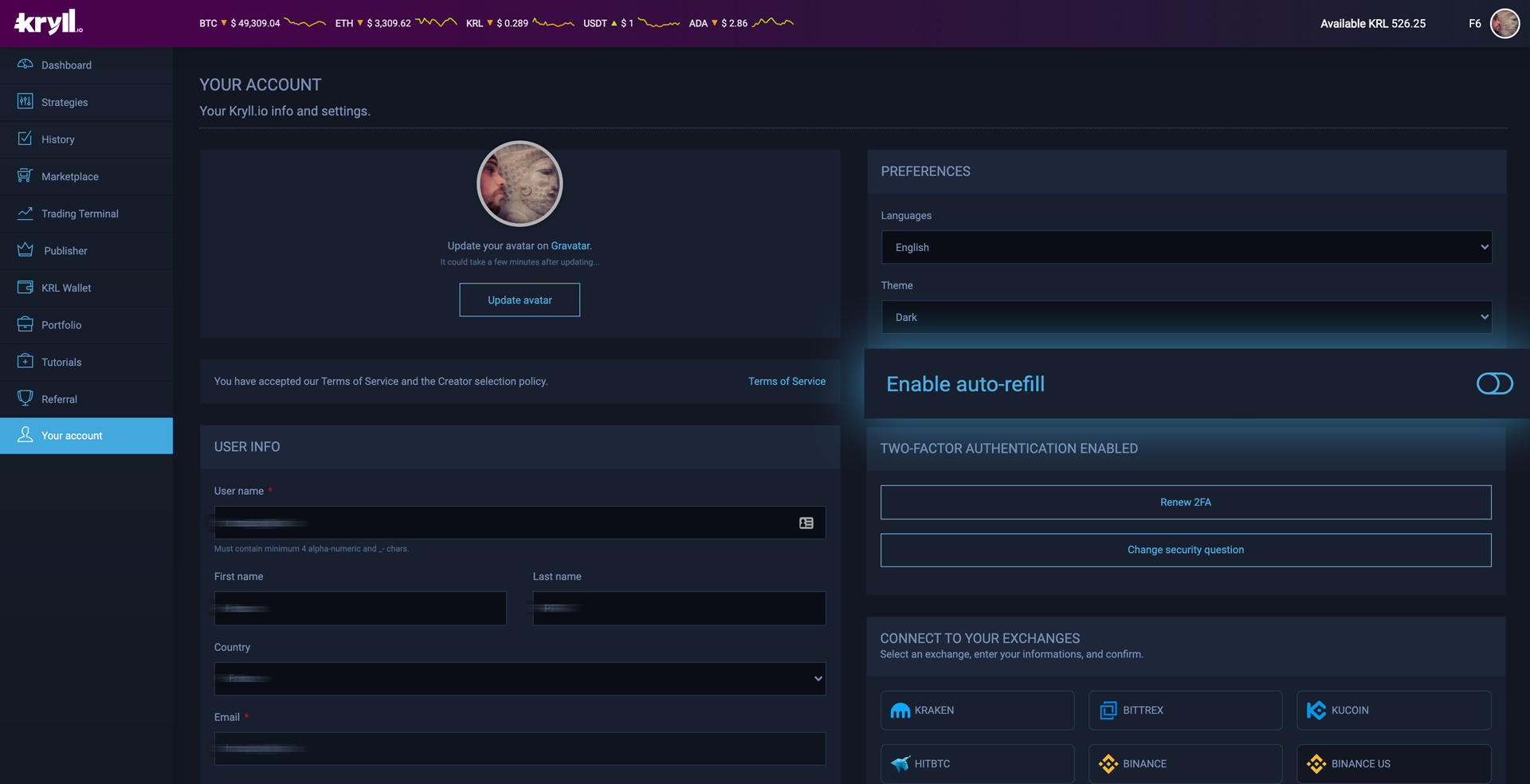 The benefits of auto-refill
Auto-refill gives you peace of mind, as soon as your strategy has a low level of KRL, it will automatically refill itself to continue working without any action from you.
How does auto-refill work?
It's very simple, the auto-refill option is enabled by default on your account. If your KRL gauge falls below 30% then auto-refill will recharge your strategy.
Example : You have launched a strategy by allocating 50 KRL to it, you have 30% or 15 KRL left, the auto-refill will then automatically add KRL to bring the gauge back to 50 KRL.
You will receive an email notification when your strategy is automatically reloaded.
Note: Make sure you always have enough KRL available for the strategies to refill.
How to disable auto-refill?
You just have to go in your Kryll account settings on the "Your account" tab and then in preferences on the top right. Then you just have to position the small switch next to "Enable auto-refill" to the left.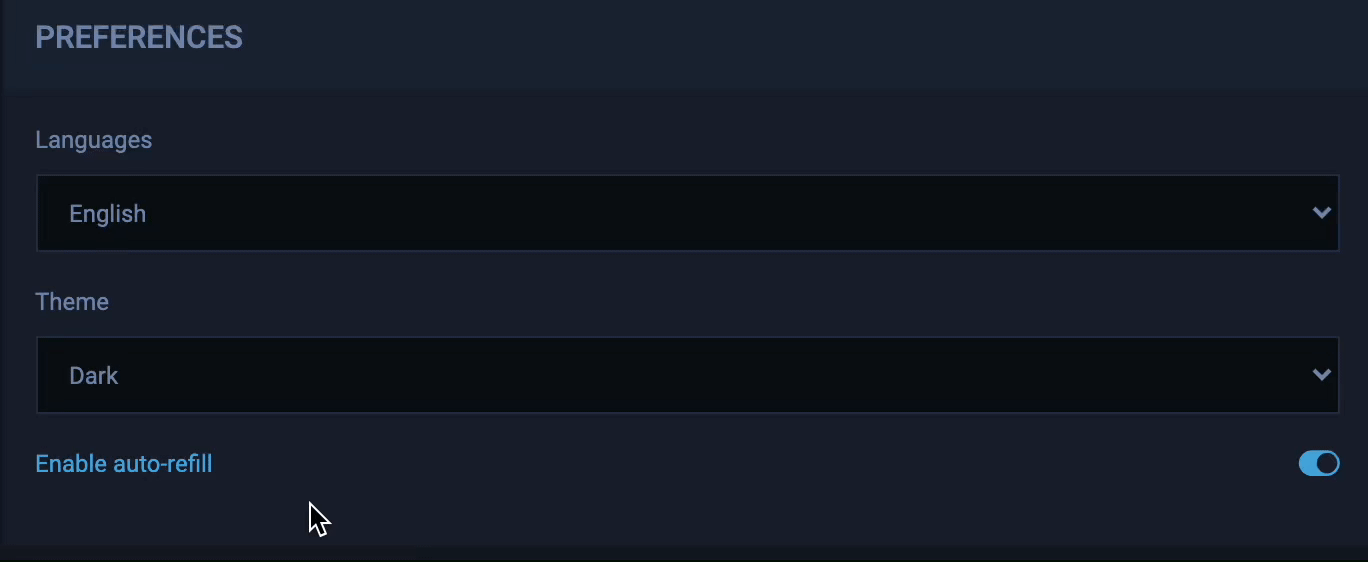 As you can see, this feature is there to make your life easier. Don't hesitate to send us your suggestions :)
PS: If you don't see this option, you can refresh your browser's cache (CTRL+F5 on windows or CMD+R on mac).
Happy trading!

Website : https://kryll.io
Twitter : @Kryll.io
Telegram EN : https://t.me/kryll_io
Telegram FR: https://t.me/kryll_fr
Discord : https://discord.gg/PDcHd8K
Facebook : https://www.facebook.com/kryll.io
Support : support@kryll.io