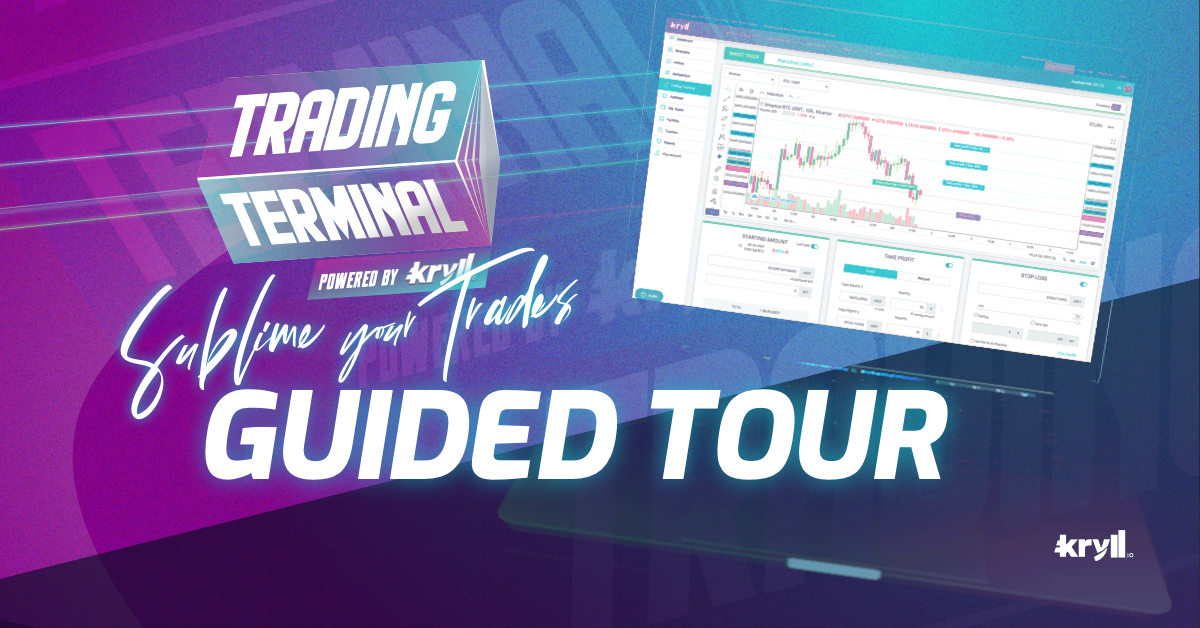 You have been waiting for it, we made it happen! The Trading Terminal is now available on the Spot market of your favorite exchanges. This powerful tool replaces Smart Trading with many new features you will love!
Thanks to this new tool developed for our users, the worries of misunderstanding and the sometimes irrational choices of some users are over...
Welcome to the future!

Suitable for both novices and experts with its many features, it will allow you to enhance your manual trading.
The Trading Terminal is divided into several different parts which are represented by numbers in the image below.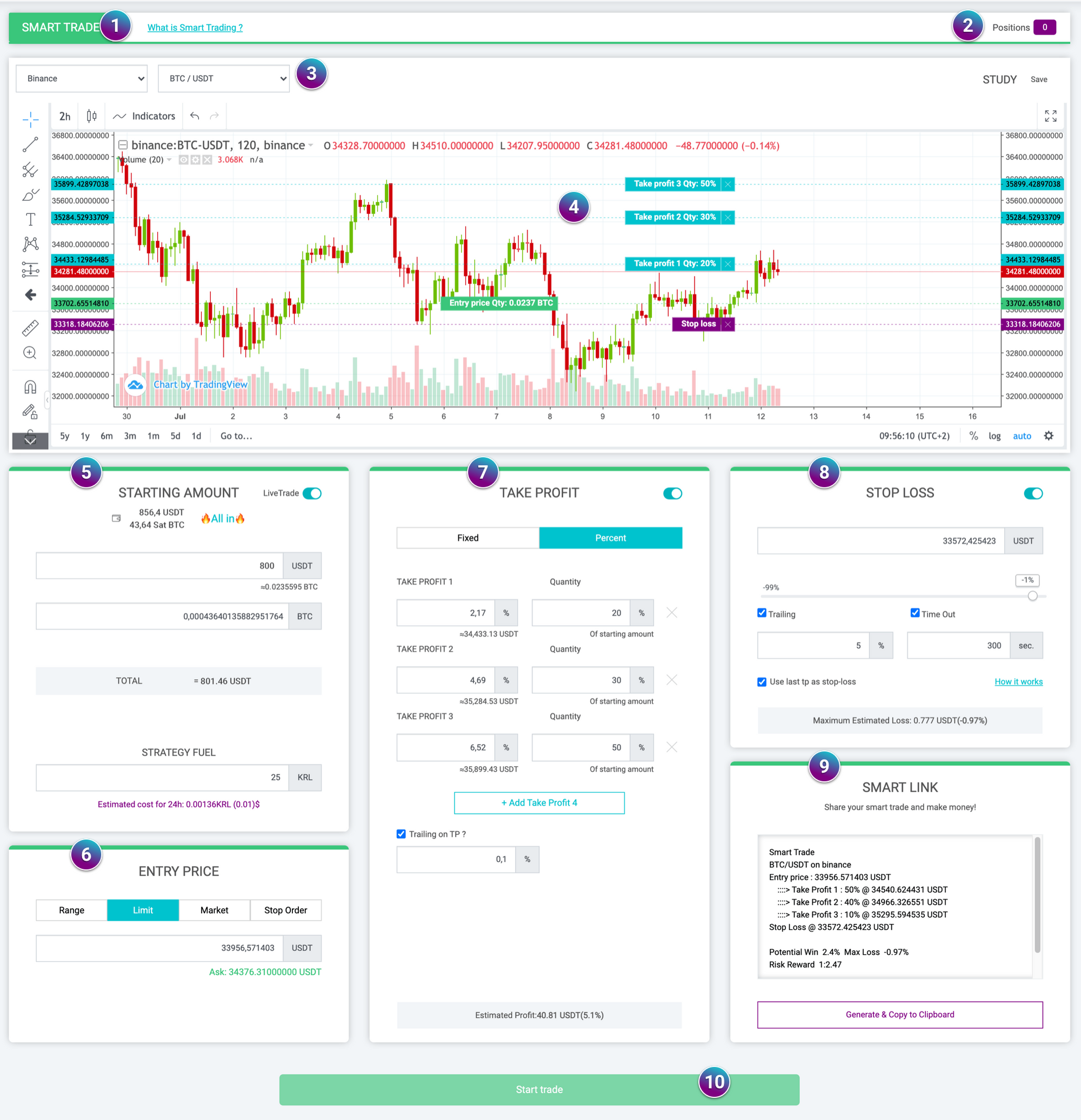 Global configuration

1- With the Smart Trade button (in green), you are in the terminal trading edition part on the Spot markets,
It will be possible to trade by buying and then planning the resale (or not) of your crypto-currencies. In other words, you automate your trading plan!
Before opening a new position, it is very easy to create a new trading plan for the corresponding pair by selecting the smart trade button again (which will turn green).

2- By clicking on the "Positions" button, you go to the section that contains information about your current and past trades.
Go further in this guide to find out more about this page!
N.B : Below the position button, you can save your trading plan via the "save" button
3- Your trade and the pair you wish to trade are selected here.
You will be able to take advantage of all the pairs available on the Binance Spot Market. But stay tuned, other trading platforms are coming soon!

4- Need to perform a technical analysis? Kryll gives you all the tools you need! A TradingView chart is a must for any trader and contains your favorite indicators as well as real-time price curves.
This chart is not just for show. Here you will see the dots that correspond to your entry, take profit or stop loss points. So you have a direct view on your next winning trade!

To make it easier for you, Kryll has also set up a system that allows you to move your target prices directly on the graph! You just have to "grab" the dot you want to change and move it to the desired price level.

Now, let's go to the main course, the trade configuration!
Trade configuration

Everything below the chart is about the configuration of your smart trade, each element has its importance and can be configured as you wish.
5- Let's start with the amount allocated to your Smart Trade!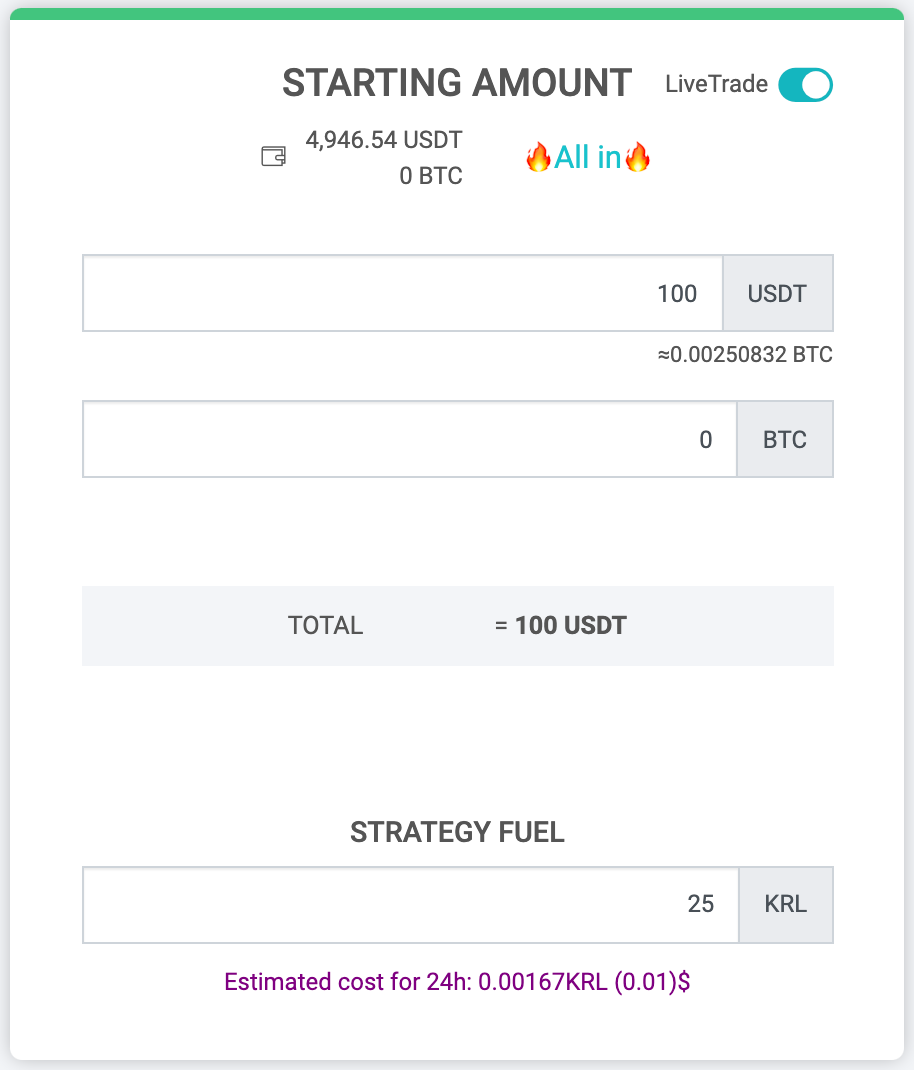 Start by entering an amount in USDT. This will be the amount your smart trade will use.

If you already own base crypto-currencies like BTC, ETH and BNB, you can also use terminal trading to buy in entry price your favorite altcoin and add the resale levels to accumulate your base cryptocurrencies.

To finish with this section, you will be able to choose the number of KRL you want to lock in this smart trade.
6- It's time to set up your entry price!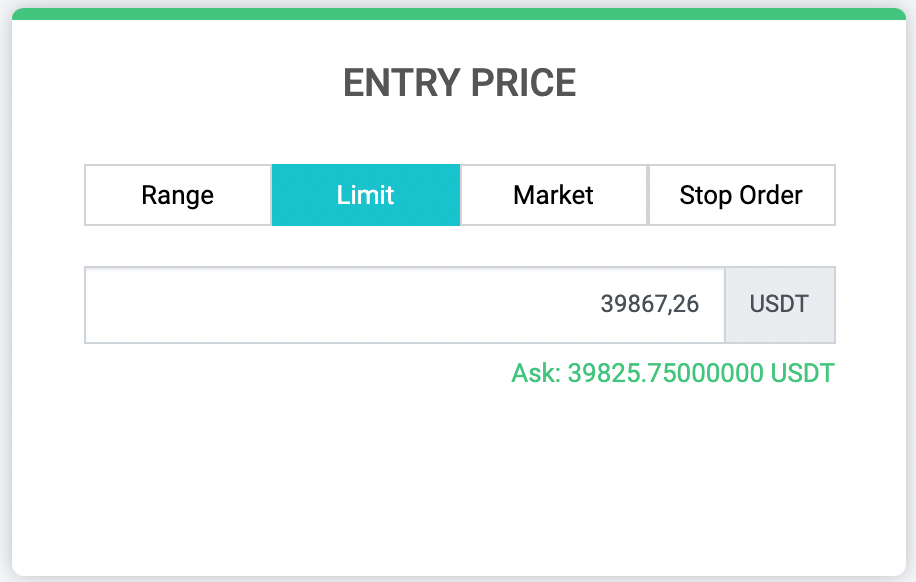 You will have the choice between an entry at a defined price (Limit), an entry at market price (Market) and a conditional entry (Stop Order). For more visibility, the best buy price (Ask) is available in real time!
7- Up to FIVE profit taking levels!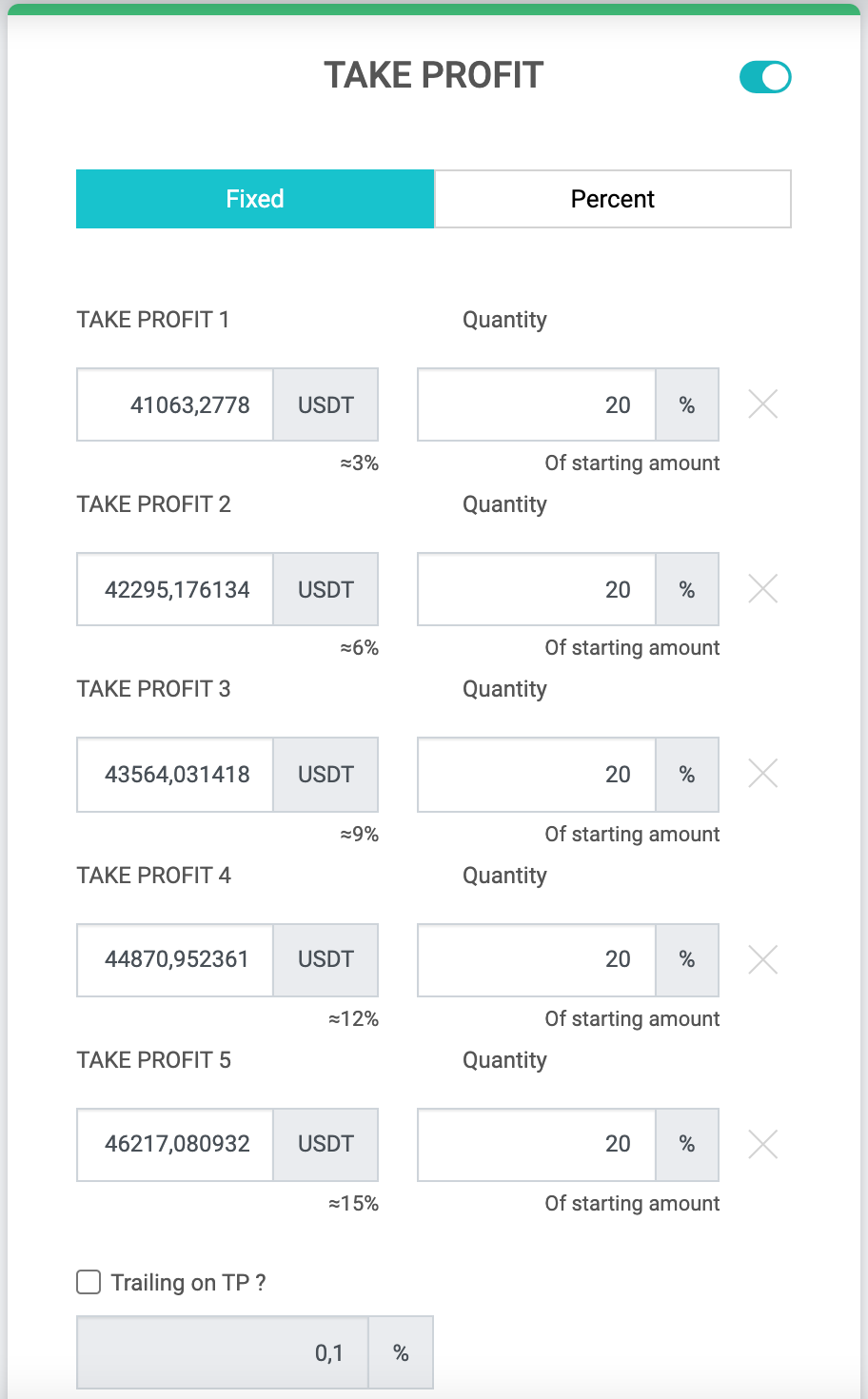 If you decide to activate a Take Profit, your strategy will have its first target, it's up to you to define its price! You will notice that there are two Take Profit modes. These two modes will satisfy those who prefer targets in percentages as well as in real prices. But that's not all! For the more visual, you have the possibility to move the Take Profit (and Stop Loss) lines directly on the chart!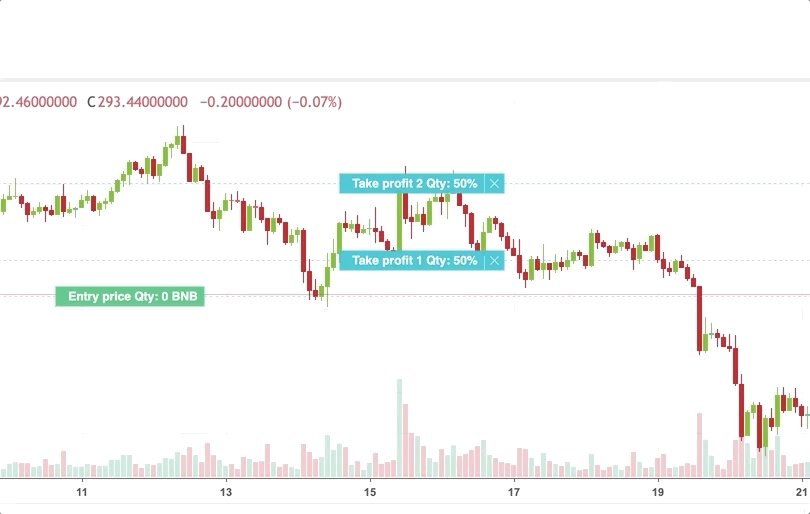 Impressive, isn't it?
You can add up to 5 Take Profits per Smart Trade, and you don't have to have 100% of your capital in Take Profit, you can very well decide to hold funds that will not be sold!
8- Safety is the best weapon of an efficient trader, activate a Stop Loss!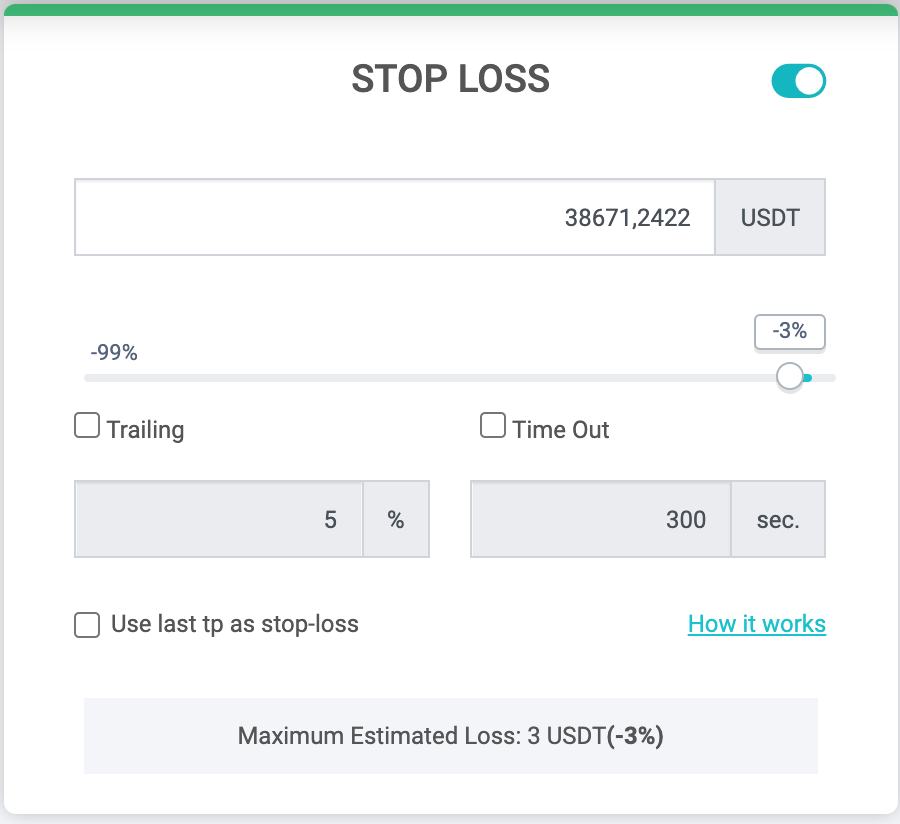 You will notice several fields in this section.The first field is the raw value of your Stop-Loss.

You can choose to add a trailing stop to this stop-loss, in which case the smart trade will wait for the price to fall before exiting your position (unless the price exceeds your raw stop-loss, which always takes priority).

For the more experienced, there is a Timeout option that will check if the price is still below your Stop-Loss after x seconds, x being the value you entered.
A powerful weapon against stop loss hunters or "false breaks".

Finally, in order to secure your profits as much as possible, you can use the "Use last TP as Stop Loss" feature. This way, every time the price hits one of your Take Profits, a Stop Loss is automatically added to the value of the previous TP. So if the price hits your first TP, a Stop Loss is set to your entry price.

If the price hits your second TP, a Stop Loss is set at your first TP and so on. To earn more, remember to minimize your losses!
9- Winning together is always more fun (and you can make money out of it)!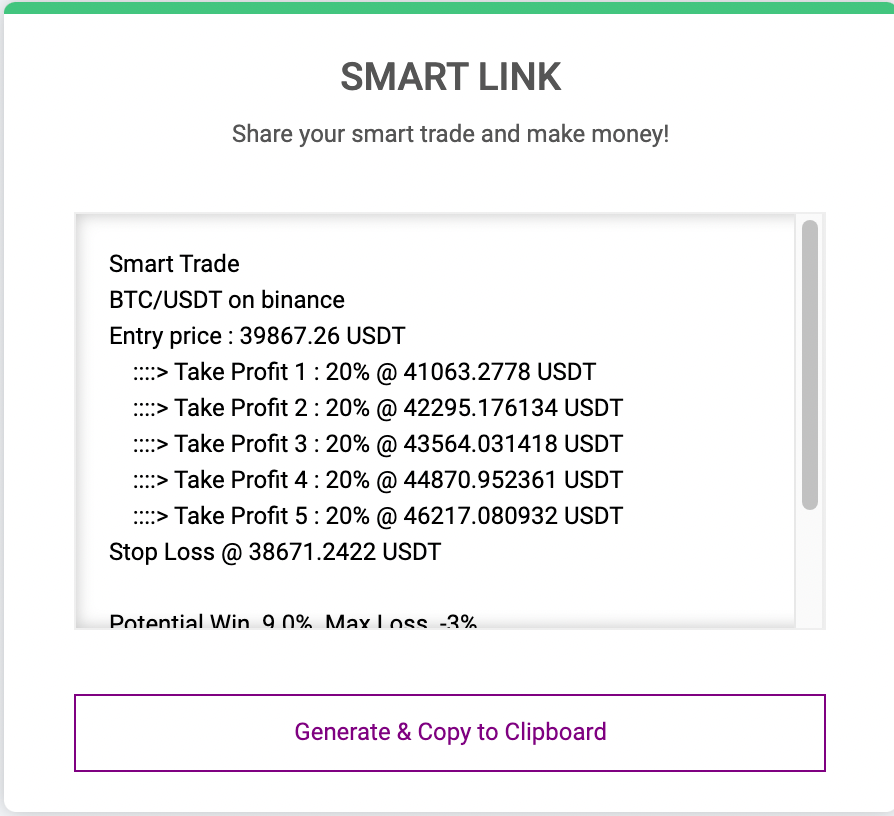 The Smart Link section allows you to share your smart trade to your community. When someone clicks on your link, it will automatically capture all your settings and they will only have to launch it. You will receive a share of the fees we charge them, at no extra cost for them!
10- Let's go!


Watch your thought materialize on the TradingView chart, confirm that this is what you want and now it's time to launch your Smart Trade!
Discover terminal trading in this video

Positions Management

Now that you've launched your first trade, you can go and relax, Kryll takes care of everything. However, if you want to admire your winnings or study your past trades, you can do so with a page containing all the information you need!


On this page you will find a list of your open and closed positions, each of which has all the necessary information to help you understand what is happening, or what has happened.

You can click on each of these positions to view the different parameters you used for that smart trade on the TradingView chart.

More experienced users will be able to add their technical analysis via the "load" button (see graph below):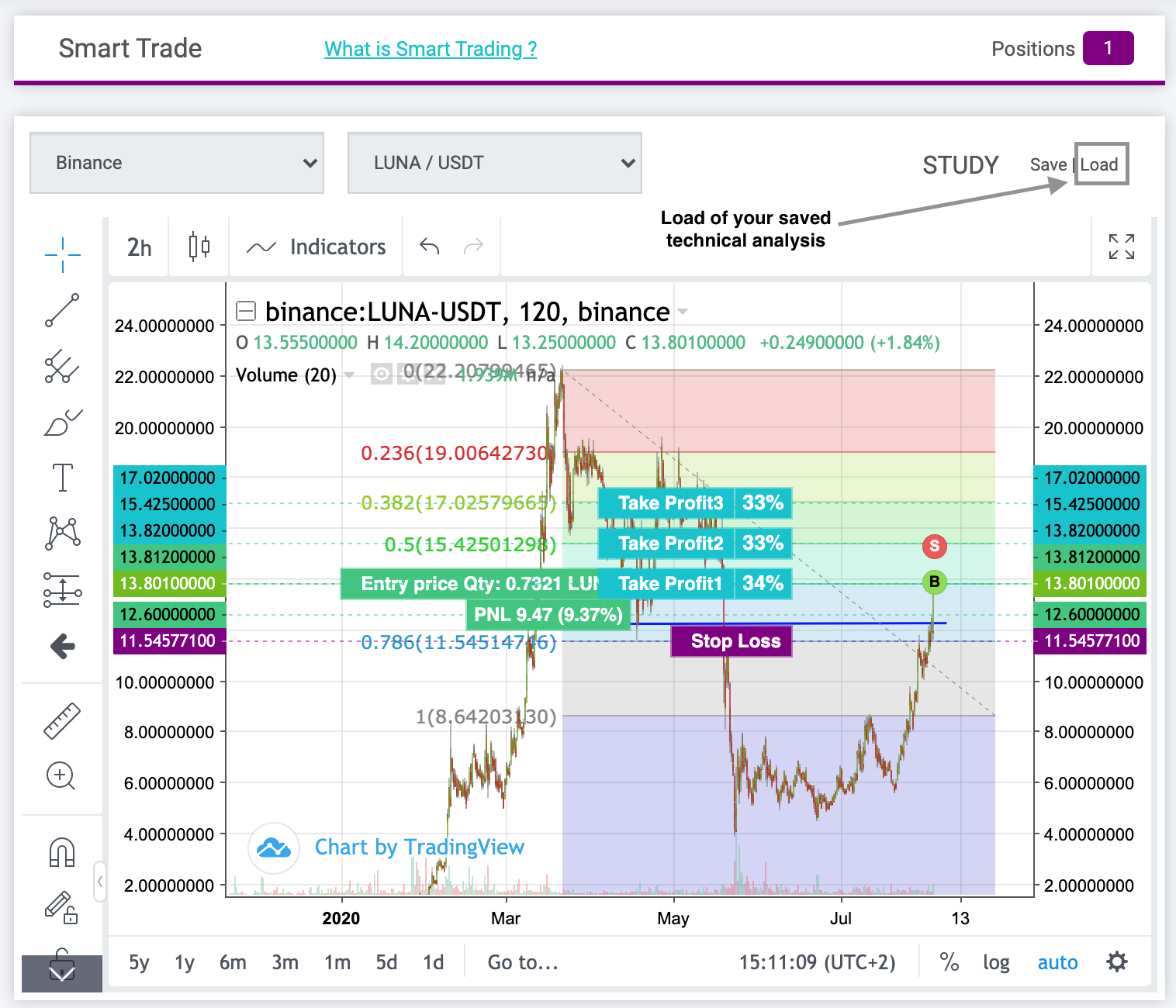 A sharing feature of your trades results is available, in the "positions" tab just click on the share icon (the arrow) and an image will be generated. You can also find a global share (cumulative results) on your dashboard with the same icon.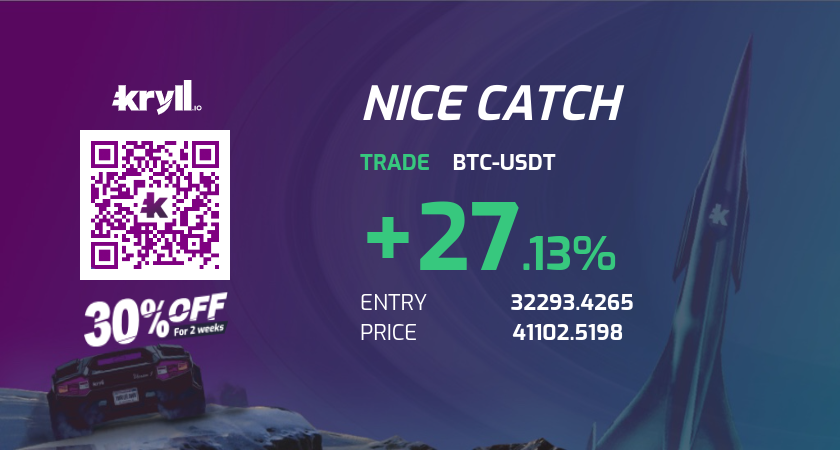 The Trading Terminal by Kryll is a revolution! We're counting on your creativity to make the most of its capabilities.
Happy Trading!
Website : https://kryll.io
Twitter : @Kryll.io
Telegram EN : https://t.me/kryll_io
Telegram FR: https://t.me/kryll_fr
Facebook : https://www.facebook.com/kryll.io
Support : support@kryll.io