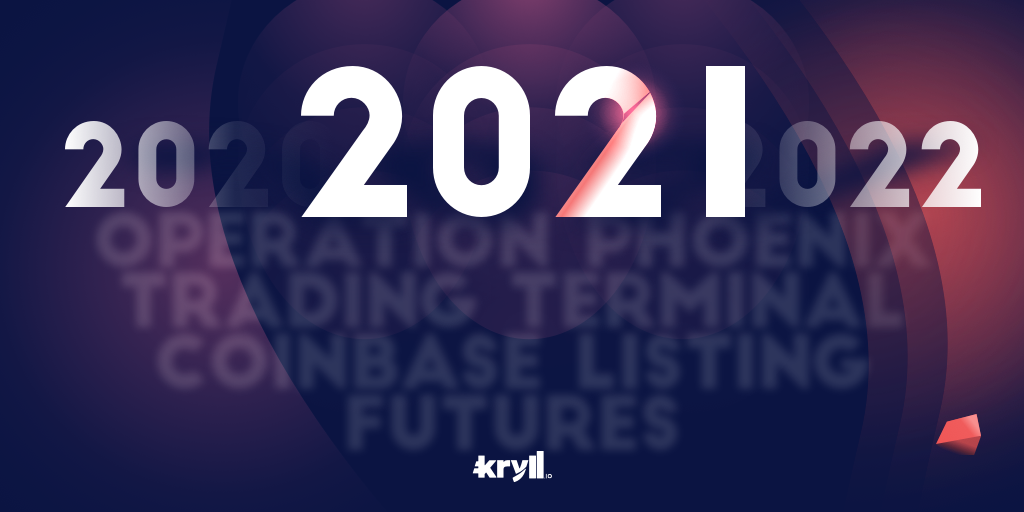 The end of the year 2021 is approaching, the Kryll team would like to wish you happy holidays and thank you for the trust you have placed in them. In this recap we will review the significant achievements and partnerships that have so far enabled KRL and the company to acquire such notoriety, to which we will add the perspectives to come for the year 2022.

1st Quarter
At the start of the year exponential growth took a toll on the platform, for those who remember it was the "Phoenix Operation", our devs team took up the challenge and upgraded the platform, it can now handle the load of constant growth.

The month of March was good for the acquisition of the KRL token thanks to a listing on KuCoin. KuCoin is one of the biggest exchanges available to buy / sell crypto, it is part of the TOP 20 on CoinMarketCap.
2nd Quarter
1 Billion $ of volume traded on the platform, on this occasion Kryll launched a special NFT "1Billion"
Partnership with 100x Ventures, the investment arm of the Bitmex exchange. This allowed Kryll to flesh out his relationship for more collaborations.
3rd Quarter
Release of the Trading Terminal, complete overhaul to replace Smart Trading
Improvement of the platform, release auto-refill for strategies.
4th Quarter
New hires joined the Kryll team, Community managers to manage the Latin, French and English speaking communities. Data analysts and developers have also joined the team as well as biz dev, accountants etc..
Listing on Coinbase was a boost for KRL token but also great visibility in North America. Partnerships are coming up !
Listing On Bybit, the exchange which goes up and intends to impose itself among the big ones. Partnerships are also to come.
Listing on Gate.io, always with the aim of having the most sources available for the acquisition of the KRL, we will respond to the request with another listing on a well-known exchange.
The Kryll team continues to grow with new recruitments (devs, admins, marketing) in order to quickly offer new features on the platform.
Conclusion
As you can see, Kryll is accelerating its development and is arming itself with new resources to offer you an ever more innovative and efficient platform. The year 2022 will be full of new features and partnerships. The whole Kryll team wishes you happy holidays.

Happy Trading,

Website : https://kryll.io
Twitter : @Kryll.io
Telegram EN : https://t.me/kryll_io
Telegram FR: https://t.me/kryll_fr
Telegram ES: https://t.me/kryll_es
Discord : https://discord.gg/PDcHd8K
Facebook : https://www.facebook.com/kryll.io
Support : support@kryll.io