Calendar Block — This block is a conditional block that triggers an action on a specific day of the week and/or within a specific time interval.
Recap of Basics
The Calendar block is based on the concept of time scheduling. It allows you to define conditions based on the day of the week and the time (UTC), which allows your strategies to interact with the market in a more precise manner. It serves as a planner, allowing you to automate tasks according to predefined schedules, thereby ensuring efficient task management and timely execution. Coupled with webhooks, this block, for example, allows you to avoid capturing signals and trading over the weekend.
Block Configuration
After adding the Calendar block in the Kryll editor interface, the block settings allow you to select one or more days of the week and a time range (UTC) during which the block will be 'valid'.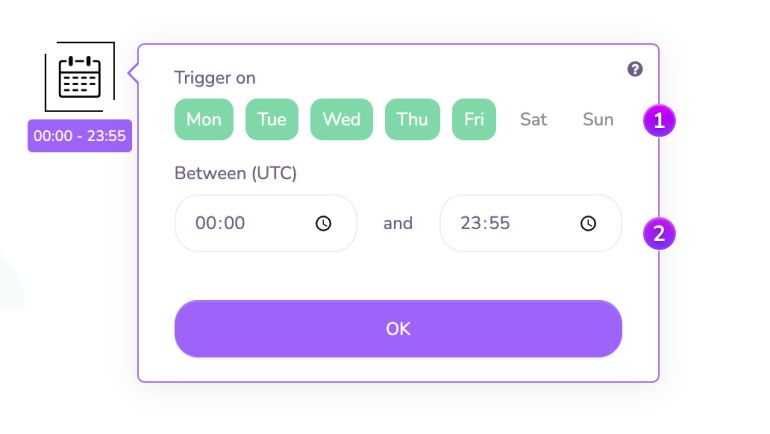 Days of the week: Here you choose the days the block is valid. Ideal for performing operations only on weekdays or positioning yourself on weekends when volatility is lower.

Time range: Here you choose the time range for which you want to activate the block. This allows for operations just before the close of a day or, conversely, trading only in a specific time zone.
---
Did you know?
According to some studies, there are "better" days to interact with the market, or on the contrary to protect yourself from it. Some days tend to be on average more "profitable" while others are generally "bloody" days on the markets. The Calendar block, coupled with an effective strategy, can be an original way to maximize your bot's chances of winning. We invite you to learn more about this in this article in which we conducted our own research with up-to-date history. The results might surprise you!
If you want to go further and are looking for other ways to optimize and improve your trading bots, this article might interest you.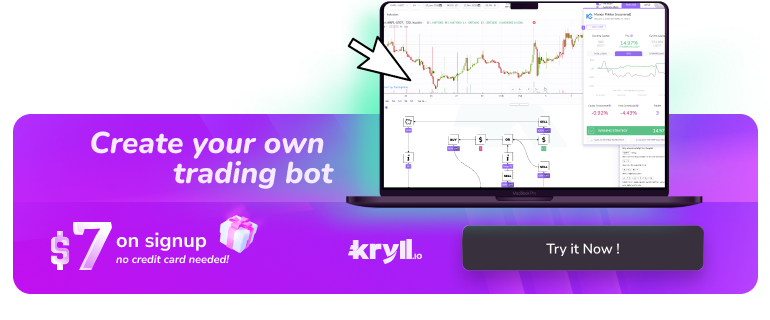 Happy Trading,
Website: https://kryll.io
Twitter: @Kryll_io
Telegram EN: https://t.me/kryll_io
Telegram FR: https://t.me/kryll_fr
Telegram ES: https://t.me/kryll_es
Discord: https://discord.gg/PDcHd8K
Reddit: https://reddit.com/r/Kryll_io
Facebook: https://www.facebook.com/kryll.io
Support: support@kryll.io