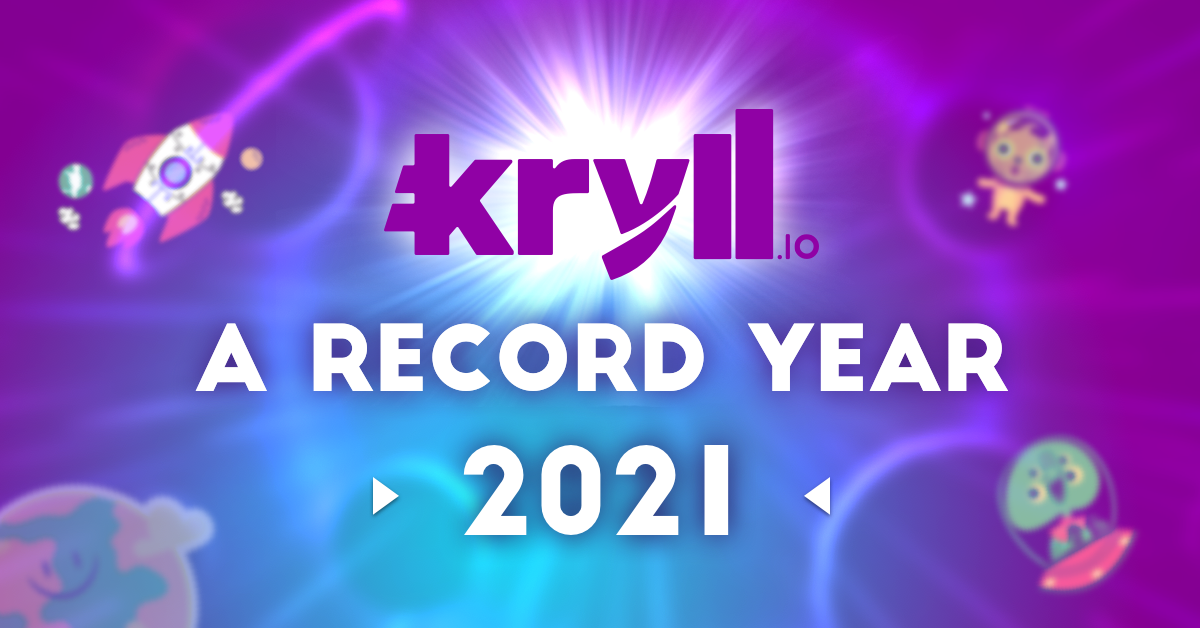 Presentation of the Kryll.io platform

Kryll.io is an automatic trading platform allowing users to create their own trading robots and / or to hire different strategies developed by other users.  
Indeed, by using the API located on the exchanges (Binance, Coinbase, FTX etc.), you have the possibility to link your Kryll account directly to their market, in order to execute your investment or trading strategies according to your profile.

Kryll's value proposition is that you don't need to have any development skills to create complex trading robots, compatible with the most popular exchanges.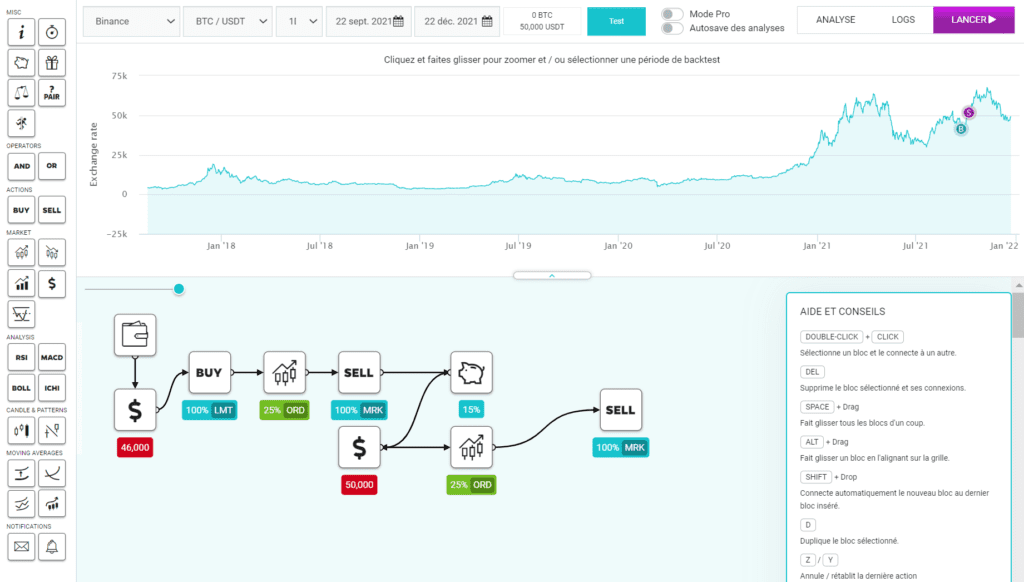 Thanks to their "Drag and Drop" editor, you can develop all kinds of trading strategies, basing your triggers (buy/sell) on many indicators, such as the price of a cryptocurrency, the percentage change in the price of the token, candlestick patterns, but also technical indicators like RSI, MACD and more.
You can deepen your analyzes by taking advantage of the advanced chart of Tradingview PRO.

2021 has been a very successful year for the automatic trading platform. Whether in terms of listings on world famous exchanges like Coinbase & Bybit or the growing number of new users, Kryll has never performed so well since the creation of the project in 2018.

In this article, discover the annual accomplishments of this French project, but also the interesting new features that should arrive in 2022.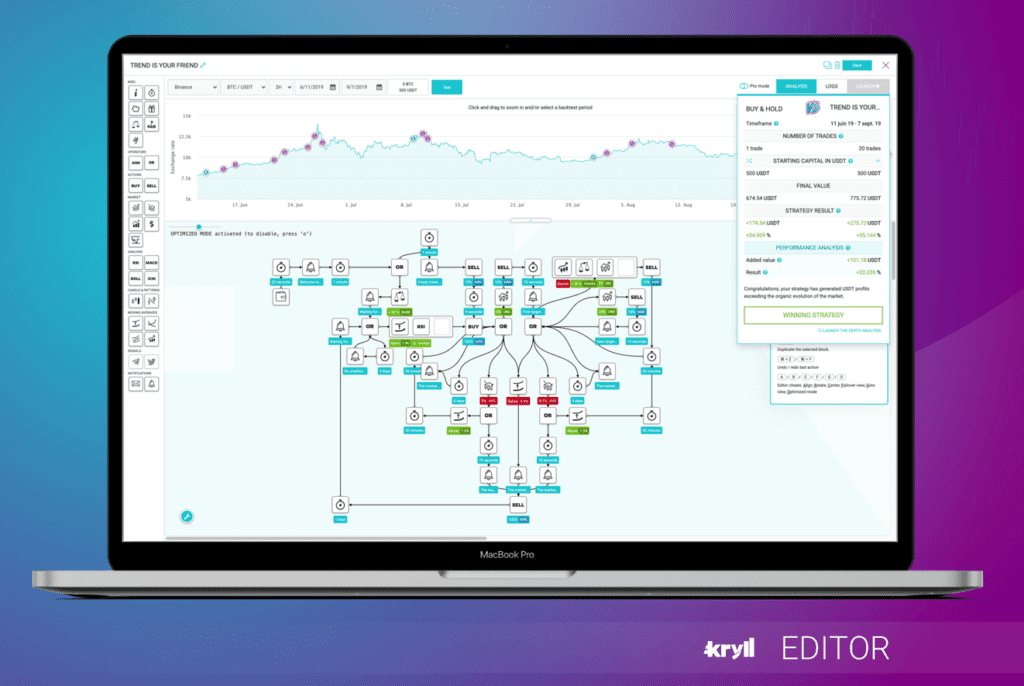 The listings follow on from Kryll's side

Among the bullish events for Kryll in 2021 are of course their numerous listings made on some of the most popular trading platforms in the world.

Here is a summary of all these listings:

March 16, 2021: Listing on Kucoin
October 27, 2021: Listing on Coinbase
December 6, 2021: Listing on Bybit
December 16, 2021: Listing on Gate.io
In addition to welcoming tens of thousands of new users to their platform, this accumulation of listings (especially Coinbase) has caused the price of their KRL cryptocurrency to explode upward.

Here is the impact of each listing on the KRL token: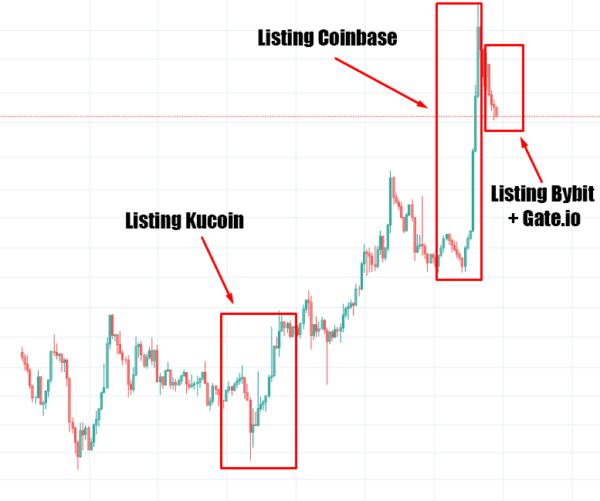 Kryll - A rise in international power

As shown in the chart above, the KRL cryptocurrency has experienced a very strong rise since its listing on Coinbase. In just a few weeks, the token's price rose from around $0.85 to over $4.6 (450%).
This listing has enabled it to strengthen its international development, but particularly in North America where most crypto enthusiasts use Coinbase as a medium of exchange.

Keep in mind that Coinbase has nearly 73 million users and has a daily trading volume of around $3.5 billion. It is therefore normal that projects seeing their token listed on this exchange, obtain a certain legitimacy and credibility from the community for the future.  

But that's not all, Kryll has hit the Asian countries as well, with his two other more recent listings being on Bybit as well as Gate.io, exchanges mostly popular on the Asian continent.
Big news to come at Kryll


Despite a year of madness, the teams at Kryll do not intend to rest on their laurels. Indeed, Kryll plans to launch new features and services on their trading platform.
Integration of futures markets

To get 2022 off to a good start, Kryll plans to integrate automated trading into the Futures markets of various exchanges. This new service expected by many of their customers will initially be available on Binance.
You will be able to trade a whole catalog of crypto currencies, whether by betting on the upside (LONG), like on the downside (SHORT), but also using advanced trading tools, such as leverage.
KRL - The native token of the Kryll platform

The KRL is an ERC-20 token, defined as the native and utility cryptocurrency of the Kryll.io platform.
Users must have KRL in their portfolio to execute trading strategies.

Here are the benefits and use cases of Kryll cryptocurrency (KRL):
Cost of strategies: Each strategy you create on the platform has a cost. Indeed, tokens are used to execute your strategies, but also to feed them throughout their operation. Note that you should regularly top up your account with KRL tokens, in order to prevent your strategies from running out of gas and stopping.
Discounts: Kryll owners can also benefit from reductions on the daily costs of "Livetest" (online test period), better "Backtest" speed, more instances (number of strategies launched at the same time ), promotions on livetrading or even a better affiliate program. The highest level is unlocked from 200,000 KRL detained. Marketplace
Rewards: Community strategy makers can also earn KRL fee commissions when other users leverage their strategies on the Kryll Marketplace.

Note that there is no subscription to pay on the platform, you only pay when your strategies are running, you are free to cut or restart them at any time.

Where to buy Kryll tokens (KRL)

Launched in March 2018, the KRL cryptocurrency now trades at a price of $1.30 and has a market cap of around $50 million. For those who wish to get hold of it, this cryptocurrency is currently traded on many trading platforms, such as Bybit, Coinbase, or KuCoin.
Tokenomics of the KRL cryptocurrency:
56% of the supply was sold during presales and during the 2018 ICO
22% of the supply is used by the company (of which 12% for the team; 4% for advisors and legal services; 6% for the company's cash flow (security reserve))
22% of the supply has been allocated to the community (of which 14% for contests and user acquisition;  7% for marketing (press relations, partnerships); 1% for Bounty (marketing on Bitcointalk etc))
Translation of the article wrote by FlayDem and published on coinacademy.fr
Find the original article HERE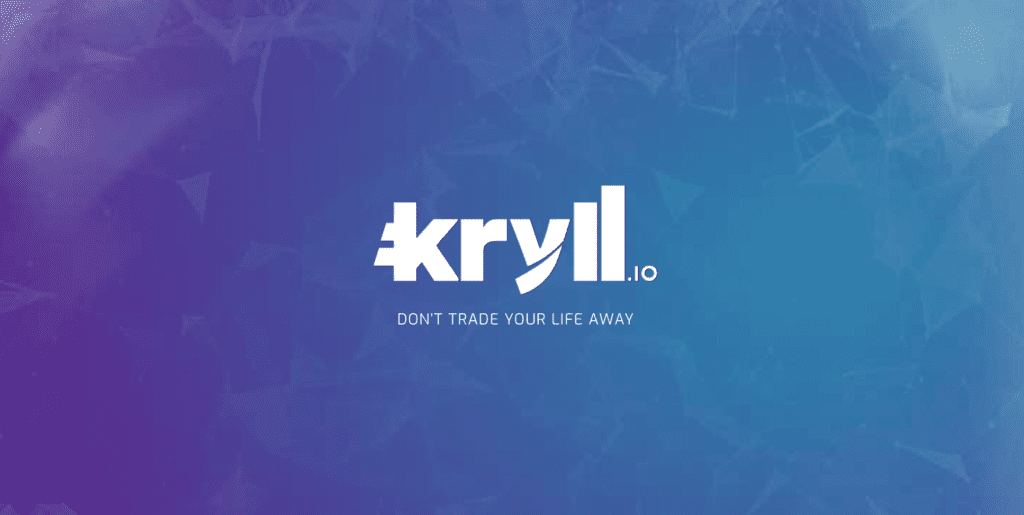 Happy Trading,
Website : https://kryll.io
Twitter : @Kryll.io
Telegram EN : https://t.me/kryll_io
Telegram FR: https://t.me/kryll_fr
Telegram ES: https://t.me/kryll_es
Discord : https://discord.gg/PDcHd8K
Facebook : https://www.facebook.com/kryll.io
Support : support@kryll.io