Starting on 28th January with the Kryll V1 release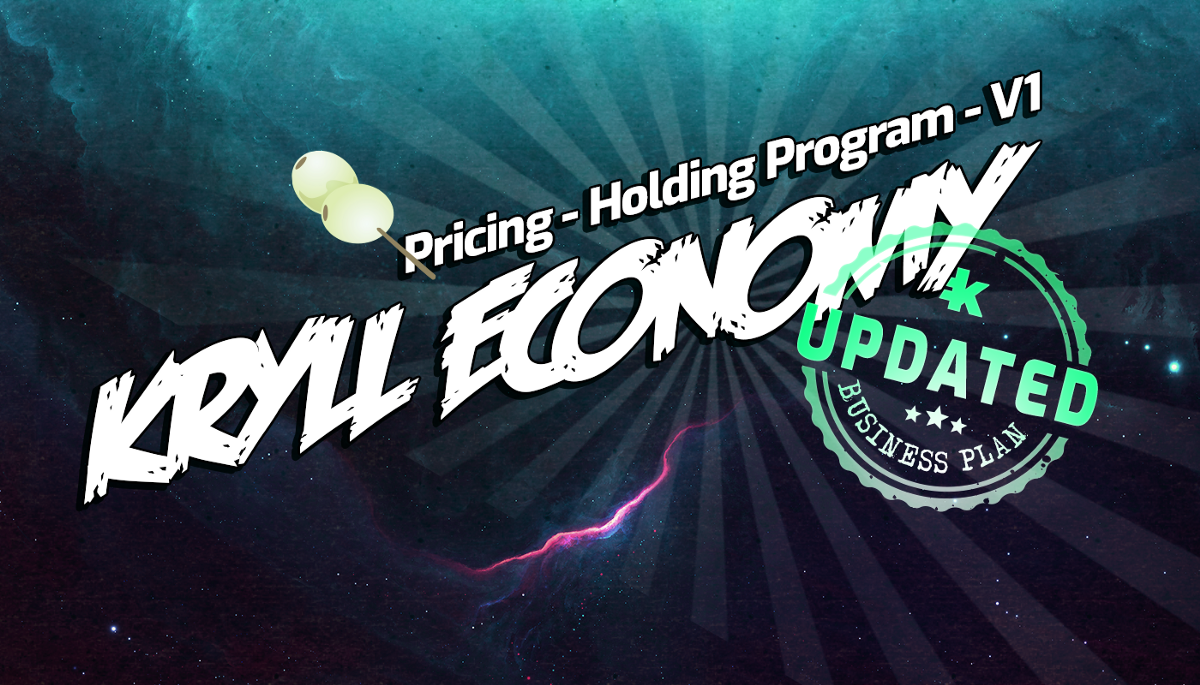 Dear Kryllians,First of all we would like to wish you all an amazing New Year 2019. Thank you so much for being with us from the beginning, our community is at the heart of Kryll.
Last November we introduced the first version on the platform pricing. We've had a lot of feedback from the community and we have listened carefully to each of you. This is why we have decided to change things in order to better meet your expectations and needs. We are going to discuss those evolutions in this post.
These changes will take effect with the upcoming release of the V1 Kryll platform which will include the Marketplace and a lot of other new features! Release is planned for January, 28th.

1 — Pricing Plan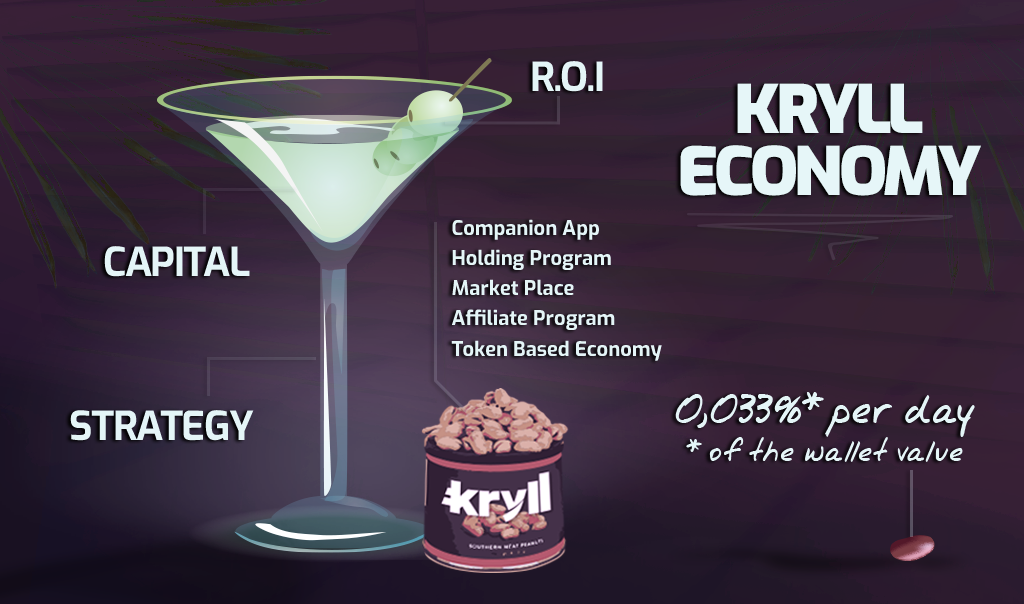 As previously introduced, the platform pricing has been revised to offer you more flexibility and serenity! Everything is simpler now : no more trade fees, running a Live Strategy will only cost 0.033% of the current wallet value invested in this strategy per day.
Let's take an example: You run a Live Strategy that have a value of $300, it will cost you $0.1 per day ($3 per month)
Fees will be charged in KRL. You will be alerted once your KRL balance is low so that you can refuel before your strategy stops.
Note: Fees are deduced every minute from your strategy wallet, recalculated on current wallet status, you pay for what you use, no more.
Running a Live Test (unlimited in time) will cost a price (in KRL) equivalent to $0.06 per day whatever the simulated amount.
Note that you can drastically reduce the fees (and also get some extra cool features) by holding KRL tokens, see the holding program below.
2 — KRL Holding Program
KRL holding program has been updated based on the community feedbacks. New tiers, new features, discounts rampage.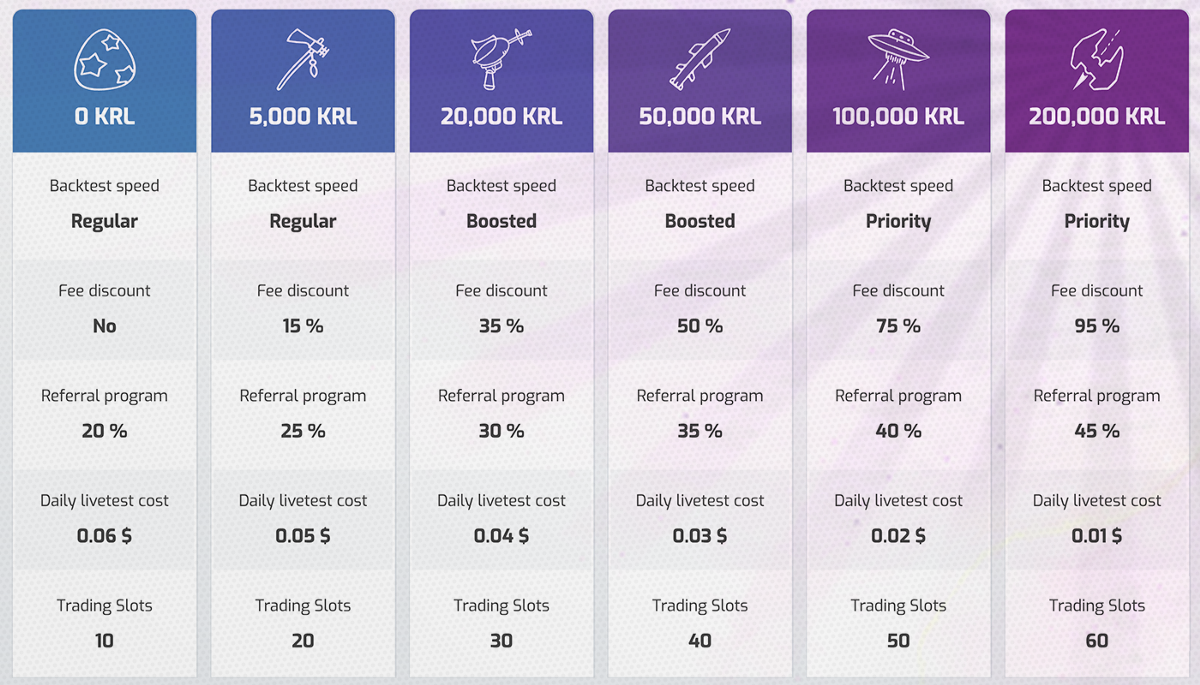 As each of us is different, have different funds, capabilities and a more or less significant involvement in Kryll, we have designed a tailored holding program for the Kryll Platform!
Holding KRL on the platform will be rewarded with many benefits, all you have to do is keep them in your Kryll account to automatically activate these benefits.
Note: Kryll uses a cold-storage system so your KRL holding benefits from the safest existing solution.
These KRL won't be locked, it is up to you to withdraw them when you want. So, whether you have few or many resources, whether you are a strategy creator requiring all our computing power, a trader who wants to limit his expenses, or a Kryllangelist who wants to talk about us around him, your KRL are always available.
Note: At last but not least, our forever favorite ICO investors are automatically upgraded to the 5,000 KRL Holding Program tier (no KRL will be credited, it is just a Holding program update) ;).
Backtest Speed
The backtest now operates at 3 different speeds depending on your Holding level. Regular — Boosted — Priority. You can see the difference in the video below.
3 — Kryll Platform V1
The major version of the Kryll platform is coming on January, 28th. It will be known as the V1. This version will be opened to everyone and will include the highly anticipated Marketplace with which a strategy creator can monetize its skills and make his strategies available to other users.
Note: The "Stakers" benefiting today from the "Staking Edition" will be automatically switched to the 5K Holding Program tier.
4—Kryll Marketplace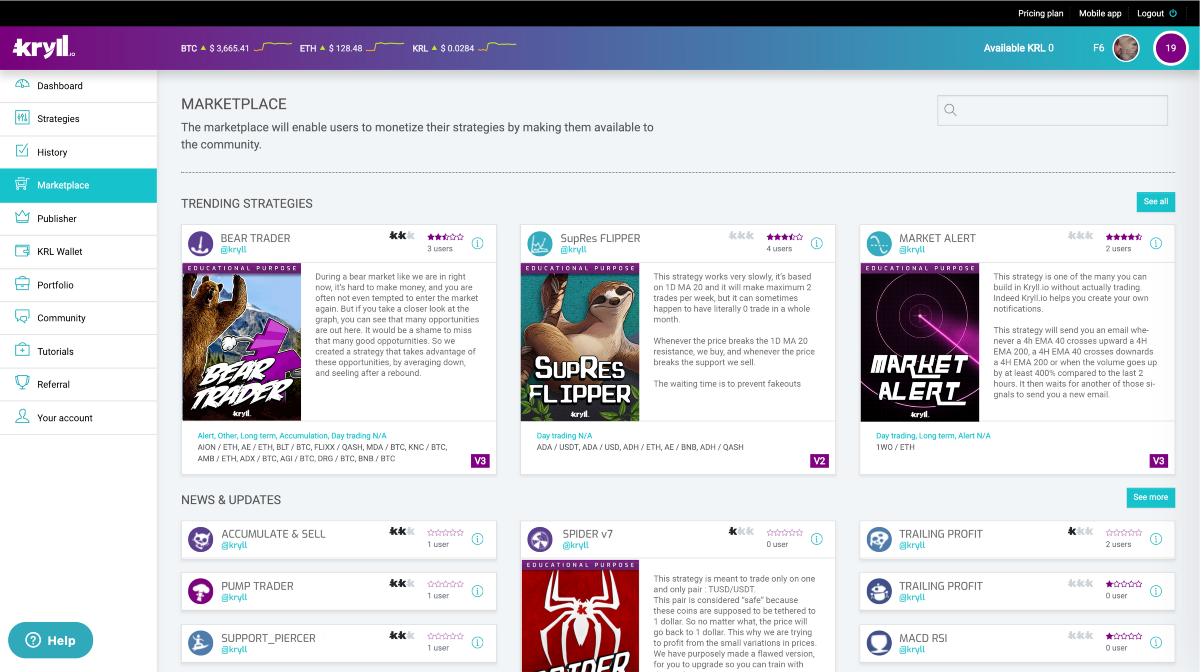 The Marketplace ecosystem will be released with the Kryll V1. It will finally be possible to monetize your own strategies or to rent the strategies of other users. Kryll Marketplace is beneficial for both users and strategies creators. It is all about cooperation.
Referral program
Soon after the V1 launch a Referral program will be available, allowing users to refer their friends and earn commissions on their Kryll usage. More details to come in time about the Referral Program.
IMPORTANT NOTICE
Given the importance of this major update, all the strategies will have to be stopped manually before January, 28th, make sure to find the best time to stop them. On Jan, 28th they will be automatically stopped.
Conclusion
Things are getting better everyday! We have a great community that is growing fast and always participating to our surveys, contests, etc… but also a community that lives to help each others and take care of new comers. Thanks guys for that !
Stay Tuned and Happy Trading!
Be sure to follow us on all our social networks.
Our website: https://kryll.io
Twitter : @Kryll.io
Telegram : https://t.me/kryll_io
Community: https://community.kryll.io
Facebook : https://www.facebook.com/kryll.io
Guide: https://kryll.zendesk.com/hc/en-us
Support : support@kryll.zendesk.com