A moment of joy we want to share with you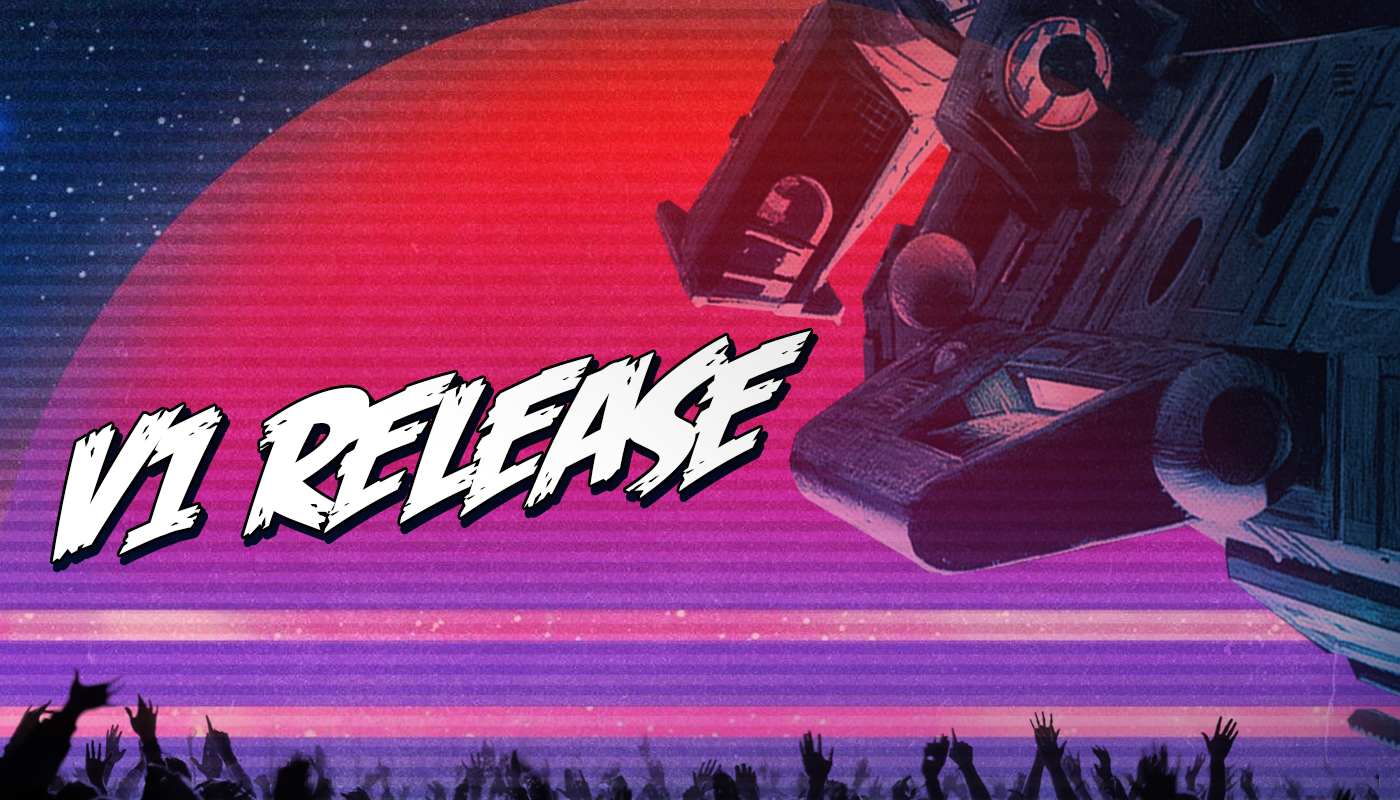 A year of work and sweat
The Kryll.io team is very happy to announce the release of the Kryll V1 platform. 1 year after we started the ICO (7th, Feb 2018).
Thanks to all those who participated in the alpha version over the last 5 months. Your feedback has been essential to the successful development of the platform. This has allowed us to improve and refine the features you will find today in V1. We also released an app on Android & iOS that allows you to follow your strategies in real time while you are on the go.
What is changing with the V1?
A complete stabilisation of the platform. All bugs reported during Alpha have been fixed. The platform economy have been greatly improved and the community loves it. Holding Program will help you reduce your fees to almost nothing. New tools have been developed, some are already implemented, they are listed at the bottom of this article in the changelog.
To resume:
 — Complete stable platform
 — The MarketPlace is available
 — Pay as you trade economy system with very low fees
 — Holding Program
 — New features implemented and more to come
What have been done since Alpha?
The main achievements to retain since the Alpha are the MarketPlace (rent or monetize strategy), A stable mobile companion app for iOS and Android, the strategies costs is now operational. Detailed below.
The MarketPlace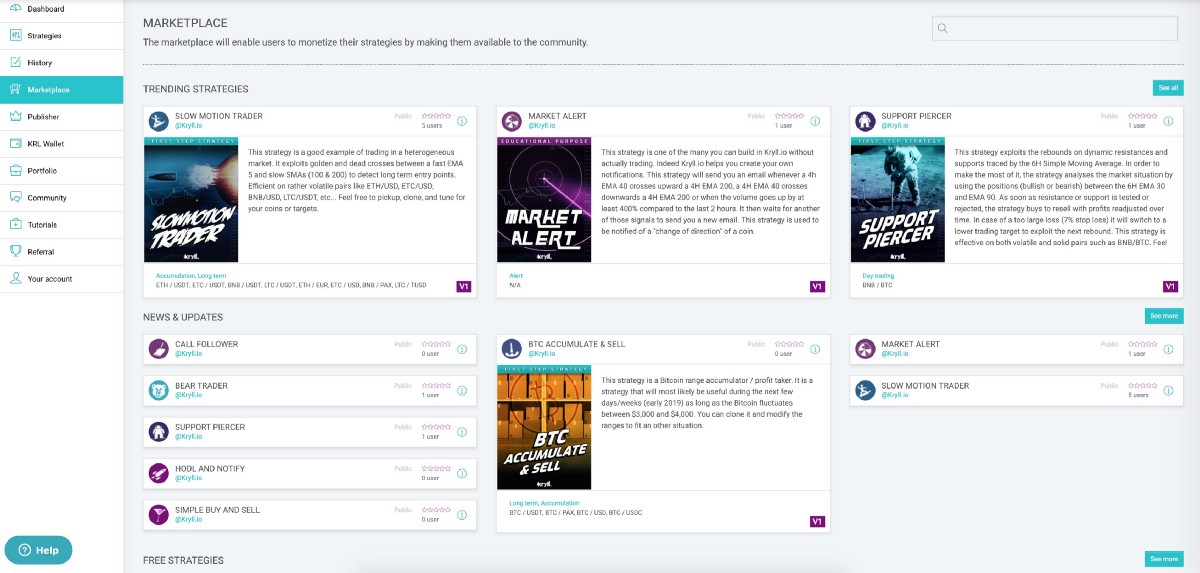 The so anticipated MarketPlace is here! We spent a lot of time on it and we hope you will love it as much as we do. Users will be able to rent strategies from the community and to monetize their own strategies. Strategies can be public (you can edit them and get the code) or private (you can use them but can't see the code inside). The costs of strategies is fixed by its creator and appear in the log when you backtest it.
More on the MarketPlace: https://blog.kryll.io/kryll-v1-the-marketplace/
The Mobile companion
As promised in the roadmap, the mobile companion is also here and will help you keep an eye on your strategies from everywhere. More updates are planned for this year, we are sure you'll love it.
More on the Mobile companion: https://blog.kryll.io/kryll-io-companion-app-is-released-for-android/
Platform Costs
Costs have been implemented. Simple and very low.
— 1% of strategy capital / month in Live trading— $0.06 / day for a live test

More in the dedicated medium: https://blog.kryll.io/kryll-io-v1---economy/
Here is a complete changelog of the new features and changes that have been made on the platform and that are included in V1.
New blocks
Mobile notification block allows you to get notified on your mobile, more info will come about this block. 
There is also a gift if you want to pay us a beer :)
Backtest Speed
The backtest now operates at 3 different speeds depending on your Holding level. Regular — Boosted — Priority. You can see the difference in the video below.
Conclusion
This year was really exciting. From a WhitePaper to a final product (that will continue to evolve), 365 days of hard work to release a product awaited by its investors. It brought us so much satisfaction to see our community supporting us and believing in Kryll. We are sure this year will be fantastic and we want to thanks all people that trusted us since the beginning.
Thank you all!
Kryll V1 Changelog
► MarketPlace : Monetize your own strategies or rent the strategies from other users.
► Autosave TradingView™ : In Pro Mode your technical analysis are automatically saved on the TradingView graph.
► Companion App : Frequent updates of the mobile app. 
► New design : Improved UI and UX on the platform.
► Holding program : Holding KRL on the platform will be rewarded with many benefits (fee discount, more slots, backtest speed).
► Live strategy limitation : From 3 to 10 minimum.
► Live window improvement : Consumes less resources.
► Mobile notification block : New block that allows your strategy to send notifications to your Companion App.
► Gift block : Tips the Kryll team if you want to pay us a coffee ;)
► New strategy economy system : Refill system, emails alerts.
► Security improved : You can now secure your account with a secret question in case you lose your 2FA code.
► Platform improvements : Bugs resolution, performance enhancement.
Happy Trading!
Be sure to follow us on all our social networks.
Our website: https://kryll.io
Twitter : @Kryll.io
Telegram : https://t.me/kryll_io
Community: https://community.kryll.io
Facebook : https://www.facebook.com/kryll.io
Guide: https://kryll.zendesk.com/hc/en-us
Support : support@kryll.zendesk.com