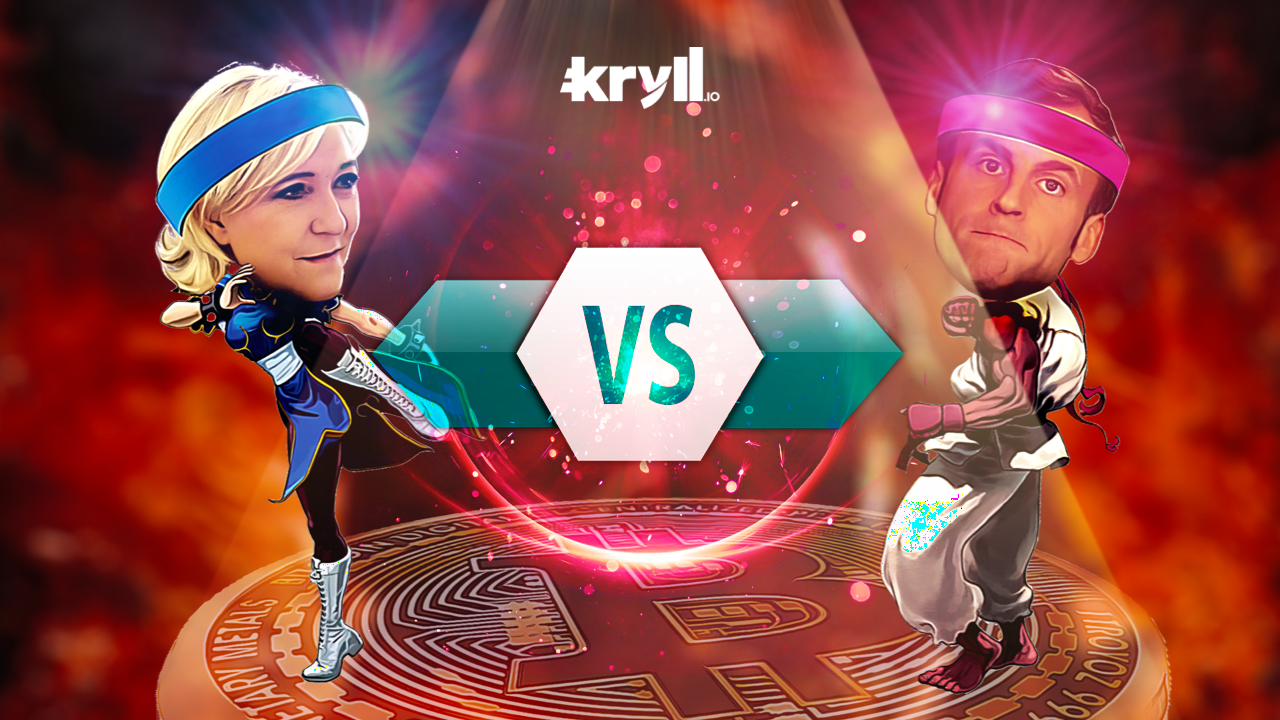 With the French election looming, there remains a sense of unease within French crypto circles. Both Emmanuel Macron and Marine Le Pen have previously expressed concerns over the use of digital assets in the past. And now, with the two going toe-to-toe in less than two weeks, it seems that French crypto investors will be stuck between a rock and a hard place.
Based on a study recently undertaken by ADAN, a French pro-crypto activist group alongside KPMG and polling institute IPSOS, four percent of French adults said that cryptocurrency as a topic would determine their vote in this coming election. To further add to the significance of the asset class in the election, eight percent said they currently hold digital assets and up to a staggering 33% of participants in the study stated they were planning to invest in digital assets in the near future.
Candidate and current french president Macron has spoken on the topic multiple times previously, mostly mentioning that the space is too deregulated. During the 2018 Davos Economic Forum, he stated: "We built the IMF, it gained legitimacy, it monitors states and part of the financial system, but it does not monitor the most deregulated actors and those working hardest to bring about deregulation! Bitcoin, virtual currencies, shadow banking, the most aggressive players on the financial markets, the ones who can create financial crises and deregulate systems, we have said, "They cannot be part of the IMF".
Despite these comments previously, Macron has recently in 2022 briefly mentioned creating a "European Metaverse". While it is uncertain how this would operate exactly or in what capacity, it may well be a European parallel to the Chinese government's own proposed metaverse project, the "Yuan Universe".
Candidate Marine Le Pen has also expressed her own concerns over digital assets previously. In 2016 she was quoted as saying Bitcoin was dangerous and should be banned as "making cash disappear in favour of virtual currencies is an alienation of man". However, as the 2022 election drew nearer and as adoption has increased throughout the European continent, her approach seems to have softened towards the digital space.
When asked about the regulations on cryptocurrency in early 2022, Le Pen commented: "if we do not regulate the currency, we open the door to total deregulation, to a total absence of politics in the proper sense of the term, and also, as you can imagine, to traffic which would at that time be out of control".
In hindsight, the candidates comments on digital assets and their stances appear to have gradually eased to meet the increased popularity of the asset class since 2017. Although their policy is still geared towards regulating digital assets further. In the current political climate, it appears that French legal framework will most likely constrain rather than foster innovation and adoption of digital assets within Europe.

Happy Trading,
Website : https://kryll.io
Twitter : @Kryll.io
Telegram EN : https://t.me/kryll_io
Telegram FR: https://t.me/kryll_fr
Telegram ES: https://t.me/kryll_es
Discord : https://discord.gg/PDcHd8K
Facebook : https://www.facebook.com/kryll.io
Support : support@kryll.io