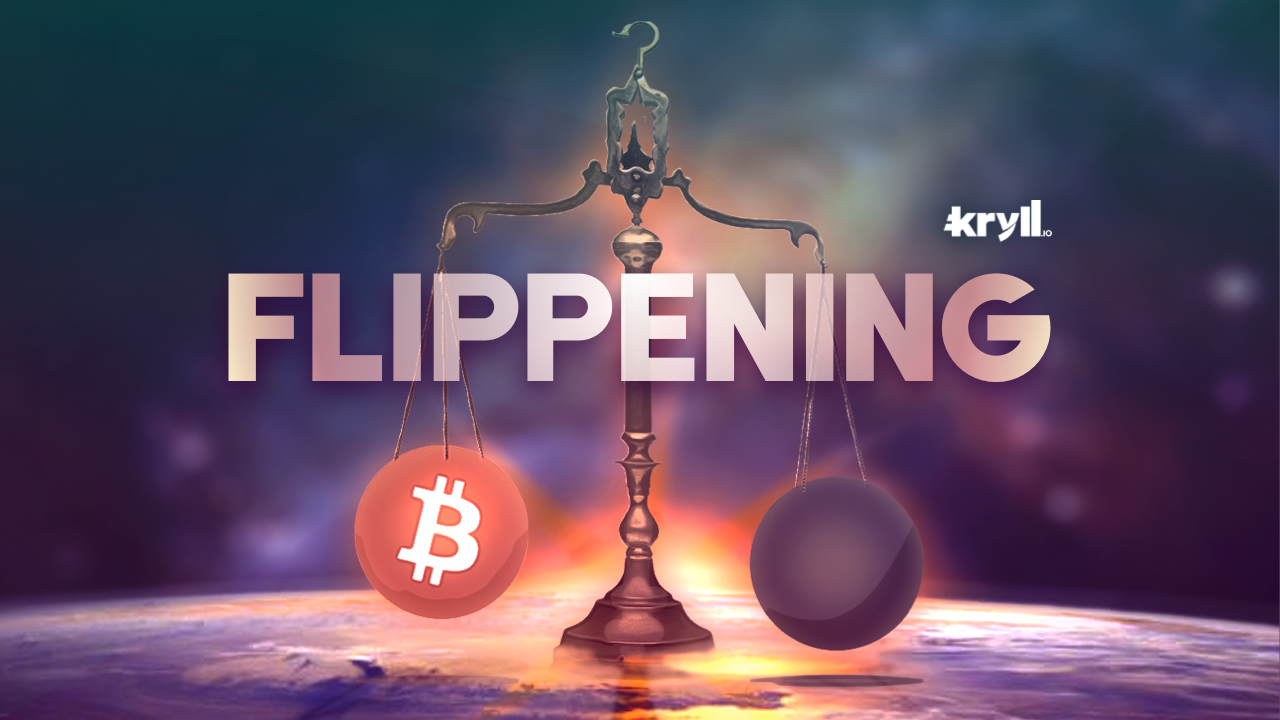 The term "flippening" was coined to define the moment Bitcoins market capitalisation would be surpassed by a different digital asset to overtake first place as the world's largest digital asset.
Currently, the main contender to make this happen is Ethereum in second place with a market capitalisation just under $370 billion and dominating about 20% of the total market in cryptocurrencies while Bitcoin holds more than double with about 41% market dominance and a $760 billion market cap.
Traders have been waiting for the flippening to occur for years now in speculation that this would lead to the crypto market decoupling from its overall correlation to Bitcoin. Unlike traditional markets where assets act more independently from large blue chip stock price movements, the vast majority of cryptocurrencies drop in the event of a Bitcoin price fluctuation. This dampens diversification opportunities for alt coin traders, leaving them exposed to Bitcoins price temperament.  

With the rise of DeFi and increasing popularity of altcoins over Bitcoin, it would be realistic to expect a flippening to happen within the next few years. If this does happen, the current volatility and limited predictability of digital assets may change and this could evolve the dynamic for many traders and institutions who day trade or have automated their trading.

The price action of the cryptocurrency markets

When the price is going parabolic, FOMO brings despair - If you've been in the market long enough you'll notice that when the crypto markets see consistent green profits for days and the speculative mob piles in with fomo and cash ready to throw into the rocketing market, the funding rate increases on exchanges. This usually leads to a huge dump in the bitcoin price which also then leads to a correction to other alt coins. Seasoned cryptocurrency traders usually know to ease up on leverage during huge price increases or move their stop losses up.
Alts lag behind Bitcoin - It can take weeks or months of Bitcoin rising after a bear market for Alt coins to start moving up as well. This can happen during the bull rise too as sometimes bitcoin can move independently or alts may even be sold into BTC to catch its rise.
If BTC takes a big hit, theres usually an altcoin bloodbath - While a few altcoins can make it out unharmed or even green during a BTC correction event, the common response from the alt coin market to a 20% price fluctuation in Bitcoin is usually anywhere between 30-50% decrease in your favourite coin.

How this affects traders:
If you've got a profitable crypto trading strategy already, chances are the flippening will change how you interact and trade your investments. The flippening would probably benefit long term alt coin investors as the change in dominance may lead to a decoupling and further variation in how the market moves. This is great for those relying on a diversification of tokens in their portfolio as their strategy.
For those who utilise a more short to medium day trading strategy, a flippening would mean that you would need to change or update your current strategy to fit the new dynamic. This may take several months as you would possibly have to test your strategy in the changed market environment before going live with real or substantial capital.
Either way, with Bitcoin currently sitting with over twice the market capitalisation of the next major cryptocurrency, it is unlikely that the flippening would occur soon. While most in the crypto markets appear to support a flippening, traders with bots, scalping and short term strategies should review and prepare for such an event.

Happy Trading,
Website : https://kryll.io
Twitter : @Kryll.io
Telegram EN : https://t.me/kryll_io
Telegram FR: https://t.me/kryll_fr
Telegram ES: https://t.me/kryll_es
Discord : https://discord.gg/PDcHd8K
Facebook : https://www.facebook.com/kryll.io
Support : support@kryll.io