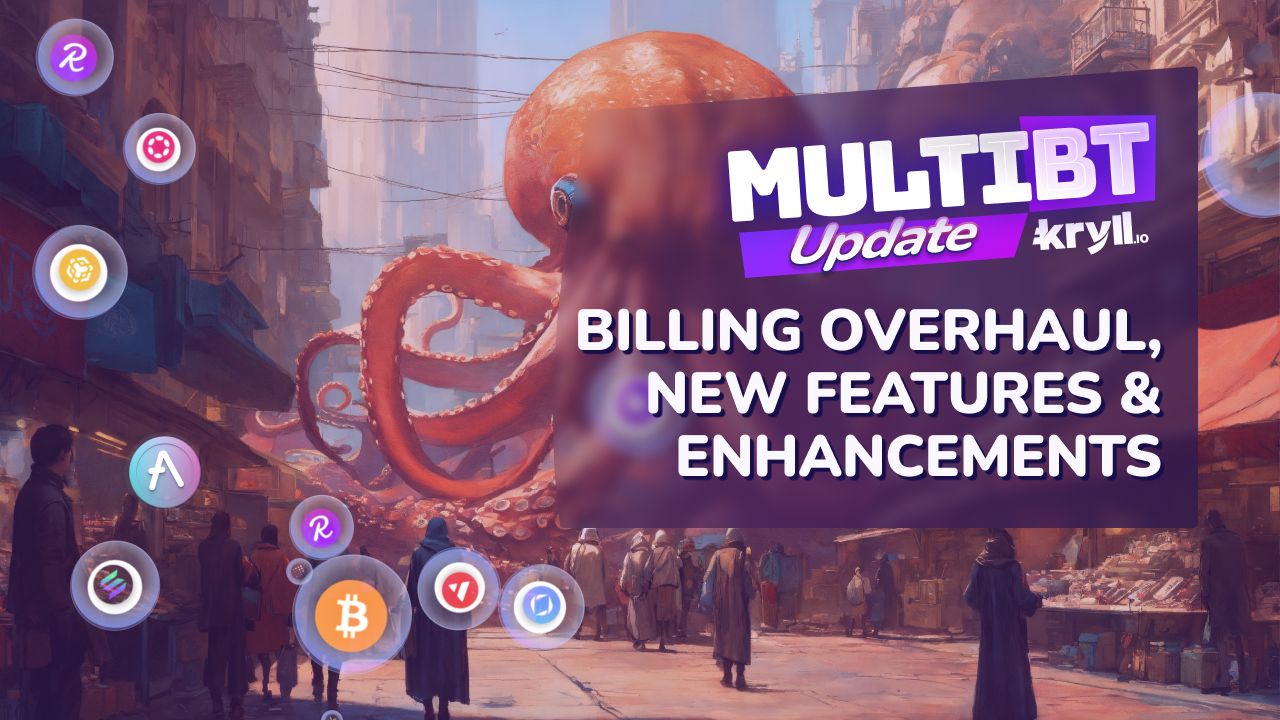 What is the Kryll MultiBT?
MultiBT (Multi Backtest) is a feature introduced on Kryll in May 2023 offering an optimal user experience by allowing you to backtest your trading bots or Marketplace bots simultaneously on a wide range of cryptocurrencies in the background. Thanks to this feature, you'll save precious time and be able to discover new pairs for your trading strategies in just a few clicks!
---
Enhanced user interface
The MultiBT interface is now more compact, and the "Equity Drawdown" and "Max Drawdown" performance indicators have been added to give you a better understanding of your strategy's performance. These improvements will enable you to analyze your backtest results more effectively.

---
Sort your backtests any way you like!
In addition to a cleaner, more comprehensive interface - you can now sort your backtests by pair in alphabetical or anti-alphabetical order, as well as the number of trades and performance indicators in ascending or descending order, allowing you to better organize and analyze your results.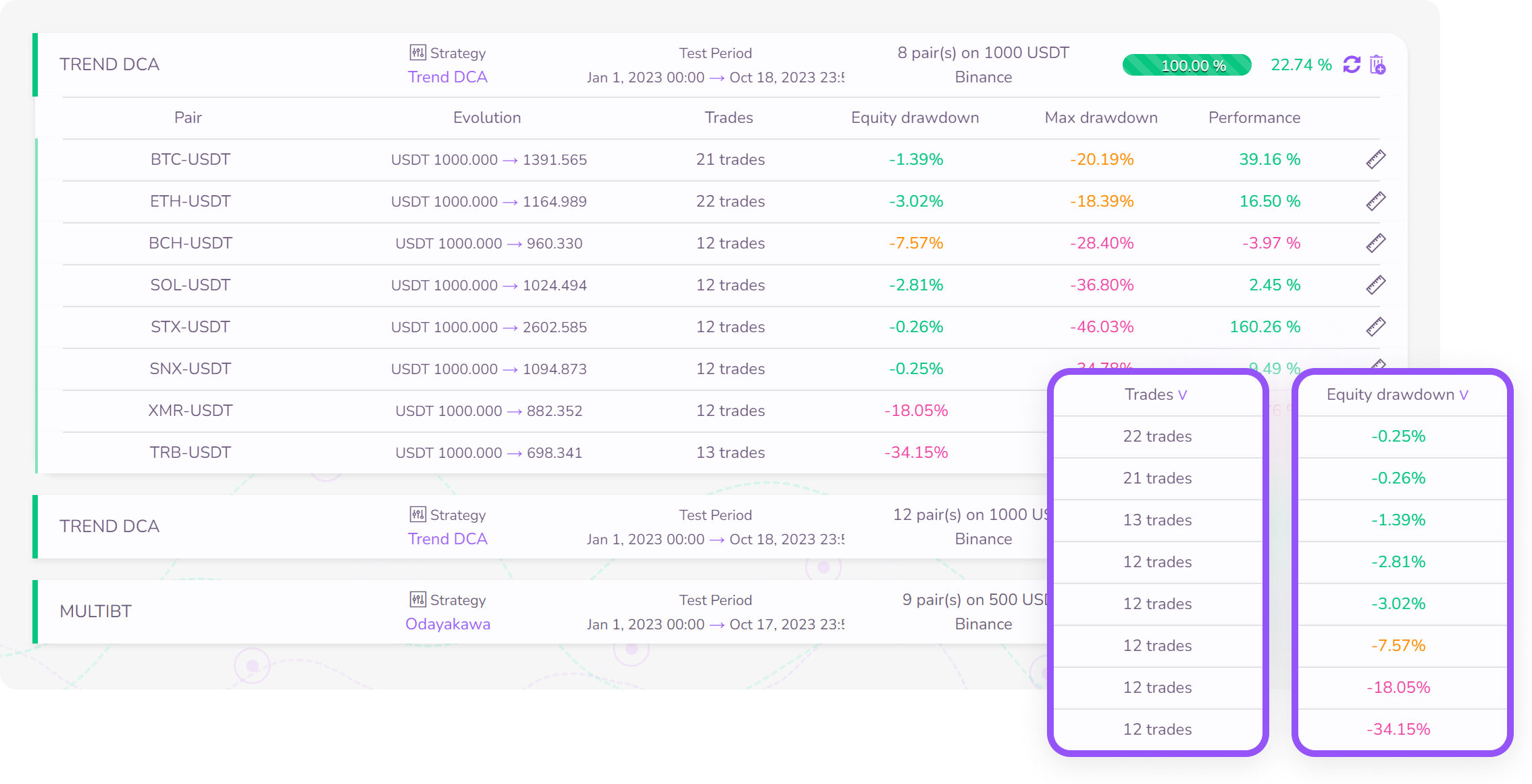 You can also remove backtests from the list. This feature is particularly useful when running an All Pairs MultiBT, or when you simply want to adjust your list of pairs compatible with your strategy and restart the MultiBT session without some of them.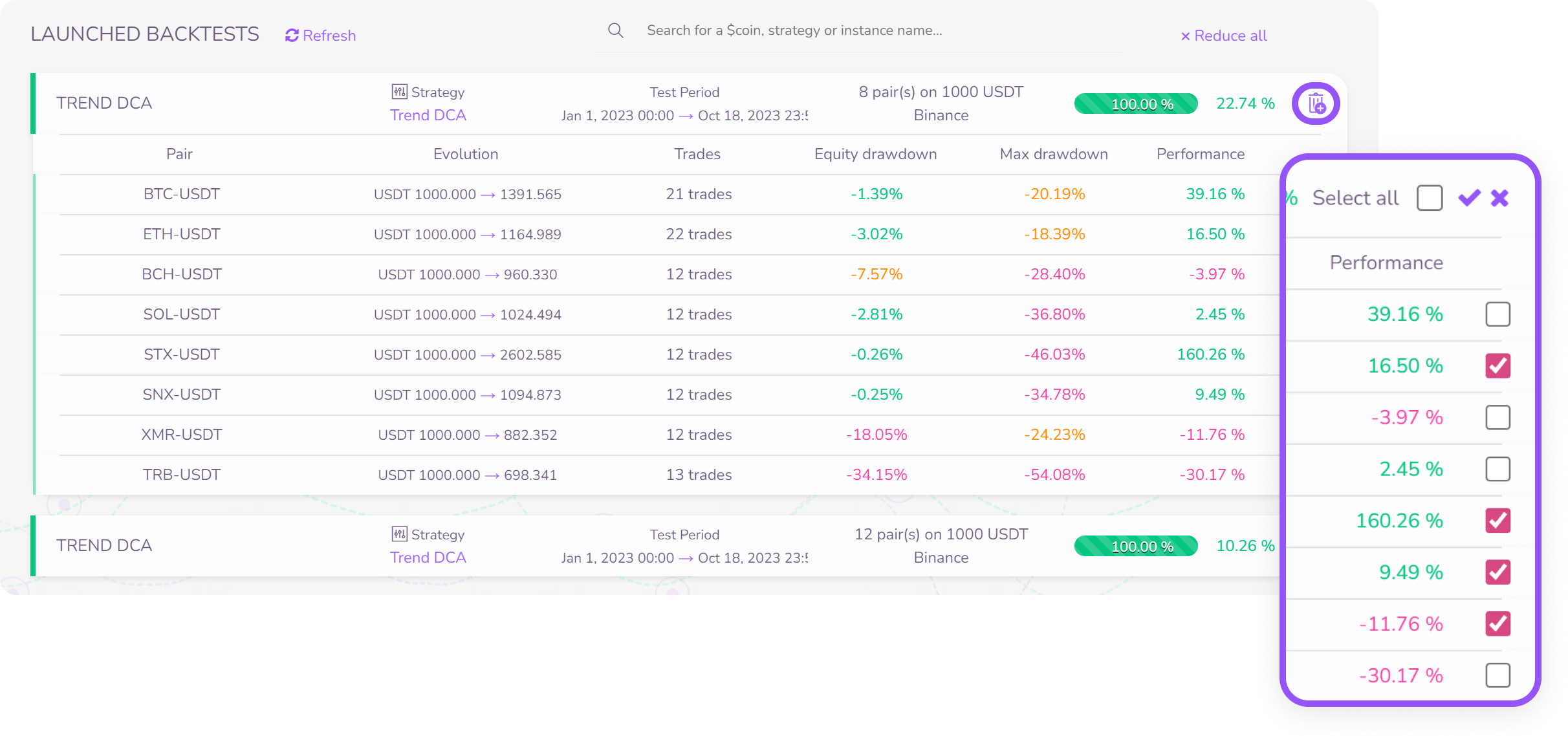 ---
Export a MultiBT in .CSV format in one click!
You now have the enhanced feature to export your MultiBTs into a .CSV file format. Simply click the download button, conveniently located at the top right of the specific MultiBT. This new feature makes it easy to manipulate and analyze externally the data provided by Kryll.

---
Relaunching a MultiBT with the new strategy version
Previously, when you relaunched a MultiBT session, it would run with the same version of your strategy, even if you had modified its code. Now, you can restart your old MultiBT sessions with the latest version of your strategy by using the dedicated option in the launch window.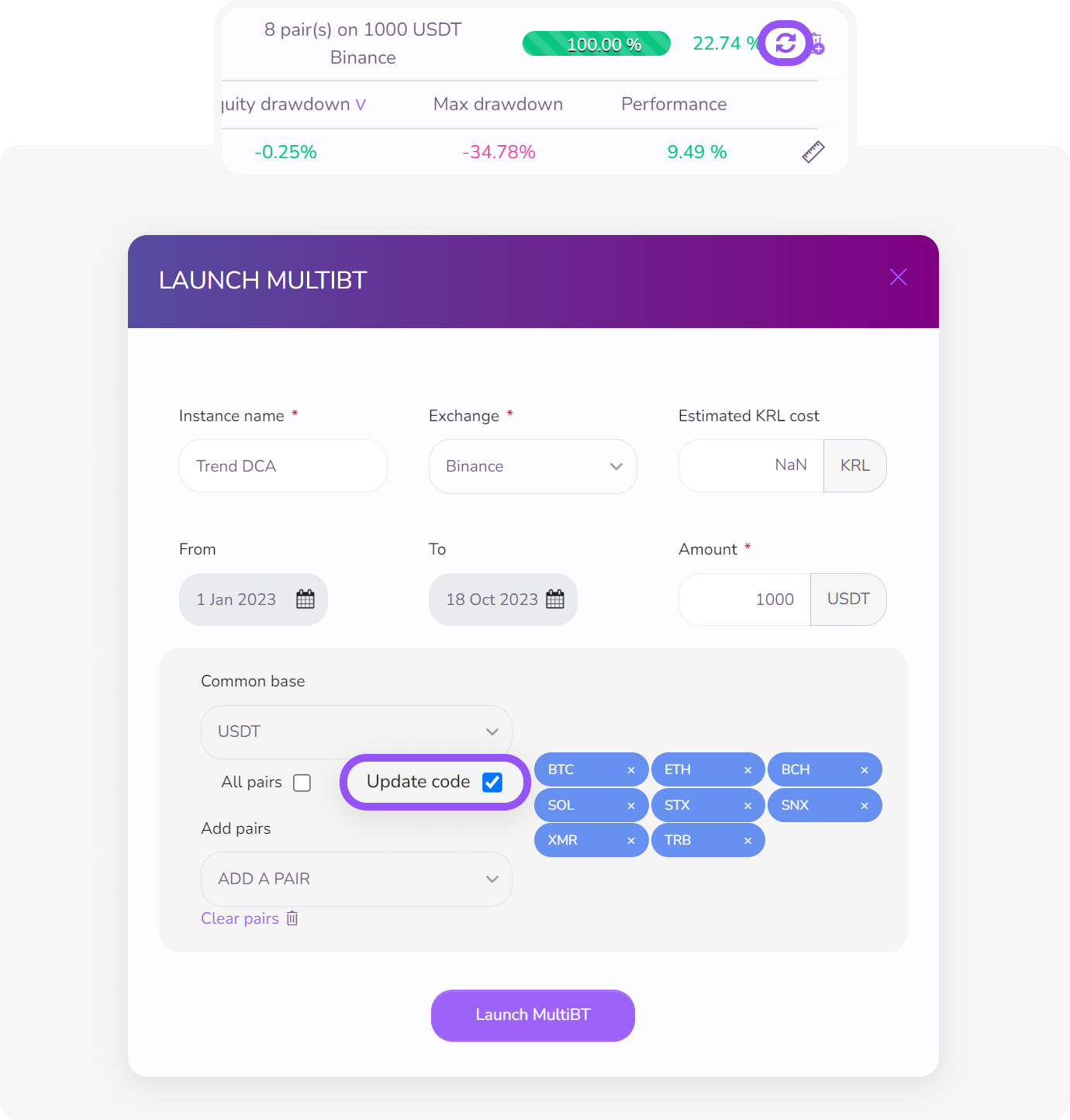 ---
MultiBT billing system overhaul
With the aim of offering a more advantageous and common billing system between the MultiBT and MultiBT All Pairs features, we have decided to make a few changes. MultiBT billing is now degressive thanks to a bracket system: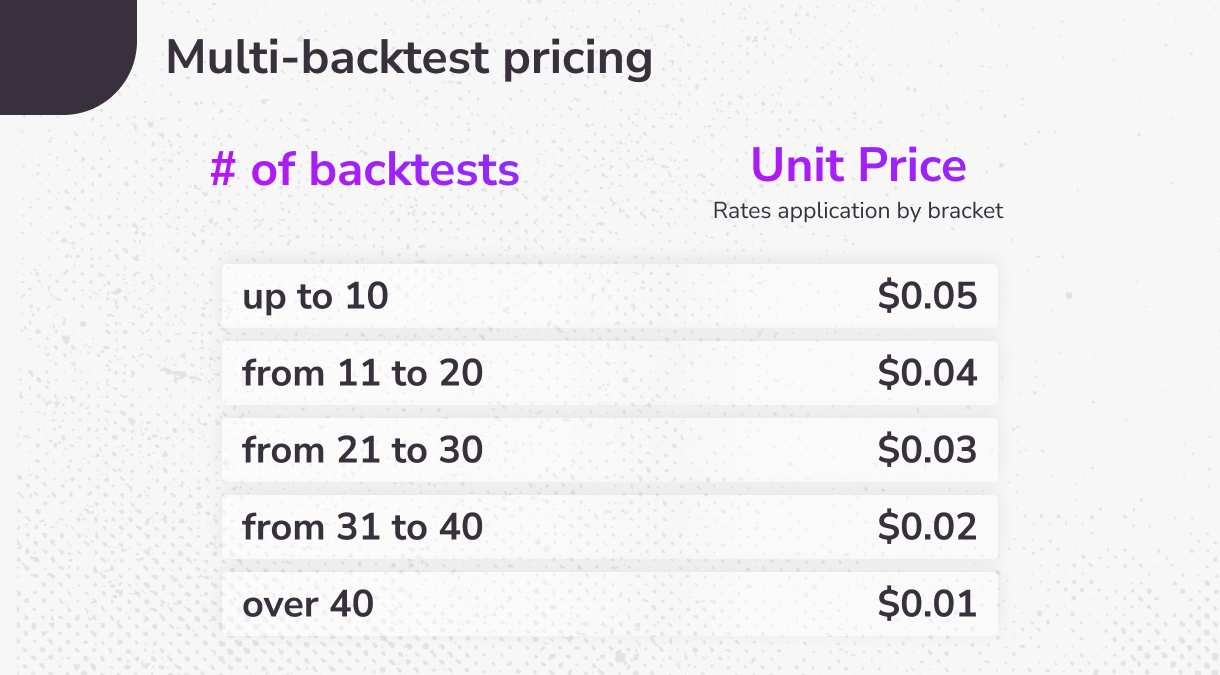 As an example, here is a simulation of a launch of 100 backtests with the old and new formulas:
Old formula 100 backtests:
fees = (100 × $0.05) = $5
New formula 100 backtests:
fees = (10 × $0.05 + 10 × $0.04 + 10 × $0.03 + 10 × $0.02 + 60 × $0.01) = $2
---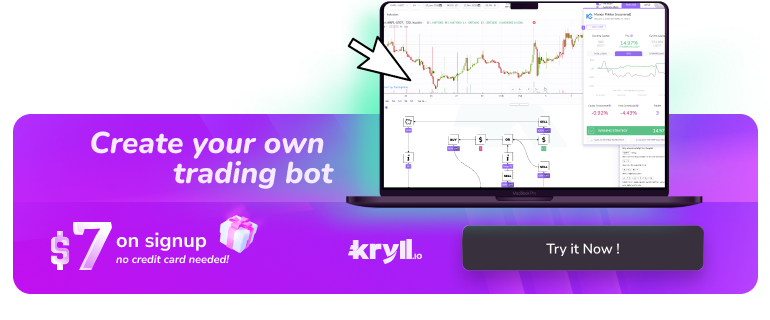 Happy Trading,
Website: https://kryll.io
Twitter: @Kryll_io
Telegram EN: https://t.me/kryll_io
Telegram FR: https://t.me/kryll_fr
Telegram ES: https://t.me/kryll_es
Discord: https://discord.gg/PDcHd8K
Reddit: https://reddit.com/r/Kryll_io
Facebook: https://www.facebook.com/kryll.io
Support: support@kryll.io