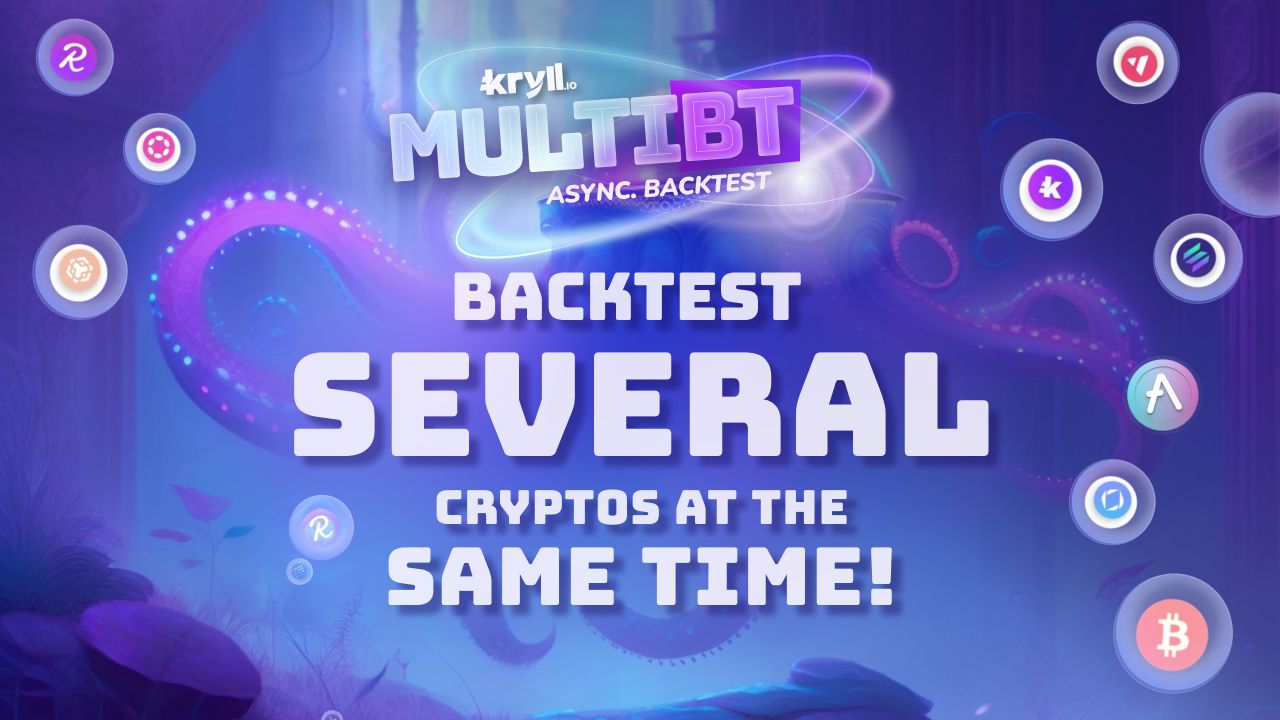 The Kryll team is thrilled to announce the release of our newest feature that will delight trading bots creators; the MultiBacktest!
Save a considerable amount of time
Backtests as you know them on the Kryll platform are a very good tool to analyze the performance of a trading bot on a single crypto-currency, but using this system on a multitude of cryptos can be time consuming. So we are happy to announce the arrival of the "MultiBT" feature on our platform!
What is the Kryll MultiBT?
MultiBT (Multi Backtest) offers an optimal user experience by allowing you to backtest your trading robots simultaneously on a wide range of crypto-currencies in the background. With this feature, you'll save precious time and discover new pairs for your trading strategies in just a few clicks!
As always, we remain engaged in providing our community with the best features for you to get the most out of your automated trading bots. We are confident that MultiBT will be a great help in enhancing your experience on our platform and your trading bots. We invite all strategy creators to try it out today and give us feedback so that we can continue to improve our services according to your needs.
What are the advantages of the Kryll.io MultiBT?
The advantages of MultiBT are numerous: First of all, the backtests are run in the background, which allows you to continue backtesting your strategy in parallel and not lose time during the process.
In addition, the results are saved and can be consulted later, allowing you to follow the evolution of your trading strategy over time. You will also be alerted by email as soon as the results are available, allowing you to follow the performance of your trading robots in real time.
Finally, an analysis report is automatically generated and available on the interface, allowing you to better understand your backtest results and adjust your strategy accordingly. We are convinced that MultiBT is a superior feature that will meet your needs and allow you to maximize your crypto-currency investments.
What is the cost of MultiBT on Kryll.io?
As it requires dedicated analysis and storage resources, we would also like to inform you that MultiBT is a paid feature. However, we have decided to make the price of our services even more competitive by opting for a pay-per-use charge of only $0.05 per backtest.
What happens if some of the cryptos I want to backtest do not have enough history compared to the other selected cryptos?
MultiBT works on a common date range so that the results are consistent and comparable. It is therefore not possible to run a MultiBT on different date ranges.
Are the regular Kryll backtests still available?
Regular backtests are still available on the platform and will remain free. The MultiBT feature is an enhancement to the current system to support the more specific needs of some users.
Is it possible to run a MultiBT on trading strategies from the Kryll.io Marketplace?
At the moment, MultiBT is only available in the Kryll Platform Editor where you build your trading algorithms. Although we plan to extend this feature to the bots already available on the Kryll Marketplace in the future, for now it is not yet available in this environment.
---
MultiBT functionning
How to launch a MultiBT on Kryll?
Launching a MultiBT is a snap! First, go to the editor with your favorite strategy and click on the "MultiBT" button next to the regular backtest button.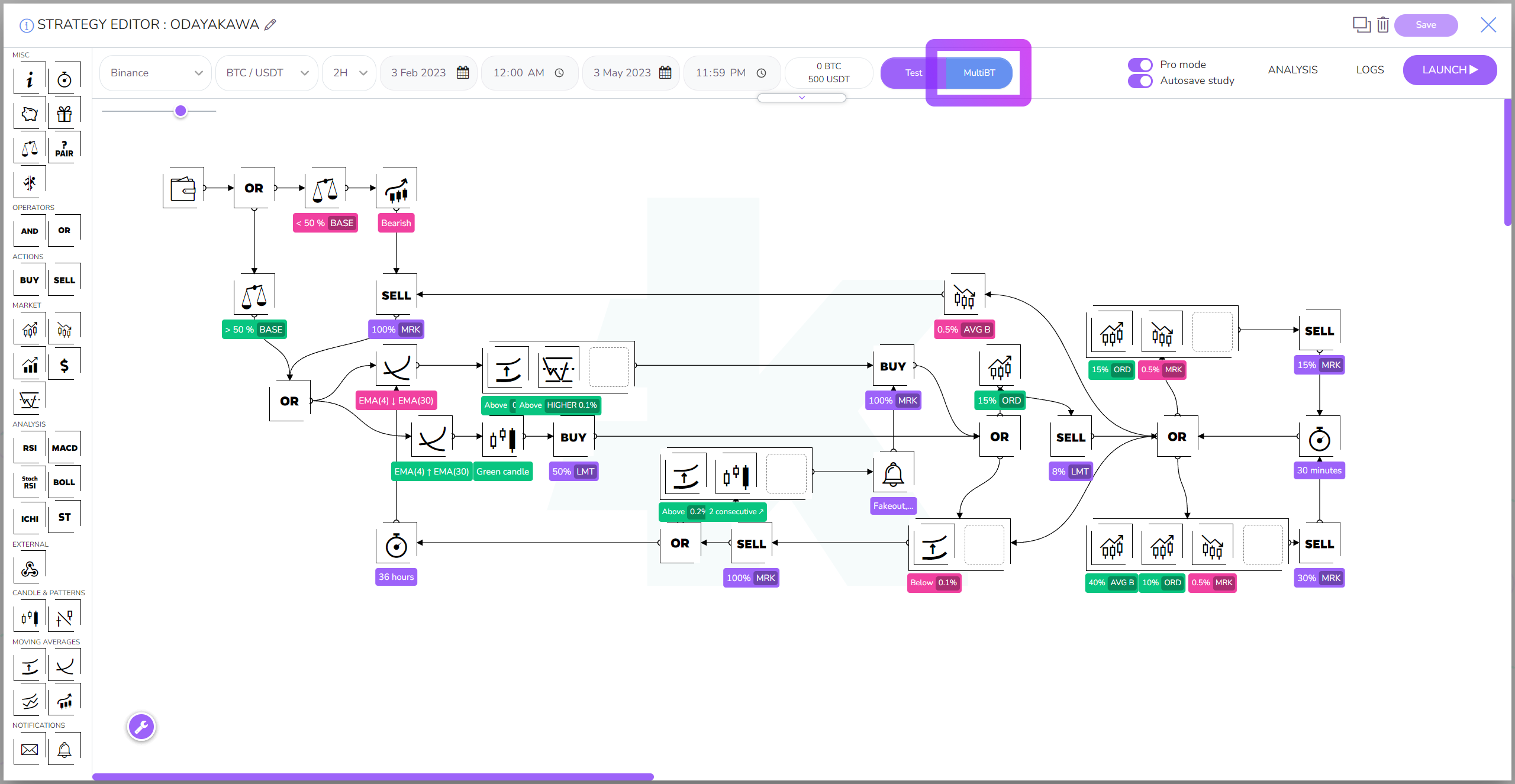 In the window that opens, you can choose the trade, the backtest period, the capital amount and the pairs you want to backtest.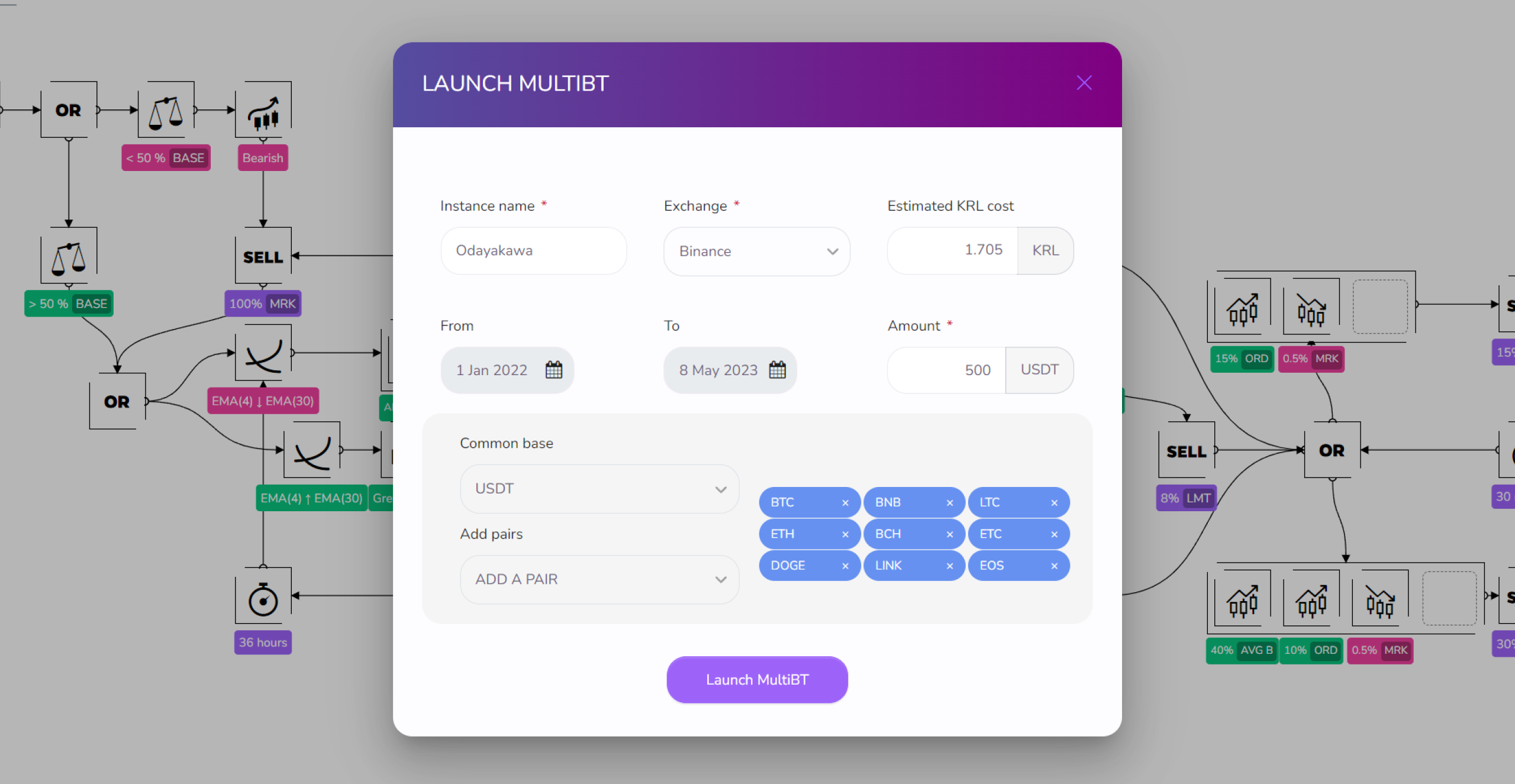 The cost in KRL is transparently indicated once your backtest session is set up, all you have to do is click on the launch button.
How can I see the progress of my Kryll.io MultiBTs?
Your MultiBT session is now available in a dedicated tab, allowing you to consult your historical MultiBT sessions. To access it, click on "MultiBT" in the "My Strategies" tab, thus accessing all your asynchronous backtests and viewing their progress.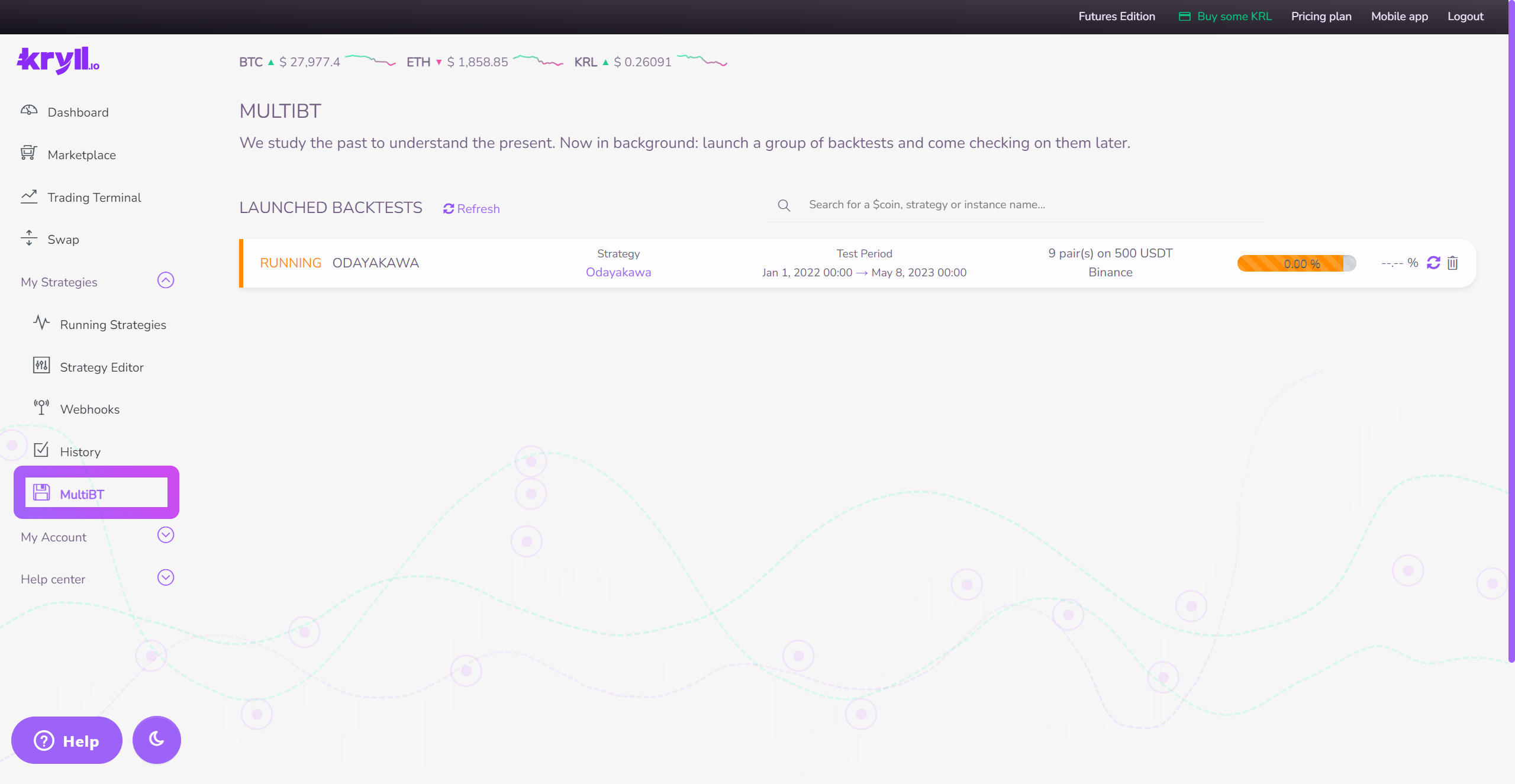 What does the MultiBT bring to Kryll.io?
Once you have completed your MultiBT session, you have the ability to view the percentage performance of each pair and access the backtests of these pairs by clicking on the slider on the right to open the editor and explore their behavior directly! This allows you to better understand the performance of your strategy on each pair, to adjust it accordingly and to save considerable time.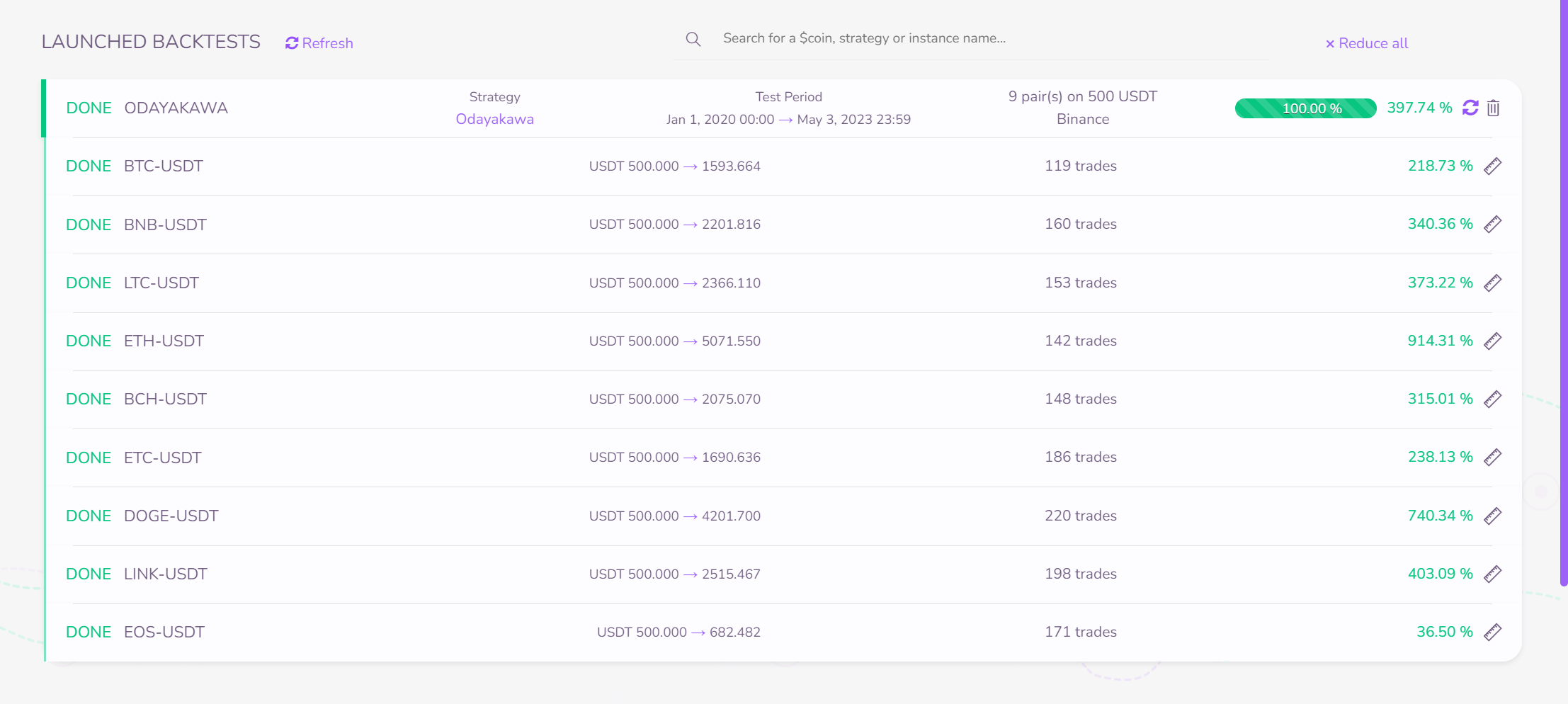 Log in to your Kryll account today and take your trading strategies to new heights!
---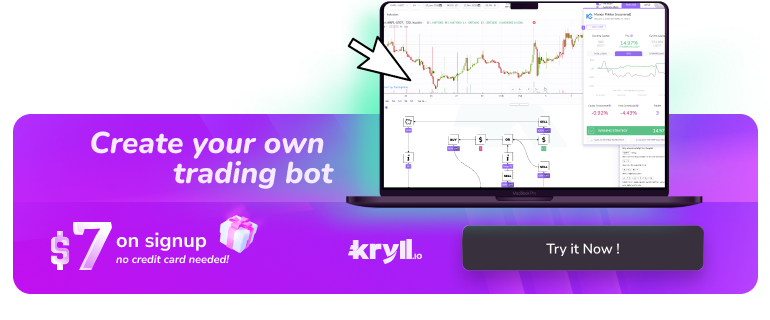 Happy Trading,
Website: https://kryll.io
Twitter: @Kryll_io
Telegram EN: https://t.me/kryll_io
Telegram FR: https://t.me/kryll_fr
Telegram ES: https://t.me/kryll_es
Discord: https://discord.gg/PDcHd8K
Reddit: https://reddit.com/r/Kryll_io
Facebook: https://www.facebook.com/kryll.io
Support: support@kryll.io