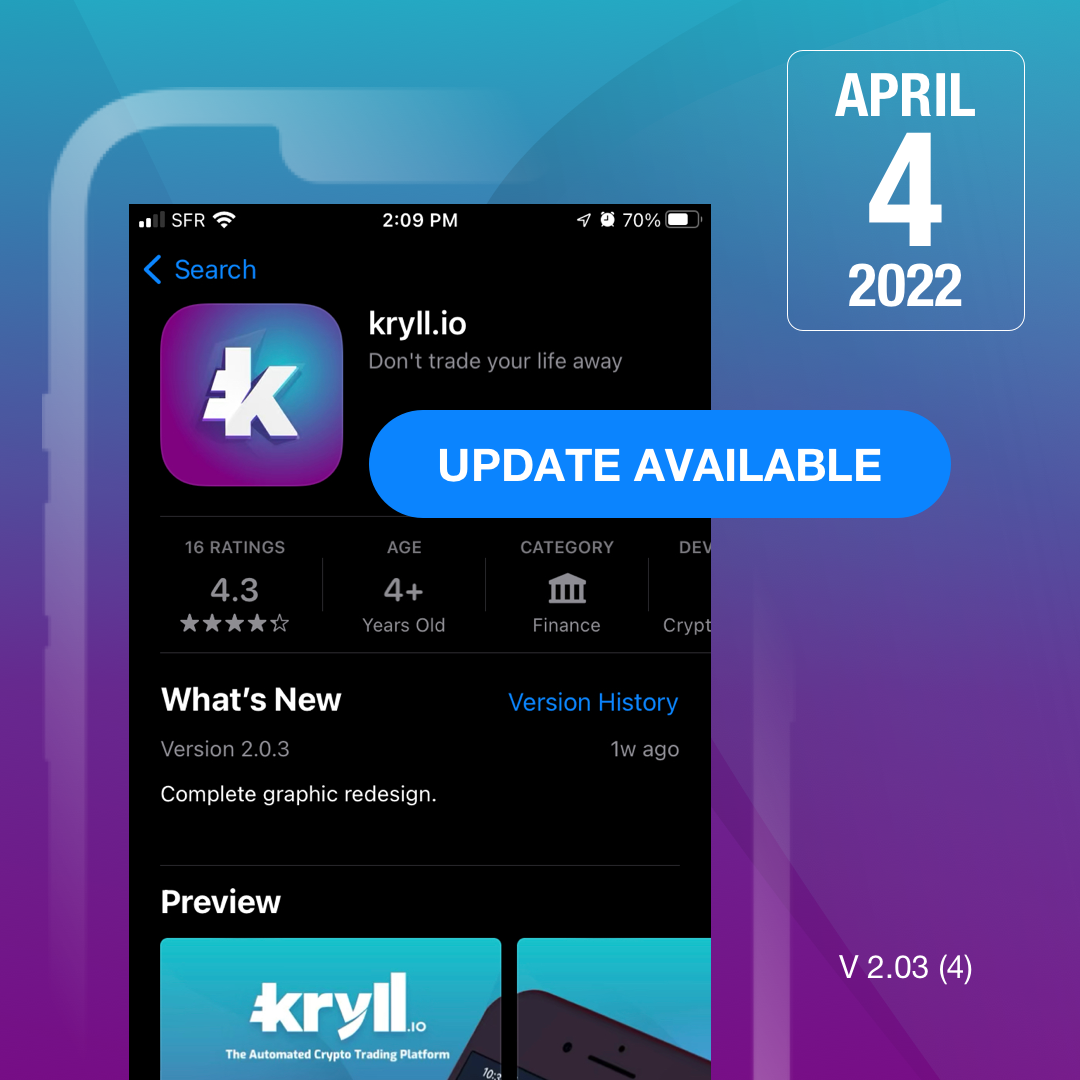 Hi Kryllians
Thanks for all your positive feedbacks and bug reports since AppV2 release.
As we target to satisfy all our community with this new version, we worked hard to bring you asap a new version fixing/improving all reported issues.
Then, we're glad to bring you this changelog :

Improvement of the scroll of the login page
Fixed a bug that added a space at the end of the login email
Added the display of the application version
Improvement of the logout process
Fixed a bug that changed the list during a pull to refresh in the strategies
Deactivation of auto-completion on the search bar
Various visual fixes (color & font harmonization)
Better orientation management (especially on tablets)
Correction of a bug that was misrouting the user after a strategy stop
Fixed a bug that occurred after a strategy refill
Improvement of the launch screen
Fixed a bug occurring at the first login or when the user loses his connection
Fixed a bug on graphs display
Improvement of the display of the cases Missing API key / No strategy running on the Strategies page
Fixed a bug in the "Hide dust" parameter that became inoperative after a logout/login
Fixed a bug in the display of the keyboard in landscape mode
Fixed a bug on the buy/sell notification deactivation setting
Fixed a bug on PnL calculation of live strategies
Improved coins display in the Wallet
Global navigation improvement
Date display improvement (uniformity)
Feel free to join us on our Telegram groups to share your opinion and feedback on these new features.
Thanks to our community, publishers and beta testers for helping us improve the platform.

Happy Trading,
Website : https://kryll.io
Twitter : @Kryll.io
Telegram EN : https://t.me/kryll_io
Telegram FR: https://t.me/kryll_fr
Telegram ES: https://t.me/kryll_es
Discord : https://discord.gg/PDcHd8K
Facebook : https://www.facebook.com/kryll.io
Support : support@kryll.io