In collaboration with the payment gateway service Coingate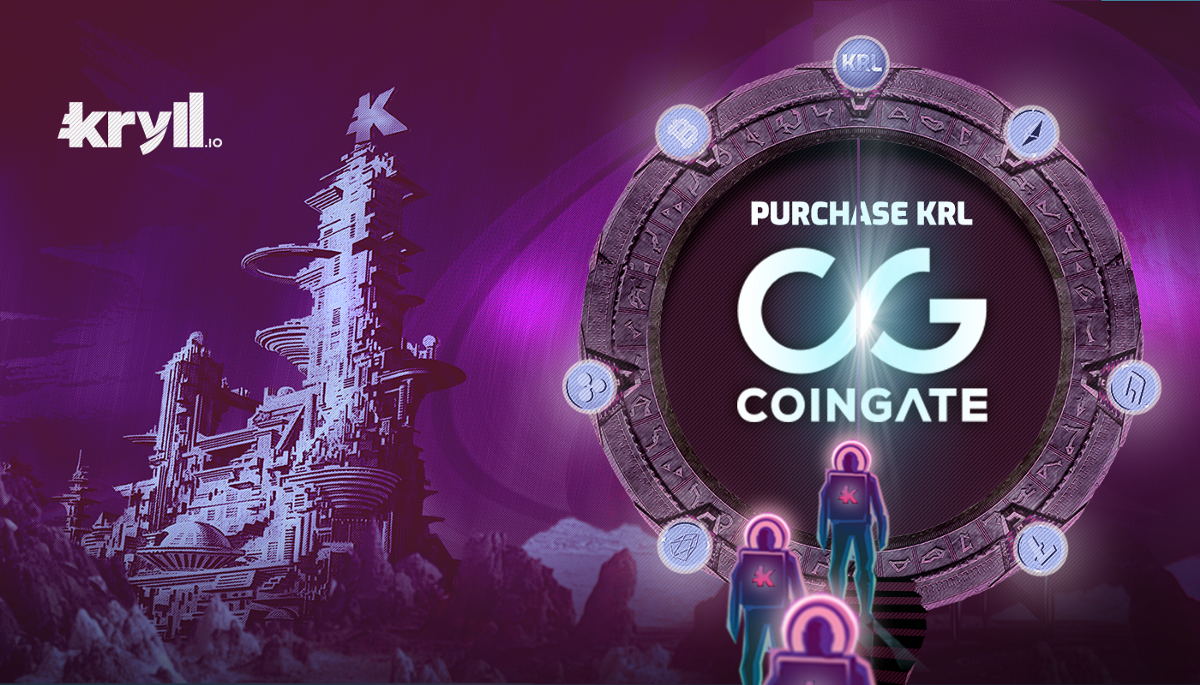 At Kryll.io we take the comfort of our users very seriously.
Many of you have expressed the wish to be able to acquire KRLs easily without going through the tedious steps of the exchanges.
It is now possible!
Notice: This solution is to simplify the tedious exchange process but is not intended to replace the usual token acquisition process. You are limited to $2500 per year. If you want to buy more KRL use the exchanges below:
https://app.liquid.com/exchange/KRLBTC
https://app.liquid.com/exchange/KRLETH
https://idex.market/eth/krl
Good news!A new feature has appeared on the Kryll.io platform. You can now purchase KRL tokens directly from our platform using more than 50 different cryptocurrencies. The process takes only a few minutes to complete and uses the payment gateway service Coingate which has been in operation since 2014.

Here is a quick tutorial that will explain how to use this new feature. Most of the main cryptocurrencies (50+) are accepted such as BTC, ETH, XRP, BNB, BCH, LTC etc…
1 — Log to your Kryll.io account, you'll see a new button "Buy KRL" on the top right corner or directly in the "wallet" section.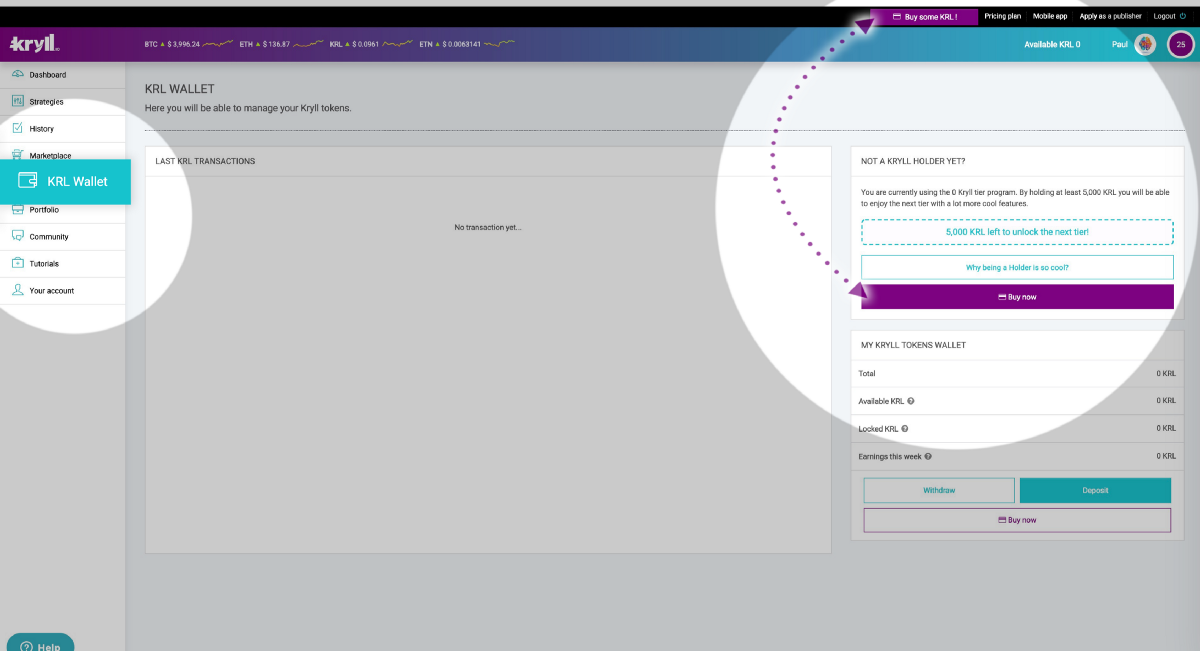 2 — Enter the amount you wish to purchase in USD (payment will be made in crypto only). An estimate of the number of KRL you will receive will be displayed.
Note : Minimum is USD50 per transaction, maximum is USD2500 per year.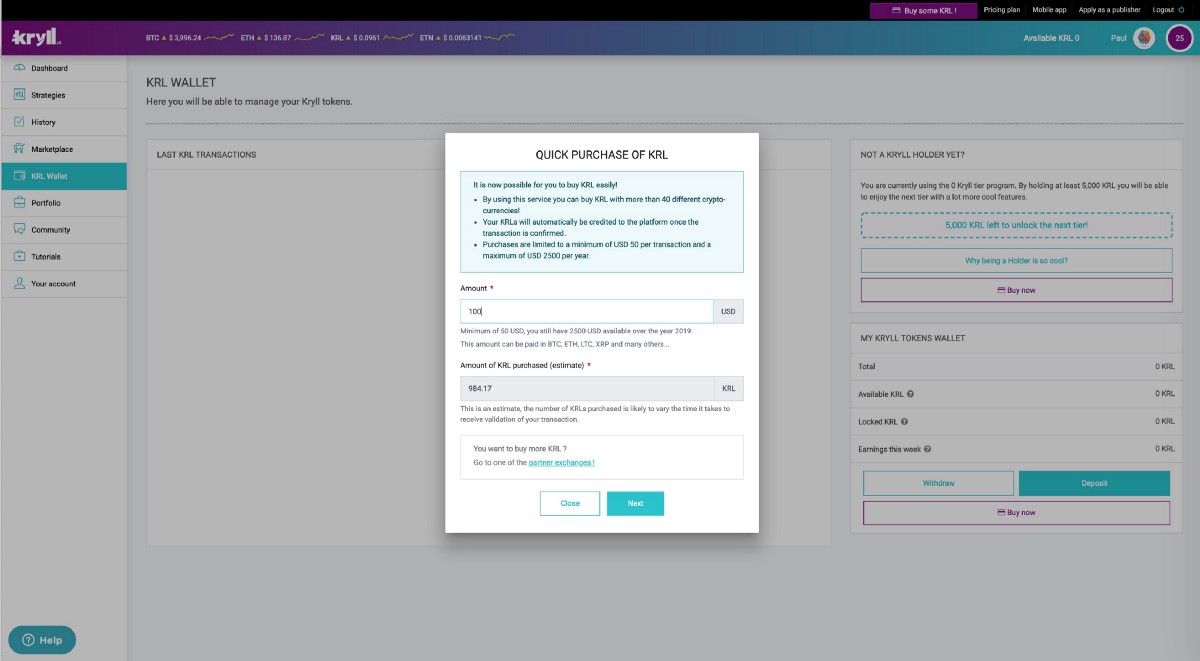 3 — You will now be redirected to our partner Coingate's website to finalize the transaction.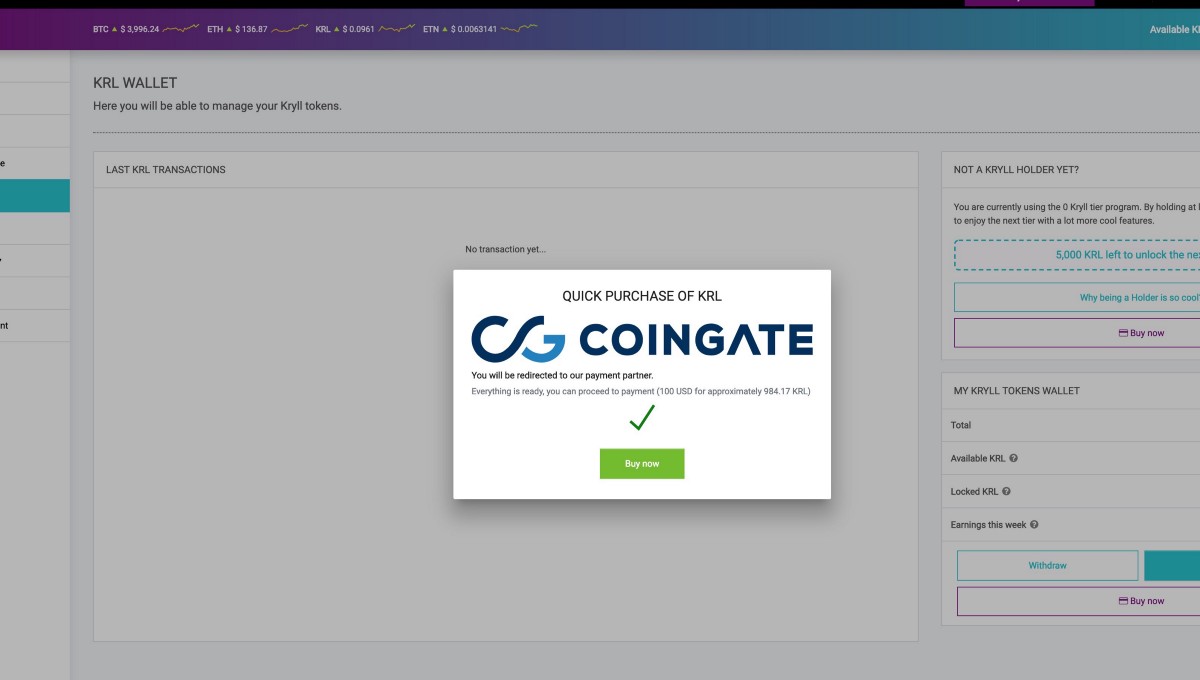 4 — Now you can select the cryptocurrency with which you want to make the payment, main are BTC, ETH, XRP & LTC but more currencies are available.
Optional: You can add your email to get a payment receipt.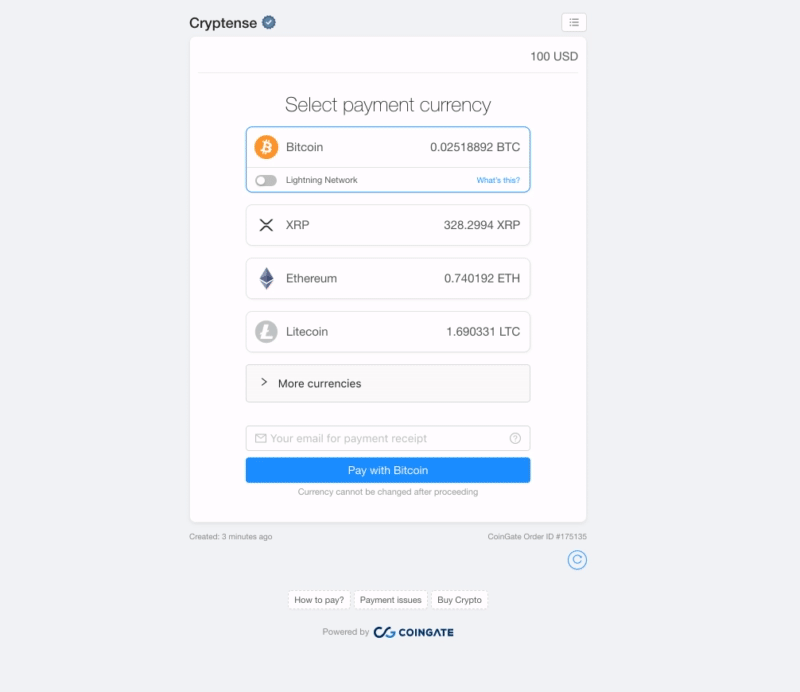 5 — Once you have selected your preferred cryptocurrency you have 20 minutes to send the payment in order to complete the transaction otherwise the transaction will be canceled.
Note : Coingate recommends not to make any transactions from exchanges.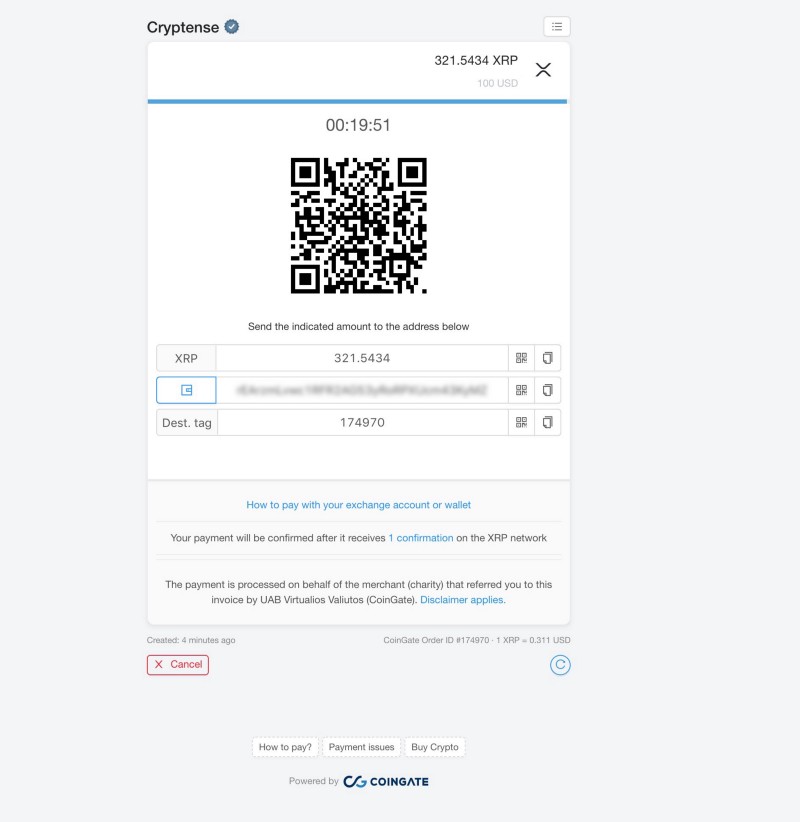 6 — The payment will be validated after confirmation of the transaction. You can go back to your Kryll wallet by clicking on "back to merchant".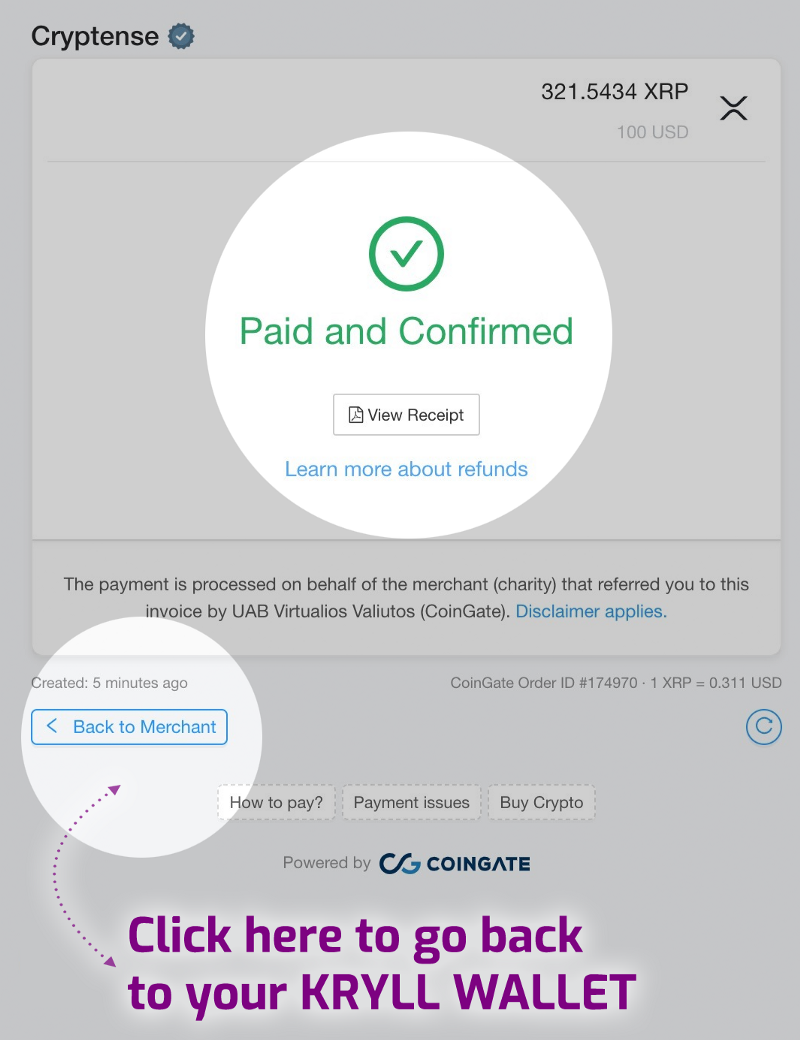 7 — You will then receive an email validating the deposit of your KRL on your Kryll account. Your wallet is now credited with your KRL!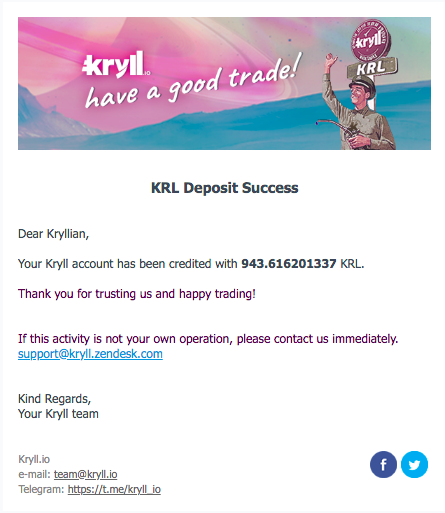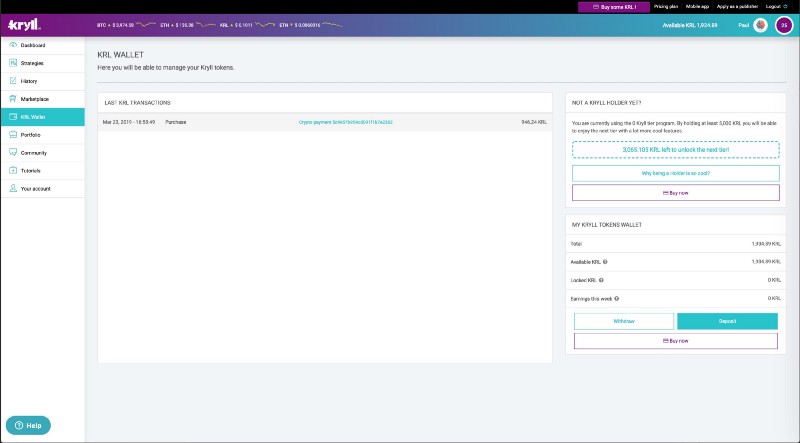 That's it, it's all done! Contact us by email if you have any concerns : support@kryll.zendesk.com
Happy Trading!
Notice: This solution is to simplify the tedious exchange process but is not intended to replace the usual token acquisition process. You are limited to $2500 per year. If you want to buy more KRL use the exchanges below:
https://app.liquid.com/exchange/KRLBTC
https://idex.market/eth/krl
Be sure to follow us on all our social networks.
Our website: https://kryll.io
Twitter : @Kryll.io
Telegram : https://t.me/kryll_io
Discord: https://discord.gg/PDcHd8K
Facebook : https://www.facebook.com/kryll.io
Support : support@kryll.zendesk.com