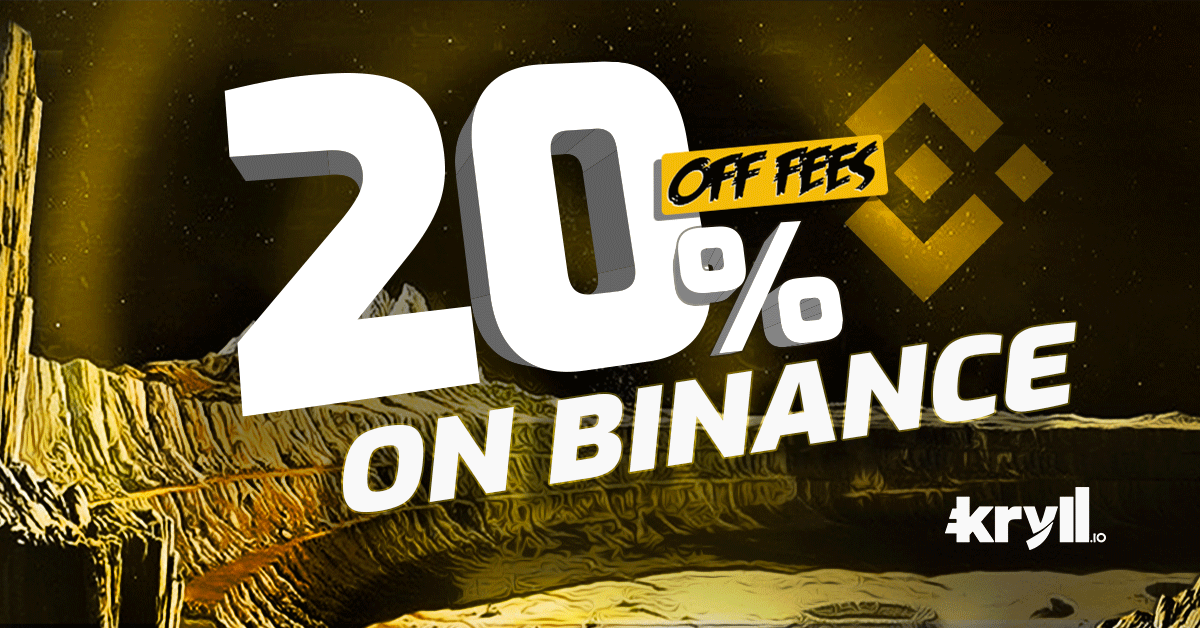 You can reduce your Binance fees by 20%, this allows you to use the Kryll platform with even less fees! This is a great way to maximize the profits of your automated strategies!

If you already have a Binance account then you will have to create a new one to get the discount. This has the advantage of separating your main trading account from the one reserved for automated trading services such as Kryll.
The 20% off fees is valid on all Binance trading services: Spot, Margin, Futures. It is also valid if you use Binance exchange with any automatic trading service and not only with Kryll. You're a winner all the way!
There is no need to retake the KYC if you have already done so because the Binance withdrawal limit is 2 BTC/per day, unless of course you want a higher limit.
Step 1: Creation of your Binance account.
Note : If you are already registered you will need to use a different email address.

For the creation of the Binance account that will benefit from the 20% discount, you have to go through this link:
https://www.binance.com/en/register?ref=B0OYM38N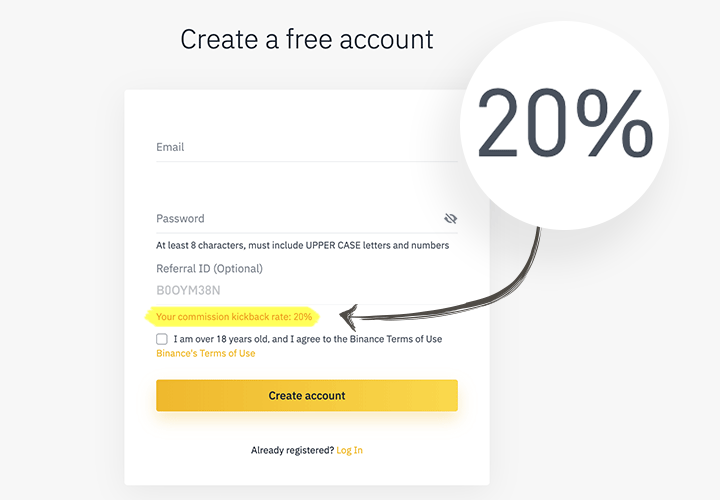 Make sure that the message: "Your commission kickback rate: 20%" is there. This means that you will be entitled to the discount once the account is created.
Note : If you are already registered you will need to use a different email address.
Now you must verify your email address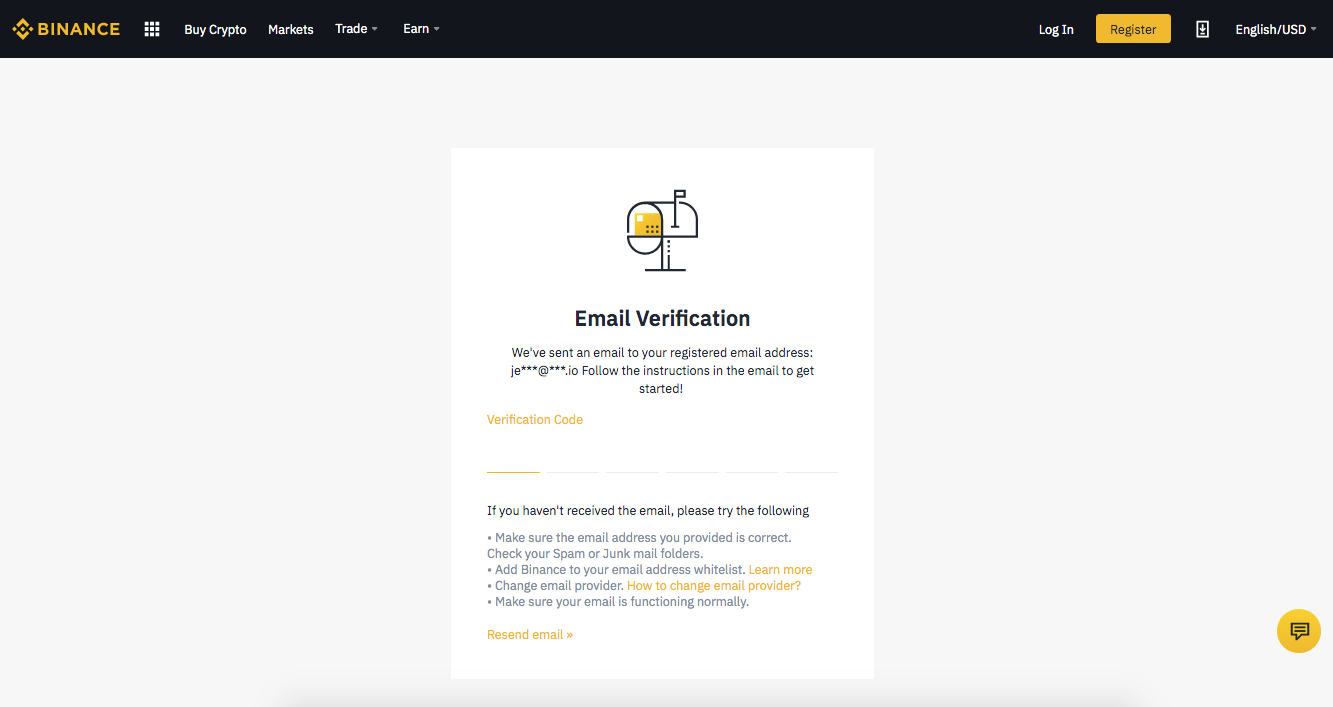 Once this step is completed your Binance account will be created with the 20% discount. It is recommended to activate the 2FA protection as soon as possible.
How do I know if I benefit from the -20% discount on my Binance account?
Go to the "referral" page (link here) and scroll to the bottom of the page, if you get the message "Commission Fees Shared with You (My Receive 20%)" your 20% discount is activated.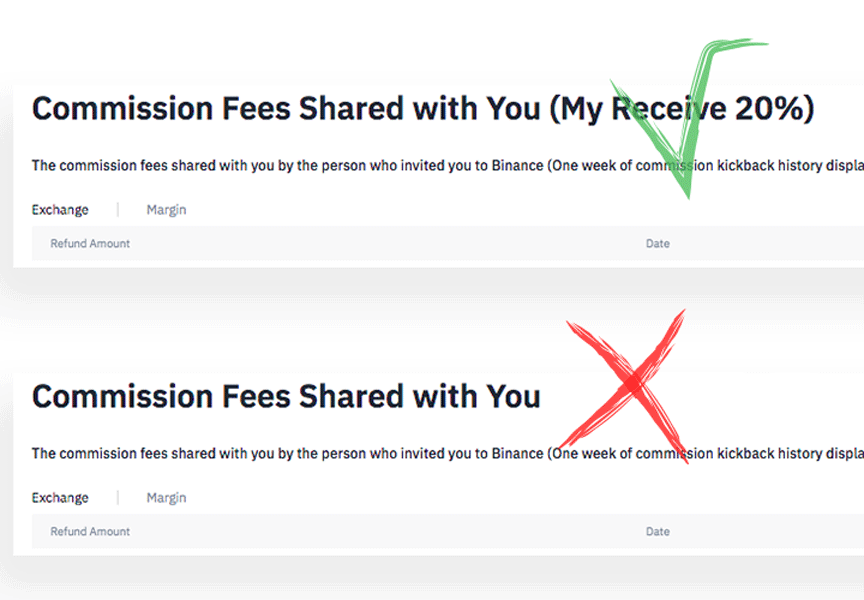 Step 2: Transfer your funds to your Binance account.

Whether it is your second Binance account or your first registration, you will need to transfer funds in cryptocurrency (BTC/ETH/USDT etc...) on it in order to start trading. To do so, go to the "wallet" part of your Binance account to make the deposits. You can also make deposits using a credit card or wire transfer on Binance (by following this link).
Step 3: Creation of your new Binance API key + stoppage of Kryll strategies already launched.

IMPORTANT: If you already have strategies running on your Kryll account then you will have to stop and restart them if you want to benefit from the 20% discount, otherwise if you don't want to stop your strategies then don't go through the step below.
In order to benefit from the 20% discount on fees you must now link your new Binance account to your Kryll account by creating a new API key. A tutorial is available here.
Note: Don't forget to delete your old Binance API key added to your Kryll account before adding the new one.
Conclusion:
By creating this new account using the link below you will save 20% on all your Binance fees, regardless of the type of trading used (spot, margin, etc.) and/or the trading platform used.

Here is an example of what 20% can represent over a year of trading.



YOU WIN $180 on a strategy!
The strategy has a result of 1.05 BTC
Binance fees are 0.178 BTC
With a 20% discount the fees are now only 0.178-0.034 = 0.144 BTC
Your Binance fees are 0.144BTC instead of 0.178BTC, you save 0.034 BTC or $180 on this strategy!

Website : https://kryll.io
Twitter : @Kryll.io
Telegram : https://t.me/kryll_io
Discord : https://discord.gg/PDcHd8K
Facebook : https://www.facebook.com/kryll.io
Support : [email protected]