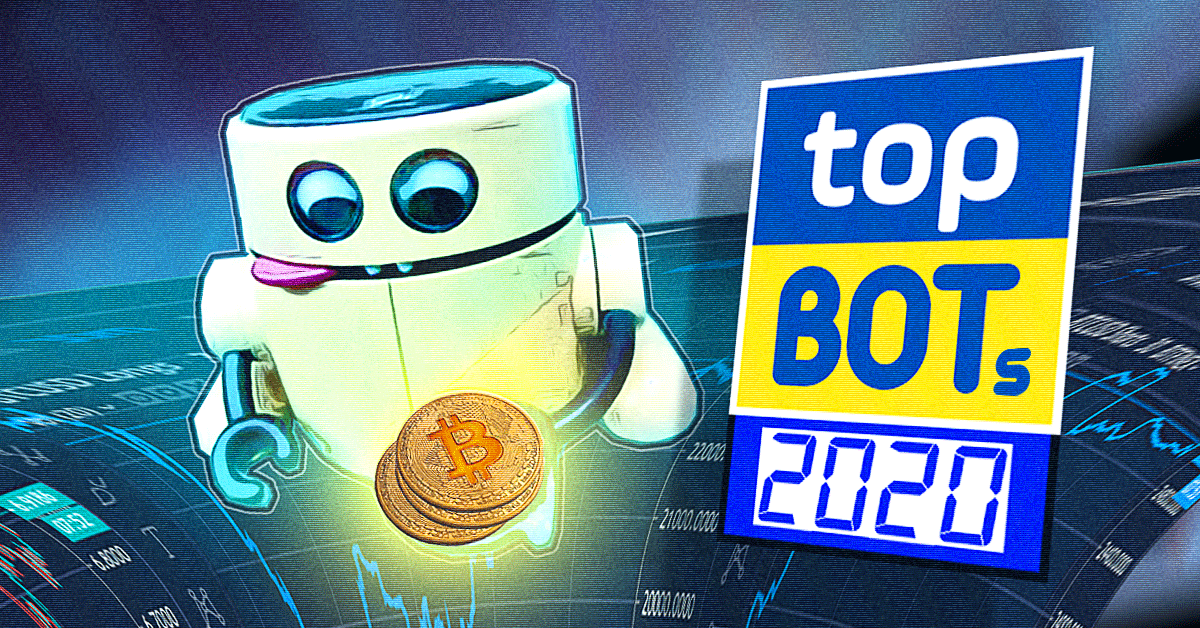 Cryptocurrency trading can be time consuming, whether you are an amateur or a professional trader, you must always be close to your computer or smartphone to follow the evolution of the market in order to avoid unpleasant surprises.
Without forgetting the differences in time zones that sometimes force you to get up early or stay up very late to make your trades at the best time. Historical markets have already understood this problem and a multitude of trading "bots" already exist.
Many services now offer automated trading systems adapted to cryptocurrencies but it is not easy to find your way around. Each bots service has its pros and cons. We will see in this article which are the best Bitcoin trading bots in 2020.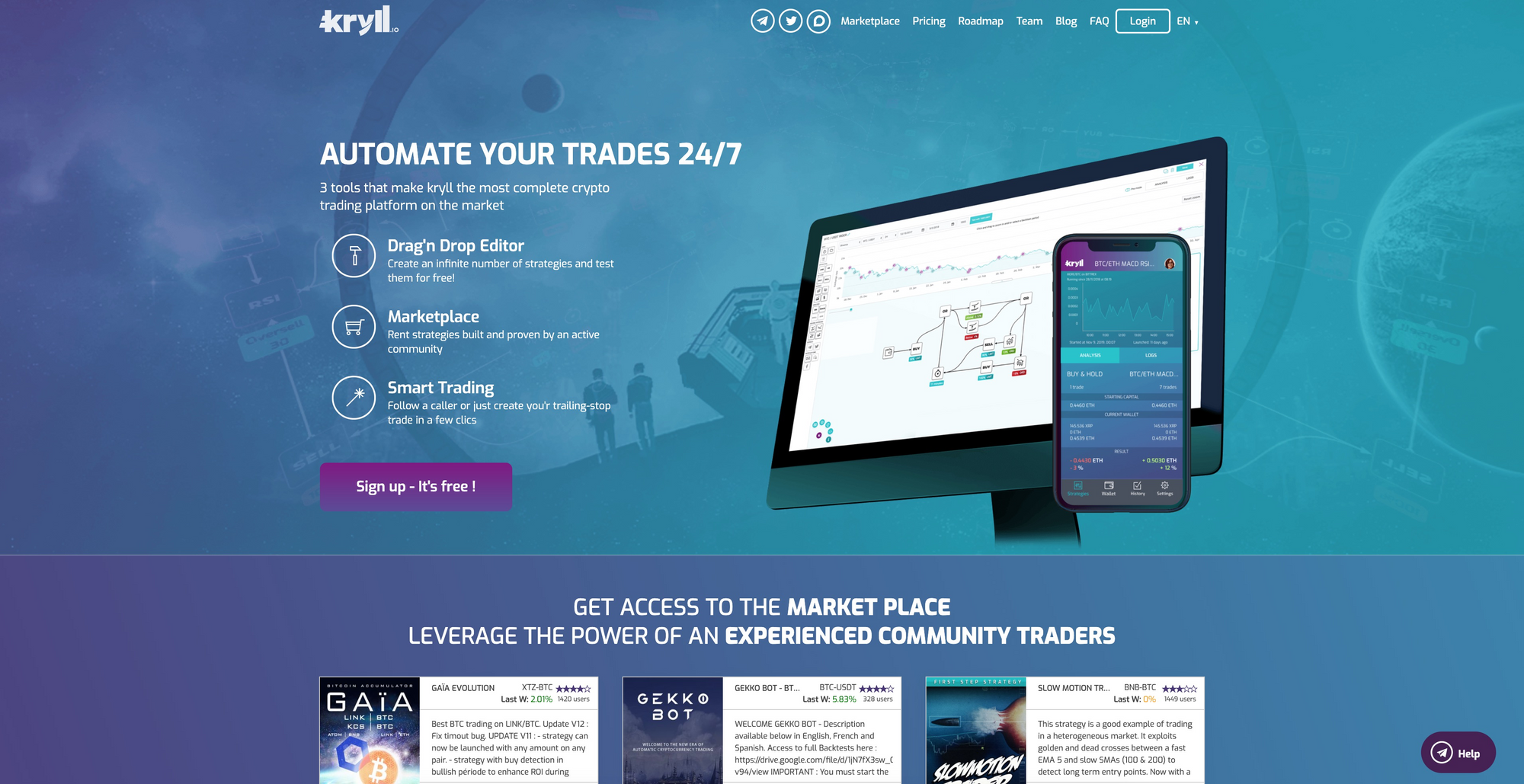 The Kryll.io platform allows you to create crypto trading strategies without any programming knowledge thanks to a visual interface where you can move blocks with a "drag & drop" system. You can find basic blocks of shares such as buy/sell actions or technical blocks (RSI, Ichimoku, MACD, Candle pattern). This feature is aimed at both amateur and professional traders who will find on the platform the necessary tools to create trading strategies.
The platform also offers a marketplace of strategies already created by traders, tested and rated by the community, which can be used by anyone in just a few clicks. The creator of the strategy will then be remunerated for each use of its strategy thanks to a rental system.
A "Smart Trading" feature is also present and allows to set up "Stop Loss/Take Profit" actions, "Smart buy" a dynamic order that does not buy as long as a crypto goes down to optimize its entry or the "Smart Sell" which on the contrary does not sell as long as the crypto goes up to optimize its exit (sell).
As far as pricing is concerned, this is a pay-per-use system (0.0333%/day of the current capital, e.g. for a $200 strategy = $2/month), no subscription is required. A KRL token holding system also allows you to benefit from discounts on platform fees (up to -95%!).
Supported exchanges: Binance, Binance US, Kraken, Bittrex, Liquid, HitBTC, Kucoin (and more to come)

Pros ✚
Allows you to create trading strategies for free and without programming knowledge using blocks.
Free and unlimited backtesting (up to 6 years).
Nothing to install on your computer, everything runs in the cloud 24/7.
Marketplace that allows you to choose from a multitude of ready-to-use strategies.
Possibility to monetize your own strategies.
Large English, French and Spanish community.
Pay-per-use pricing, no subscription required.
KRL Token Holding Program to benefit from discounts on fees (up to -95%).
Swap feature to sell your cryptocurrencies in a few clicks, without logging in to the exchanges.
Mobile application available (iOS/Android) to monitor your strategies.
Reactive support and team always available.
Secure: as the platform doesn't require withdrawal rights on API keys.
Cons ➖
Still a few exchanges supported (even if new ones are added regularly).
Margin not yet available (integration in progress).
2- Gunbot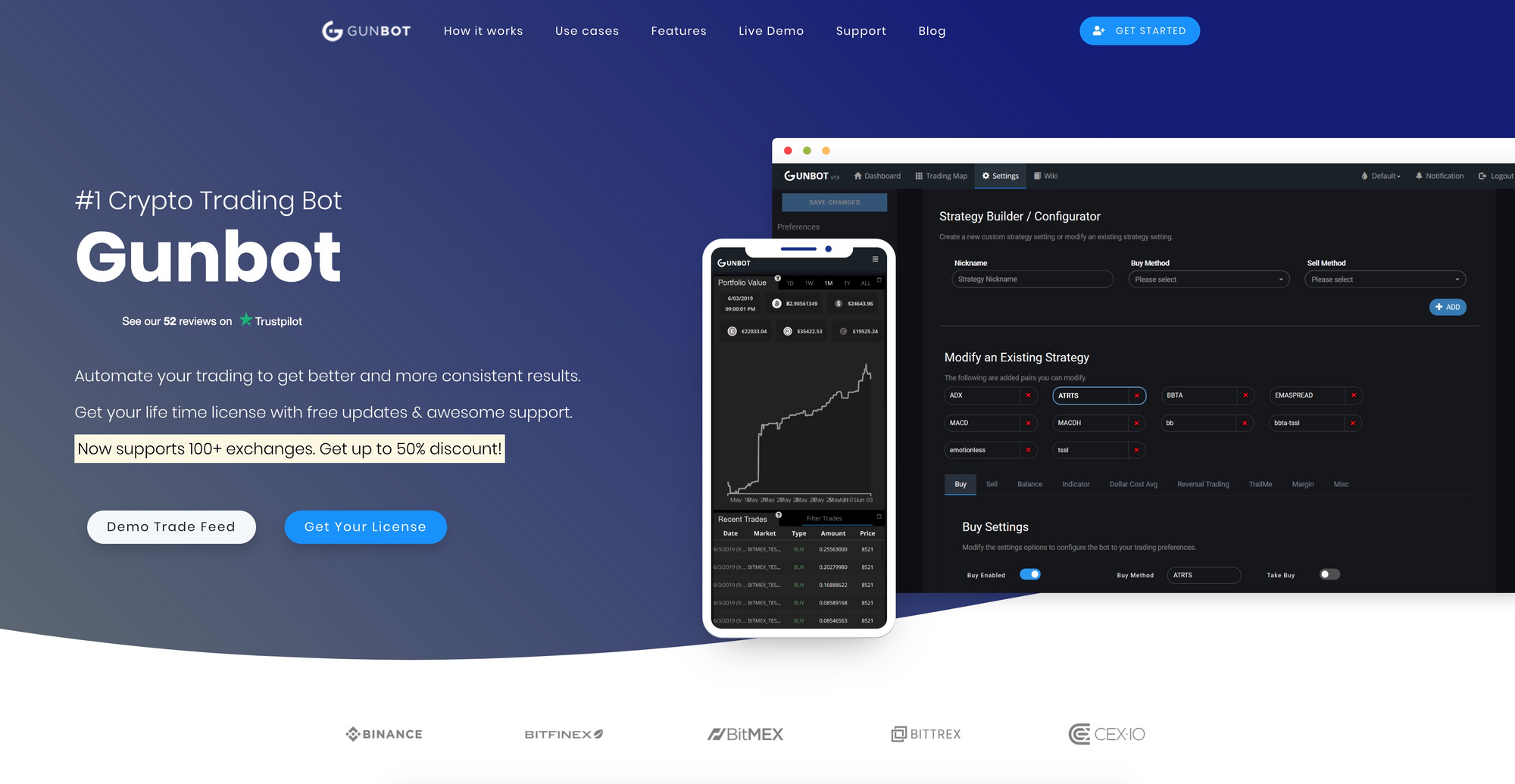 Gunbot is a crypto trading bot that supports numerous exchanges (more than a hundred), it can be installed on your computer (Windows/Mac/Linux) or on a VPS. You can then let the bot monitor the market according to your parameters or according to a catalog of about thirty pre-defined strategies. The Margin option is also available using the Bitmex exchange.
If you are a developer you can also create your strategies using their programming language, which requires an extensive knowledge.
Pros ✚
Supports more than 100 exchanges.
About 30 pre-configured strategies.
Margin trading.
Highly responsive support.
Cons ➖
Can be complex to use for beginners.
Does not work in the cloud, needs to run on a machine (local or dedicated server).
Quite expensive license (between 375$ and 2 345$).
No marketplace.
3- 3Commas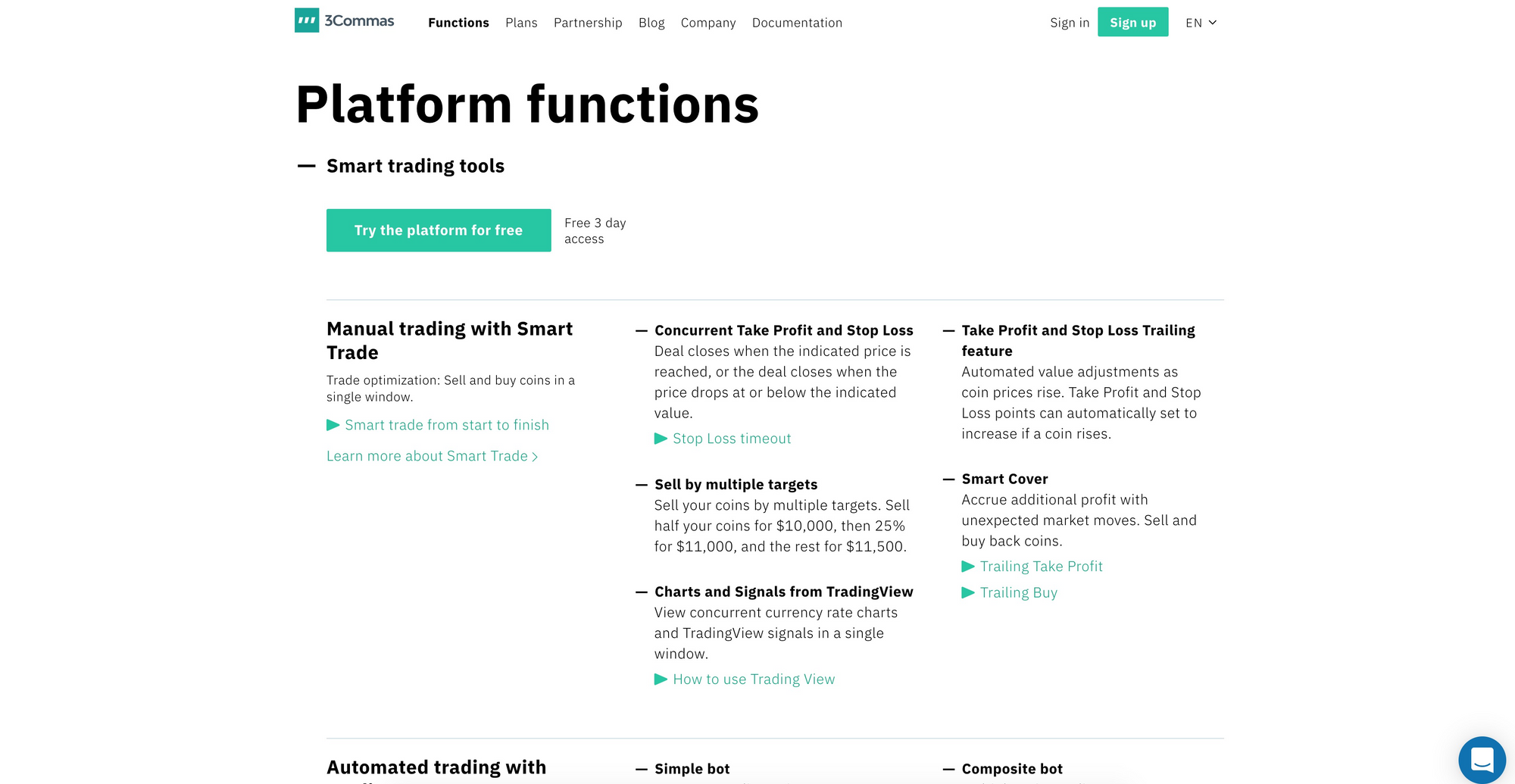 Relatively new in the field of crypto trading bots, the 3commas platform allows to set up trailing stop quite simply. The bots work in the cloud and don't require you to leave your machine running. Another advantage of the platform is that you can trade on several pairs of crypto at the same time.

A Marketplace is also available in partnership with groups providing signals, however an additional subscription is required to access these signals.
Pros ✚
Ergonomic and well thought-out platform.
Grid trading in beta.
Signal Marketplace.
Numerous exchanges supported.
Cons ➖
Not for beginner traders.
Subscription system a little expensive (between 29 and 99€/month).
Marketplace signals require an additional subscription.
More and more exchanges are starting to offer the Trailing-Stop free of charge.
4- Gekko Bot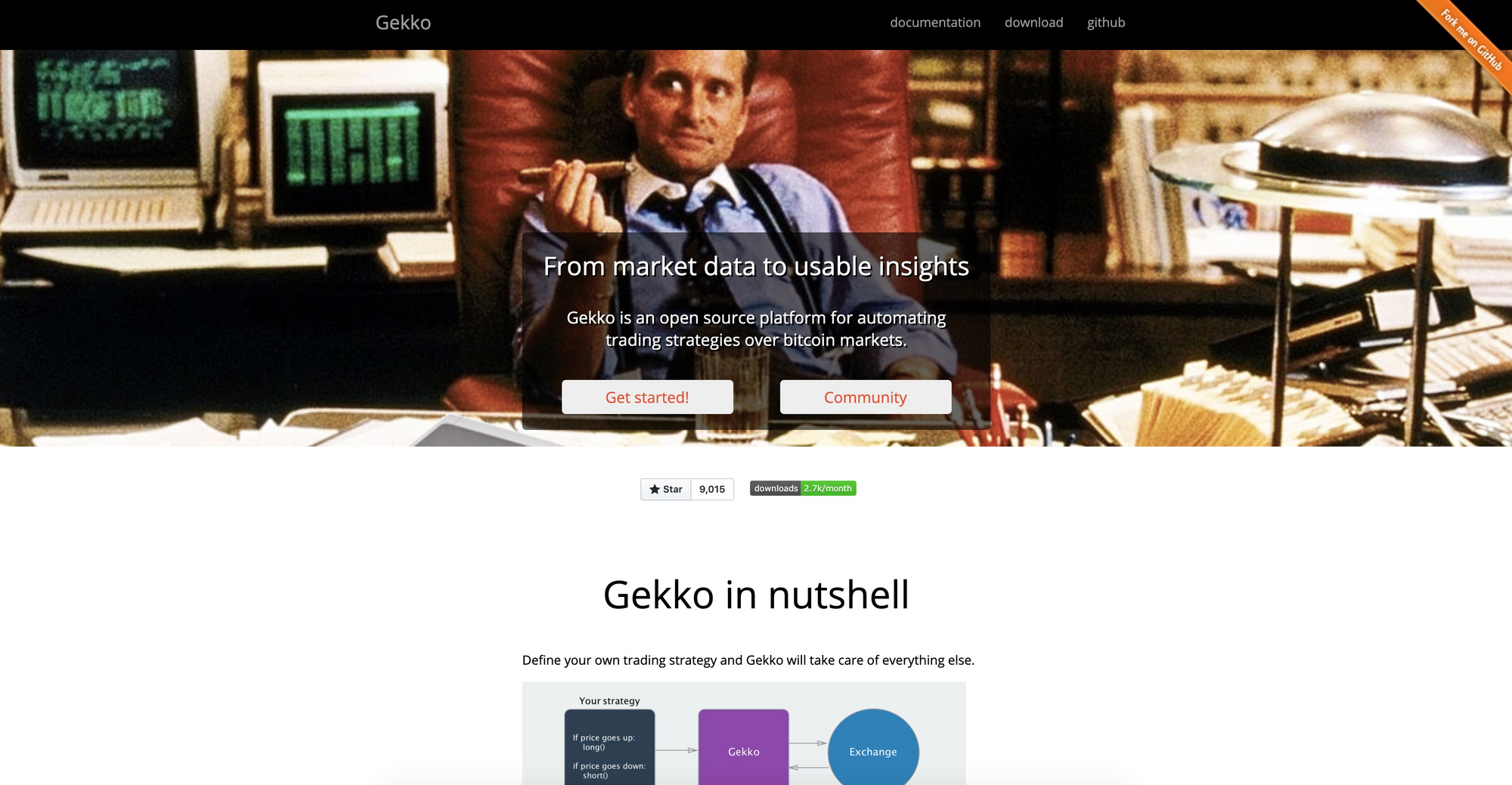 Gekko is one of the most used bots in crypto trading, this is due to its free and open source distribution. It supports about fifteen exchanges including the main ones (Binance, Bitfinex, Kraken, Gdax). It is available on the main platforms (Windows, Mac and Linux).
The ✚
Free and open-source.
Supports major exchanges.
Regularly updated by many developers.
The ➖
Demanding installation and handling.
Not suitable for beginners.
Complex backtest (you have to get the data by yourself).
5- Cryptohopper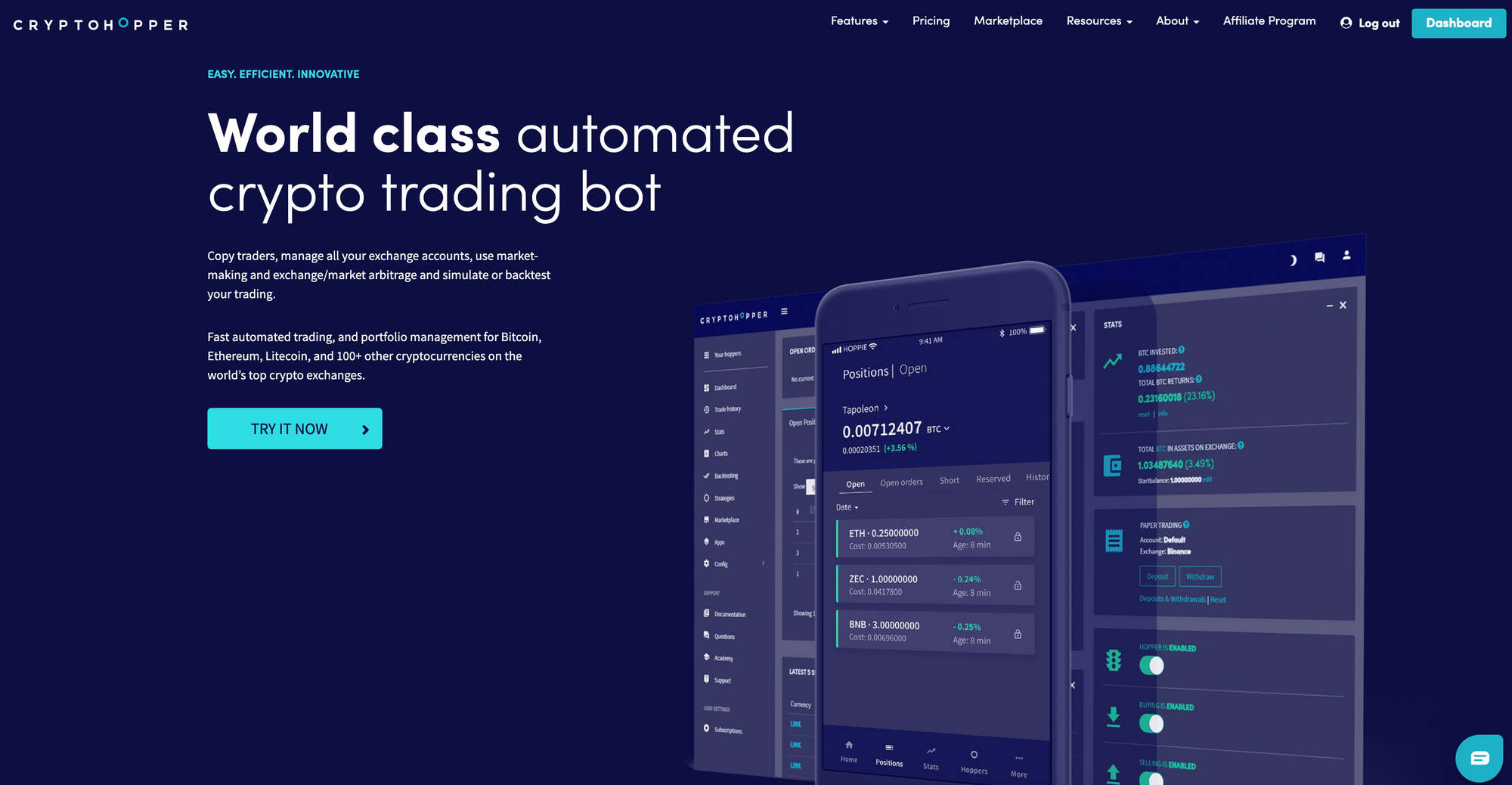 The Cryptohopper automated trading platform offers a wide range of tools. Whether for trading strategies, arbitrage between exchanges or for tracking signals from experienced traders. Nothing to install, everything is running in the cloud.
It supports the main exchanges such as Binance, Huobi, Kucoin, Bittrex, Coinbase, Poloniex, Kraken and Bitfinex.
The ✚
Strategies' Marketplace.
Support main exchanges.
Neat interface.
Arbitrage function available.
iOS/Android app.
The ➖
Marketplace is a little empty.
Basic subscription a little bit poor in features, needs to switch to a more expensive subscription to unlock the arbitrage feature.
Team behind the platform is anonymous.
Other bots are also available

Haasonline
Haasonline offers a bots platform with many options such as Advanced Order Types and the ability to trade using signals from Discord or Telegram. A wide range of exchanges are supported. However, the platform is still quite complex for beginners and does not offer a marketplace.
CryptoTrader
Cryptotrader offers a marketplace with many bots created by traders. An SMS alert system is present and it is also possible to margin trade. A backtest option allows to test the past performance of the bots. The interface is nevertheless quite outdated and the limitations are too numerous (1 bot and $1000 of capital max for the first level of subscription at $16/month) unless you switch to the most expensive subscriptions.
That's it!
Website : https://kryll.io
Twitter : @Kryll.io
Telegram : https://t.me/kryll_io
Discord : https://discord.gg/PDcHd8K
Facebook : https://www.facebook.com/kryll.io
Support : support@kryll.zendesk.com