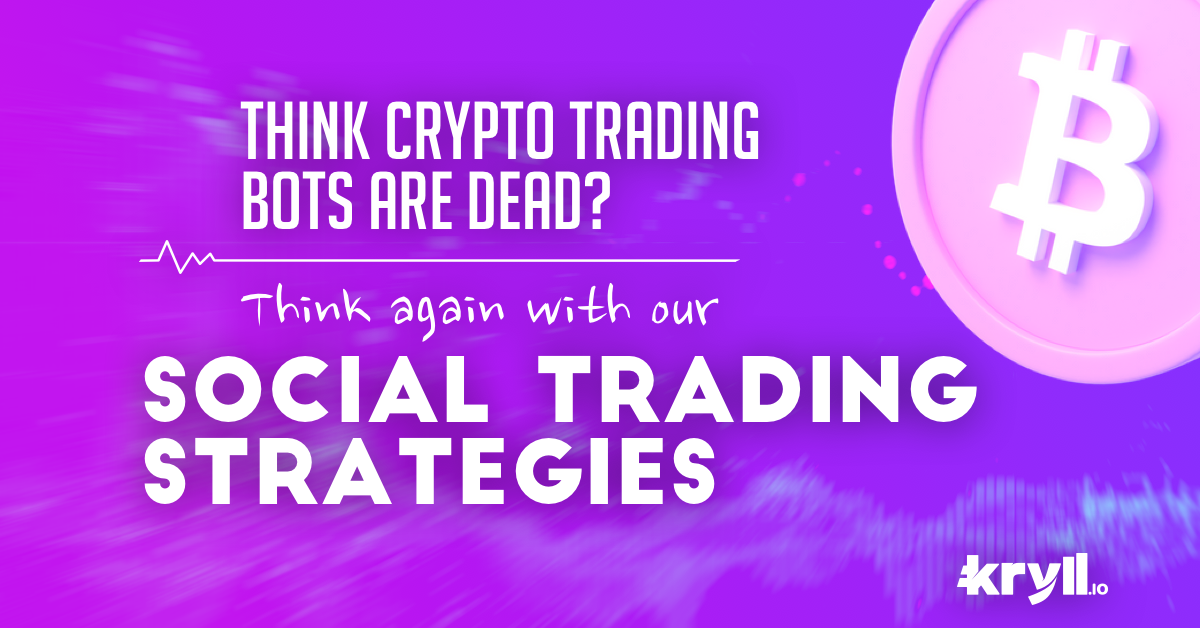 Learn how to combine crypto trading bots with social trading strategies for a powerful way to approach the markets and reduce your risk at the same time.

The explosion in cryptocurrencies over the past decade has led to masses of new traders entering the markets, all looking to make dramatic profits. However many of these new traders don't really understand the markets, which is a huge dilemma. How can you profit from market movements unless you understand how to find winners in a volatile market? Kryll has the answer - automated crypto trading bots combined with social trading strategies.
Learn how you can fully automate your trading strategy with this powerful combination.
Crypto Trading Bots
It's easy to imagine the first image many people get when the phrase "crypto trading bots" is mentioned. It is one of a cold, metallic dead robot using its artificial intelligence to trade crypto markets. However, that's not quite right.

A crypto trading bot is simply an automated trading strategy using technical analysis. These "bots" can be created by anyone who is familiar with technical analysis, and who has a market beating strategy. The downside is that those unfamiliar with trading and technical indicators can quickly become frustrated when trying to automate a trading strategy using bots.

What if there was an easier way? That's where social trading enters the picture.
Social Trading Strategies
Social trading, also known as copy trading, is a method where a trader, often one who is fairly new to the markets, uses strategies and crypto trading bots created by others. It's a way to leverage the knowledge of the crowd, allowing successful traders to share their strategies and giving new or evolving traders access to winning trading strategies.

While social trading can help make immediate profits from the markets it is also a valuable way for new traders to learn about algorithmic trading, technical analysis and indicators, and potentially how to create their own automated trading strategies - aka crypto trading bots.
Never at a Loss
That doesn't mean you'll never have a losing trade when using social trading with crypto bots. You will have losses, but if you follow the trades of the most successful bots, those losing trades will be far more likely to result in winning trades. Just look at the results of a few of the social trading strategies currently in the Kryll marketplace:
And remember, these results are being achieved during a bear market, when many traders are happy to simply protect their capital. Using the power of social trading and successful trading bots you can not only survive the bear market, you can actually thrive.

Never at a loss means you'll never be at a loss for what to trade, because you'll have over 280 verified strategies, created by successful traders, to choose from at any time.
Bringing the Bots to Life
It's never been easier to get started in crypto trading now that Kryll gives you access to so many strategies. Simply find the strategies that match your own trading goals and follow along with the trades. And when you gain more experience you can use the simple, intuitive Kryll Drag & Drop editor to create your own powerful trading strategies.

The easiest way to see exactly how you can bring the bots to life is to register for a free account and start exploring the possibilities offered by social trading and crypto bots.

Happy Trading,
Website : https://kryll.io
Twitter : @Kryll.io
Telegram EN : https://t.me/kryll_io
Telegram FR: https://t.me/kryll_fr
Telegram ES: https://t.me/kryll_es
Discord : https://discord.gg/PDcHd8K
Facebook : https://www.facebook.com/kryll.io
Support : support@kryll.io