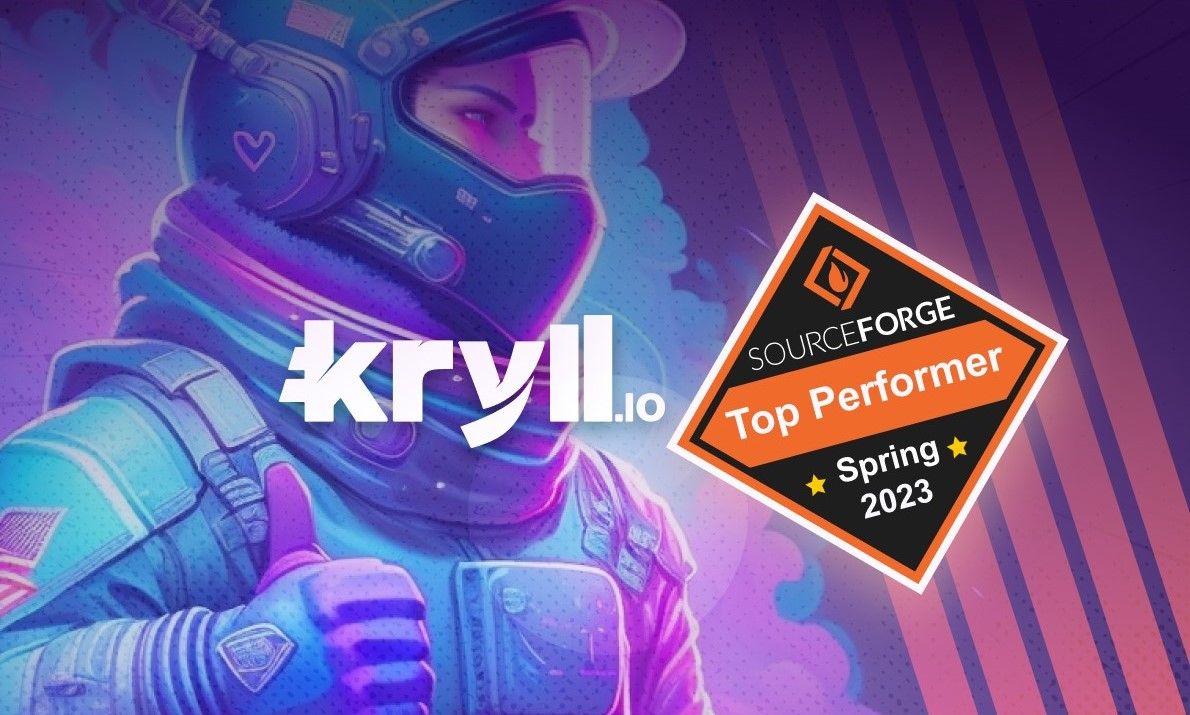 Kryll is a winner of the Top Performer award from SourceForge, the world's largest software reviews and comparison website.
May 2023 – Kryll has been awarded a Spring 2023 Top Performer Award by SourceForge, the world's largest software and services review and comparison website. This award recognizes exceptional companies and products with a significant amount of recent favorable user reviews that puts them in the top tenth percentile of highly reviewed products on SourceForge.
"We're happy to announce this year's outstanding Spring 2023 Top Performers" said SourceForge President, Logan Abbott. "Kryll showed that their users love them, as evidenced by the significant amount of outstanding user reviews."
To win the Spring 2023 Top Performer award, each winner had to receive enough high-rated user reviews to place the winning product in the top 10% of favourably reviewed products on SourceForge, which demonstrates the utmost quality that Kryll.io delivers to customers.
CEO of Kryll, Luca Benevolo explained: "At Kryll, we're excited to accept the SourceForge Spring 2023 Top Performer Award. We do our best to provide a best-in-class product, and we're happy to see our users rewarding us with good reviews. We're honored to be valued by our customers and to be recognized by SourceForge. This award not only validates our commitment to delivering exceptional crypto trading tools and automation, but it also motivates us to keep innovating and enhancing our platform for the benefit of our users."
About Kryll
Kryll is reshaping the trading world with its intuitive, powerful tools for traders of all skill levels. The platform optimizes trading strategies and integrates Webhooks for real-time data exchange between apps. The Kryll Bot Marketplace, accessible to KuCoin users, is a hub for top-performing crypto bots tested and reviewed by real traders.
Users can build robust trading bots without coding via Kryll's Drag'n Drop interface. The advanced tools let you incorporate popular indicators like MACD, RSI, Moving Averages, and more into your trading algorithms for effortless optimization.
Kryll's new additions of Webhooks and TradingView strategy import capabilities make the platform more versatile. These features facilitate the creation and management of trading strategies while enhancing automation and efficiency.
The Kryll Marketplace offers access to the industry's best-performing crypto bots to trade on users Binance, KuCoin, Coinbase and Bybit accounts. These bots, crafted and vetted by real traders, provide unmatched reliability and performance.
The integration of Webhooks and TradingView Automation offers new features like connecting external signals and indicators to your trading strategies. Webhooks enhance trading algorithms by linking to alerts, indicators, AI models, and sentiment analysis tools.
With Kryll.io integration, you can import TradingView strategies, indicators, and signals directly onto your crypto exchange, allowing 24/7 automated trades and boundless trading strategy optimization.
About SourceForge
SourceForge.net is the world's largest software comparison directory, serving nearly 30 million users every month and featuring user reviews, product comparisons, software guides, and more. SourceForge's mission is to help businesses find the best software to fit their needs and their budget. There are a variety of software tools available to businesses, and there are tools in almost every category and niche, each serving a slightly different purpose. SourceForge also powers the Slashdot.org/software/ business software and services directory.
Sign up and start using Kryll today.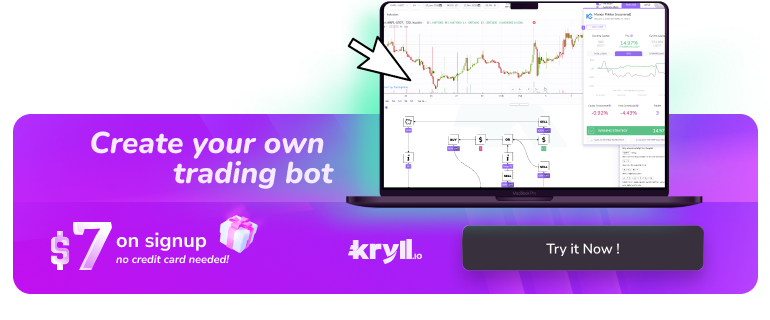 Happy Trading,
Website: https://kryll.io
Twitter: @Kryll_io
Telegram EN: https://t.me/kryll_io
Telegram FR: https://t.me/kryll_fr
Telegram ES: https://t.me/kryll_es
Discord: https://discord.gg/PDcHd8K
Reddit: https://reddit.com/r/Kryll_io
Facebook: https://www.facebook.com/kryll.io
Support: support@kryll.io