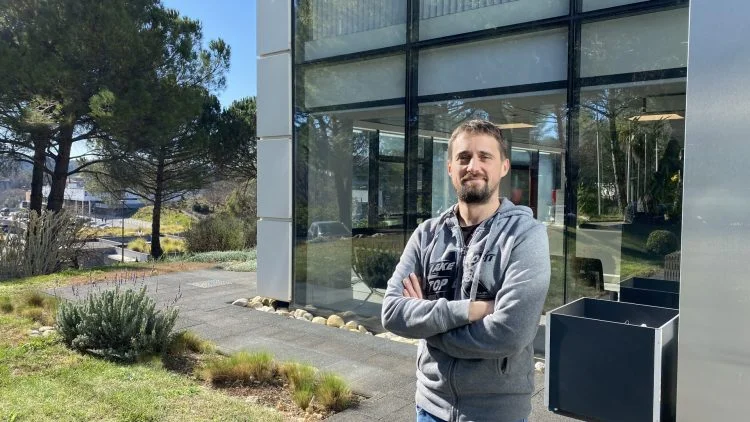 Original post : https://www.forbes.fr/entrepreneurs/kryll-io-la-plateforme-francaise-qui-democratise-linvestissement-en-crypto-monnaies/
With his company Cryptense, Luca Benevolo is at the heart of a trading revolution. Immersed in blockchain technology since 2015, he created and then released Kryll.io. This intuitive and visual platform, designed to quickly produce automated trading strategies, uses the most reliable analytics and intelligence tools. It meets the needs of the new generation of traders, whose battlefield is crypto-currencies.
How to manage a portfolio in a universe that evolves in an unpredictable and volatile temporality? How to set up a constant monitoring? The challenge was daunting, and the one who would bring his solution (as much as the one who would use it) would win the bet. There was also the need for a tool that would be accessible to beginners and professional traders alike, to appeal to novices and experts alike. Not to mention, a community, interactivity and power. The Kryll.io platform offers all this and more. This is what propelled the young French company on the international markets, and what explains its exponential growth, still in progress.

Luca Benevolo, CEO and founder of Cryptense, looks back on his journey, his entrepreneurial desires and his company's upcoming developments.

How did you become an entrepreneur in blockchain?
Luca Benevolo: I grew up in a family where a sense of independence and responsibility was part of the education and values. After studying software engineering at the University of Côte d'Azur, I joined Médiamétrie-eStat where I was soon in charge of the R&D team.

Passionate about technology and with an entrepreneurial temperament, I wanted to fly on my own and launch myself into entrepreneurship.I embarked on this adventure with several former colleagues, including Philippe Longère, the current CTO of Cryptense. We created Moving Player, a video game studio specialized in the development of console games. I learned a lot from this experience, especially during collaborations with industry giants like Microsoft, Nintendo and Sony.

Interested in blockchain technology, Philippe and I met several people in PACA who were also interested in this revolution. Very quickly, a new project and new opportunities opened up to us. This is how "Cryptense", the company that publishes Kryll.io, was born.

How did your Kryll.io project develop?
Cryptense's original goal was to develop the use of blockchain in the Sophia-Antipolis technology park. The three pillars of this initiative were to participate in the securing of blockchain transactions (i.e. mining), to provide consulting services to startups and large accounts on crypto/blockchain developments, and to make the assets generated as a result of mining from our transaction security activity grow.

It is with this foundation that Cryptense began to manage crypto-currency assets.However, this management and the inherent trading activity soon proved to be time consuming and stressful, as crypto markets are volatile and open 24/7.

We then came up with a solution for creating and automating crypto-currency investment strategies. Our approach and the tools we wanted to deploy echoed the expectations that a very large part of the crypto-trading community had. Very quickly, a participatory financing in crypto-currency (ICO) was born.

Today, we provide technological solutions that are easy to master for all investors, regardless of their technical knowledge. It is possible for them to create, in a visual way, without the need for development skills or technical infrastructure, trading algorithms, test them and automate them.

Kryll.io's solutions have been built around this central idea: to propose a strategy editor that allows, as with a set of bricks, to build one's own automated investment strategies. These strategies are then connected to the wallets in which the user's crypto-currencies are held (such as the Coinbase or Binance exchange platforms) and executed automatically on our infrastructure.For the less expert, we have developed a marketplace where it is possible to rent strategies designed by other more experienced users from around the world.

Our solution allows users to act appropriately in the management of their investment systems. The movements generated benefit both the crypto-currency platforms and the users who are more responsive to market developments.
This allows them to get the most out of their crypto-currency investments.

What have been your biggest successes with Kryll.io to date?
We have experienced very strong growth in 2021. All of our success metrics have increased by an average of 10 times: number of users, revenue, etc. We have reached the top 3% of crypto-currency projects in the world.

At the end of 2021, our Kryll token (ticker "KRL") was recognized by Coinbase, the equivalent of the New York Stock Exchange for crypto-currencies, the world's largest exchange. This integration into the Coinbase platform reinforces our international development and makes us visible to 43 million users in a hundred countries. Today, only two French companies (Kryll and iExec) have successfully completed thisintroduction.

Cryptense is present, via its token Kryll, on 40% of the main crypto-currency exchanges. Our solution allows users to place buy and sell orders on the top ten crypto exchanges in the world.We also doubled our team in early 2022. Finally, we have entered into new partnerships with several industry leaders like Binance, Bybit, Gate.io, Changelly, to increase our visibility.

What advice can you give to a crypto investor?
My advice is always the same: like any volatile investment, only play what you are willing to lose and diversify your investments to limit the risks. Solutions like Kryll.io can help you manage this type of strategy simply and automatically.

Luca Benevolo has big ambitions for his company and his investment platform. The success of his company encourages him and his partners to constantly improve and expand their fields of action.
In addition to working on a continuous optimization of the experience and user satisfaction of Kryll.io, he plans to deploy on the main crypto-currency exchanges and to continue its growth in Europe & beyond. In the medium term, he announces an internationalization in the United States and Asia in order to bring his solution to as many people as possible.
Translated from the article by M. Vincent DAFFOURD from Forbes.fr
Happy Trading,
Website : https://kryll.io
Twitter : @Kryll.io
Telegram EN : https://t.me/kryll_io
Telegram FR: https://t.me/kryll_fr
Telegram ES: https://t.me/kryll_es
Discord : https://discord.gg/PDcHd8K
Facebook : https://www.facebook.com/kryll.io
Support : support@kryll.io