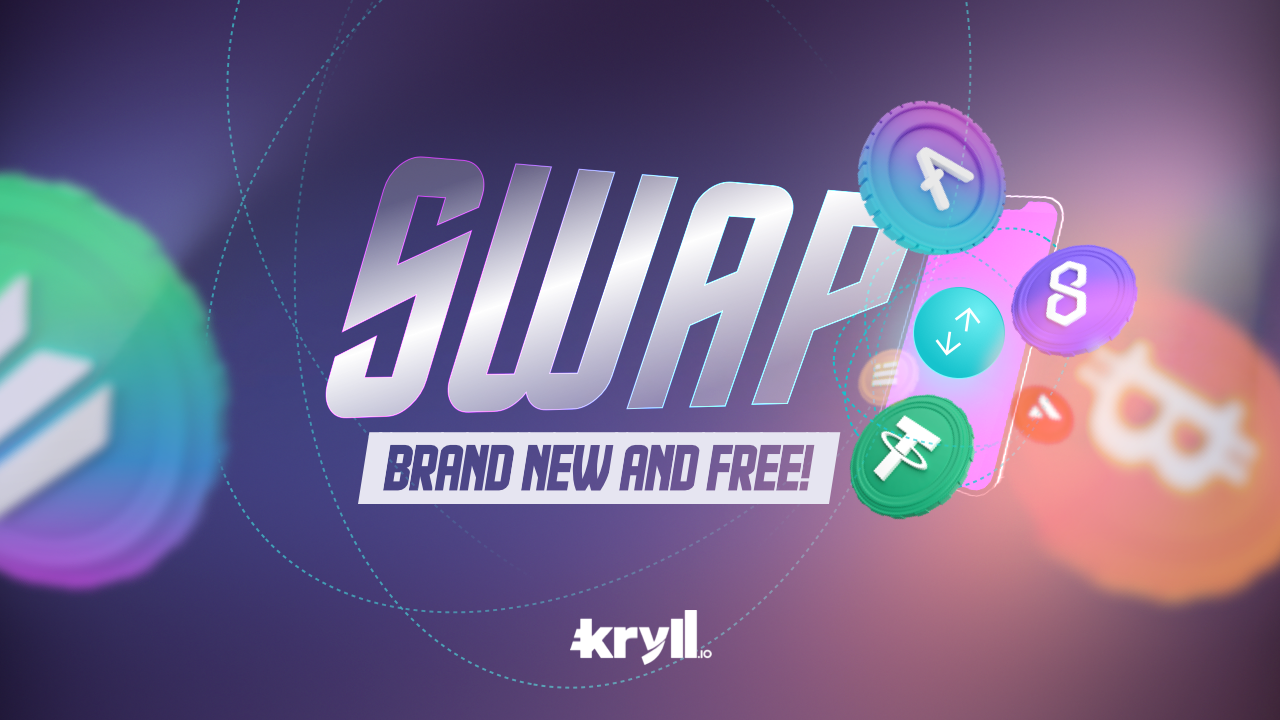 The long awaited new feature on the mobile application is finally here. The Swap is now directly available from the Kryll application (mobile & web).  

The Kryll.io team has presented you the new mobile application and more recently added the "Hide & Share" and "Stop & swap" options. Today the Swap makes its entry on our mobile application which is available for mobiles.
A Multi-Exchange Swap in the Palm of your Hand

Direct link to the Swap function: https://platform.kryll.io/swap
The goal of Kryll.io is to offer you more accessibility and ease. Thanks to this new feature you will be able to swap your tokens on your favourite exchanges, quickly without rushing to log in to multiple exchanges.
Change your USDT to SHIBA, or your DOGE to BTC in a few clicks, from anywhere for FREE*!
The main advantage of swapping your tokens from Kryll.io is the safe central management of all your exchange wallets, so you will be able to swap your tokens, (like for example Luna in full crash) directly from your mobile application quickly. No need to go login to each exchange separately, no need to enter your 2FA keys, there's no more wasting time with this function, you are ready to act quickly on any market movement.
As usual, our community is at the heart of our actions, so this long awaited feature is now available on Kryll.io app by updating yours on the stores.

Swap is also available on the Web Platform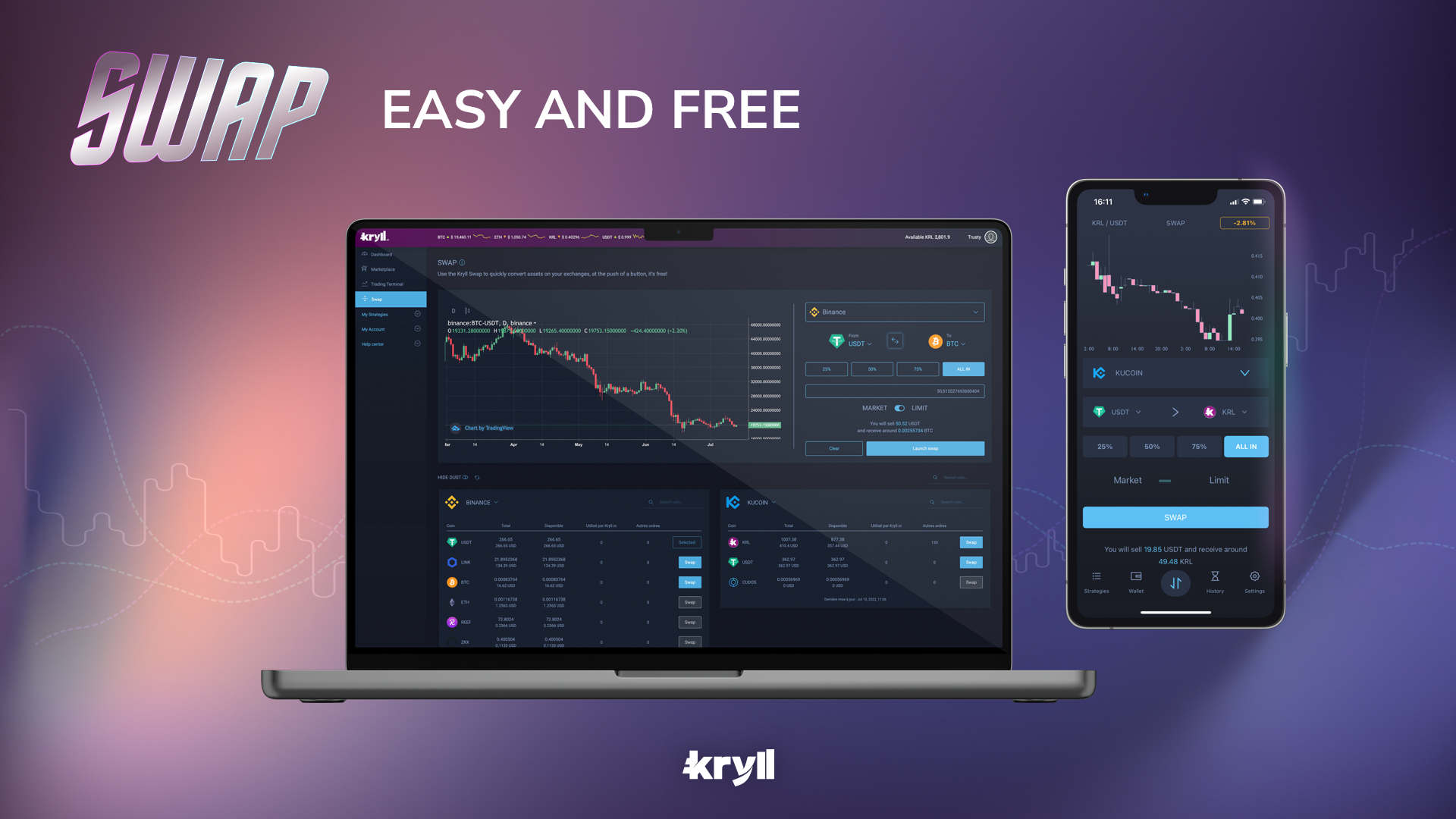 The swap function was already present on our web platform Kryll.io, so we took the opportunity to update the design of the Swap and make it even more simple and ergonomic. With a simple click you will be able to choose to swap between a considerable number of cryptocurrencies, quickly, simply and most importantly for FREE*.
🎁 The Swap becomes FREE!
Yes, like mobile swap, swapping on the Kryll.io platform is completely free for all Kryll's users, no matter how many tokens you swap or which pair you swap, swapping is 100% FREE* on Kryll.io.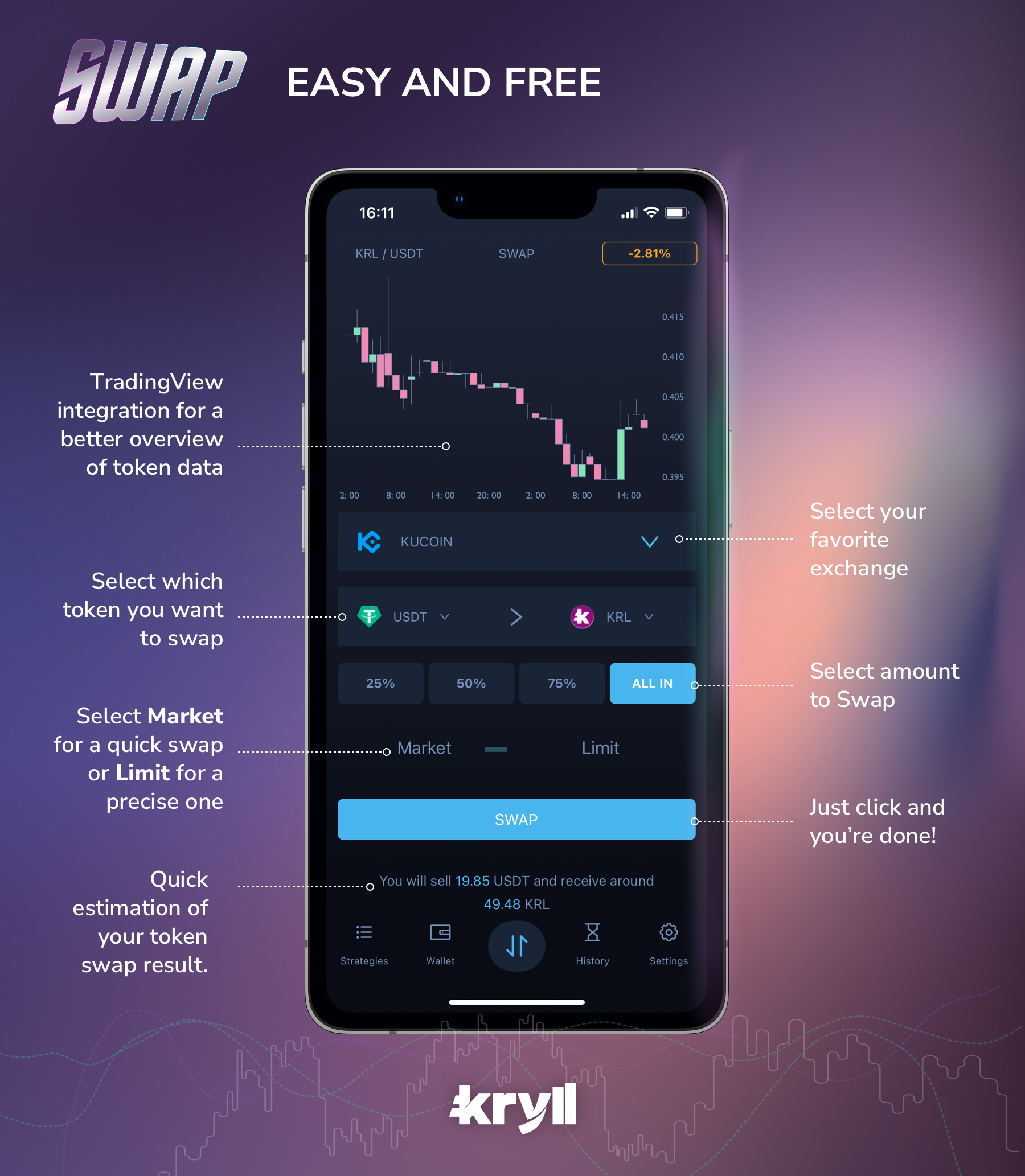 Get 20% off your fees if you or even your friends and family join Binance via our referral link
*Free on Kryll, but your chosen exchanges trading fees still apply.
Stay tuned on our social networks to participate in future surveys and be part of the evolution of Kryll.io.

Happy Trading,
Website : https://kryll.io
Twitter : @Kryll.io
Telegram EN : https://t.me/kryll_io
Telegram FR: https://t.me/kryll_fr
Telegram ES: https://t.me/kryll_es
Discord : https://discord.gg/PDcHd8K
Facebook : https://www.facebook.com/kryll.io
Support : support@kryll.io