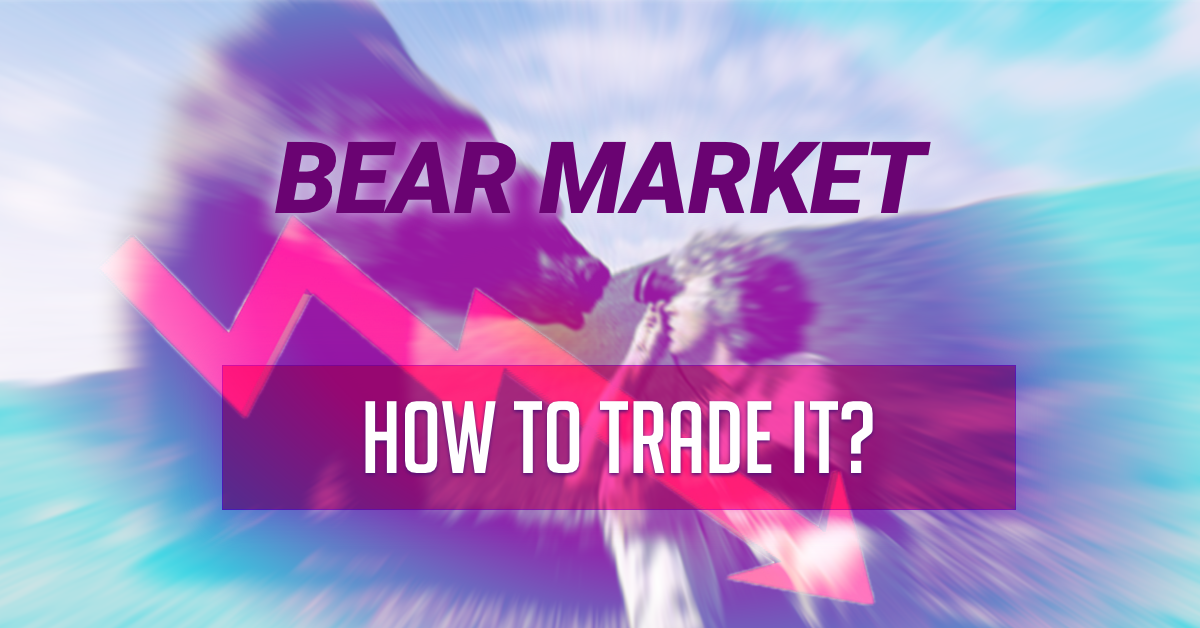 During a bear market, apart from investing regularly in the same crypto throughout the descent to smooth out losses or trading safe havens such as gold, there is no other choice than "Futures" that allow us to trade on downward trend with potential gains more consistent.
So let's take a look at some of the mechanisms to get out of this potential Bearmarket that is threatening the cryptocurrency market.
What is a Bearmarket?
According to Investopedia, bear markets are often associated with declines of 20% or more in an overall market or index such as the S&P 500 (Bitcoin in our case) from their recent highs and over an extended period of time usually two months or more.
The previous definition can be adapted to the cryptocurrency markets knowing that since the recent high in April on Bitcoin price(after 6 months of rise), we have a drop of almost 50% (from $65,000 to $32,000 this July 23, 2021 ).
Should we be afraid of this Bearmarket in the long run?
Historically bitcoin and crypto in general only go up (see this link for more details) and many bitcoin investors remain confident and don't all bet on the collapse of BTC.
Let's see how we can try to minimize losses and even make gains in this bearish period.
Trading in the bearmarket
How to trade during a strong decline in the "normal" Spot market which offers fewer opportunities than the bull market? However, there are two solutions that we will study here:
Special Kryll "Bearmarket" strategy in Spot
Trading in Futures and "betting" on the downside
Kryll special "Bearmarket" strategy in Spot:
The picture below shows a modest, but not insignificant gain over the entire 2018 bear market when most investors had capitulated from $20,000 to nearly $3,000 by December 2018 for the price of Bitcoin.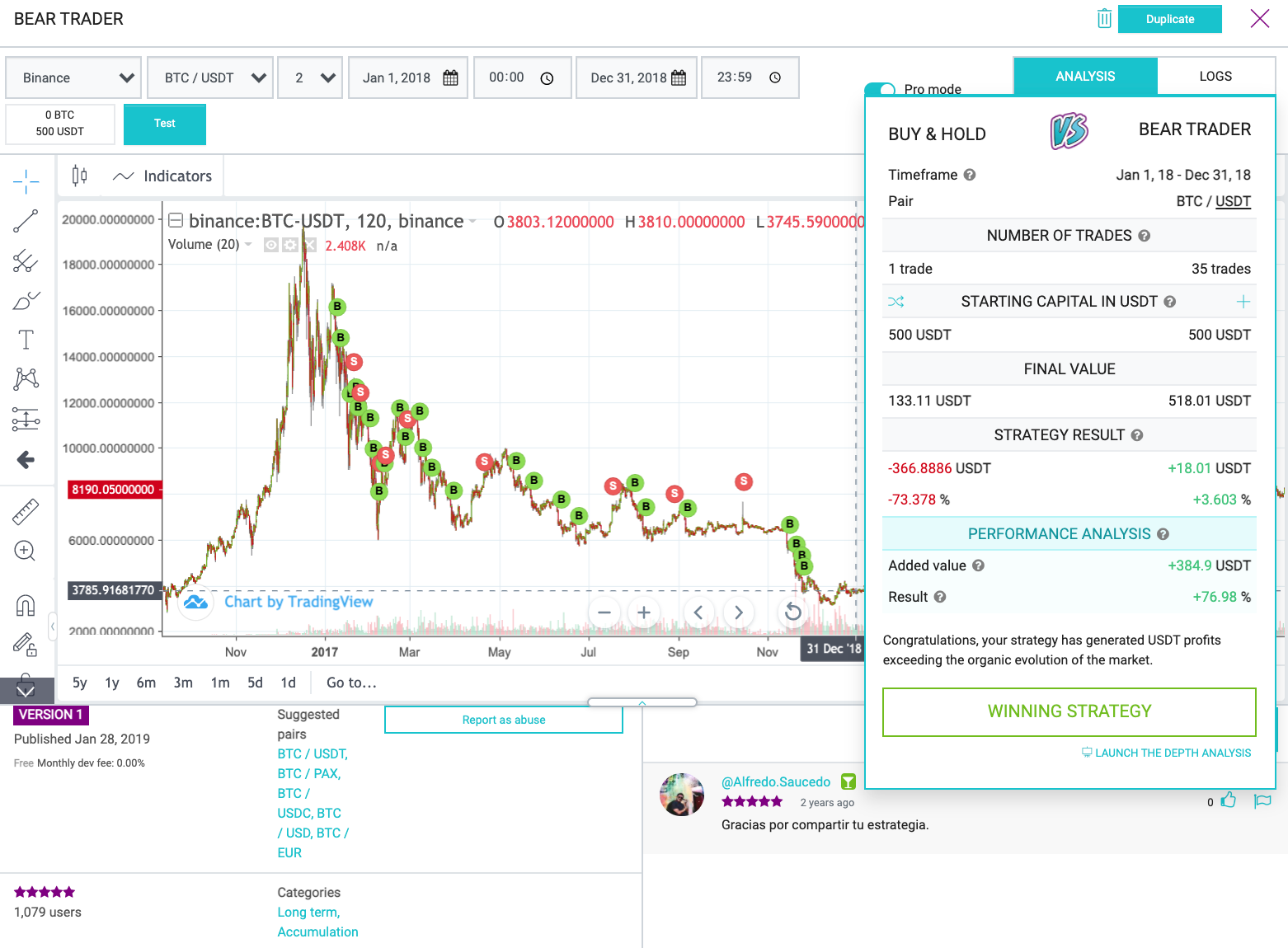 This result thus shows the potential of a Kryll strategy to take such a fall without being closed to a resumption of an uptrend by adding the right blocks...

This type of strategy has the potential to counteract the downtrend, but does not allow for significant gains as long as the overall trend is down.

We can therefore "fall back" on Binance Futures which are more profitable in Bearmarket than in Spot
Trading futures
To complete the special Kryll "Bear market" strategy in Spot, we can also trade in Futures.

As a reminder, Futures platform allow you to borrow up to 125 times your starting capital in order to trade with leverage and maximize your gains:
When buying (LONG), you bet on the rise of a coin with the objective of reselling it at a higher price than the initial purchase
When selling (SHORT), we bet on the decline of a coin with the objective of buying it back at a lower price than the selling position at the beginning
The concept and manual management of short/long positions are still difficult for you?

Don't panic, Kryll offers the Kryll Futures automated strategy rental!
Strategies on the Kryll Futures MarketPlace
It is similar to what is done on the Kryll Spot platform with Publishers (strategy creators), recommended coins and a whole community behind each strategy.

This is perhaps the easiest way to take positions on futures in an automated way with Kryll and for a controlled budget since Kryll offers you the free (limited time offer) of the Beta futures platform: you will only pay the fees on the exchanges.
Example of strategy in long position
The advantage of futures strategies is that they can be used for both long and short bets and are therefore effective in both bull and bear markets.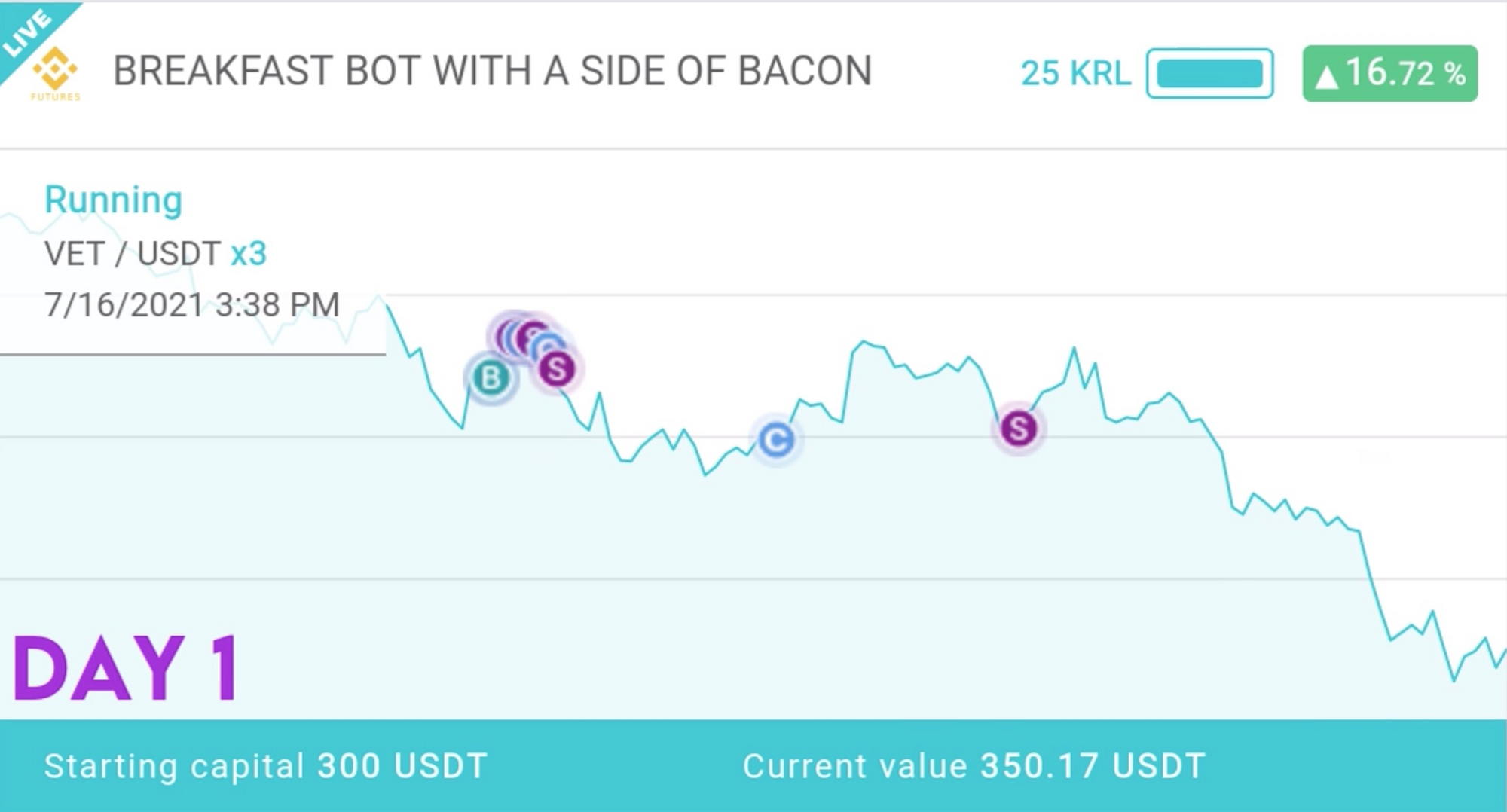 The Kryll Futures platform is currently undergoing beta testing with users (see registration link below).

For more information on futures, feel free to read this comprehensive guide at Binance.
Note that each Kryll strategy has a limited range of levers and tailored to make the user experience the best, but if in doubt, you have the main support Telegram group for questions. A support channel for each strategy is also offered (link in the strategy description).

N.B: No limitations of levers on your own "future" strategies that you can create in the editor mode.
Another tool is available and has already been mentioned in another article
"Terminal Trading" for those who want maximum control with target sales

Terminal Trading
For the initiated or slightly more advanced beginners, the terminal trading tool currently available in "Futures" can automate its trading plan.
You can program a price entry and sales targets (or buyback targets for shorts) to be reached without forgetting your Stop-Loss threshold which allows you to give yourself a limit on what you are prepared to lose if your plan does not go according to plan.

Take 5 minutes to discover Kryll's Trading Terminal with the following video(add English Subtitles)
Conclusion
We have seen that the opportunities in the futures market are not only greater in a bull market, but also in a bear market as opposed to the spot market...

Kryll answers this demand! Always in the spirit of automation "Don't trade your Life away", Kryll has adapted, streamlined and ergonomic tools for users. As for the main platform on the Spot market, we have strategies for rent on the Kryll Futures Marketplace, the terminal trading for those who are more comfortable with a trading plan and their goals.
The more experienced will not only be able to create and monetize their strategies on the Kryll Futures Marketplace, but they will also be able to share and monetize their calls for users to follow their trades.
As a reminder, a Telegram support(main) group is also available here for Futures. The opportunity for users to ask additional questions after reading the description of the futures strategy with link to the more specific dedicated user support.

Kryll futures is already available in beta via the access form included in this tutorial which presents the Trading Terminal via: this link
Happy Trading!
Website : https://kryll.io
Twitter : @Kryll.io
Telegram EN : https://t.me/kryll_io
Telegram FR: https://t.me/kryll_fr
Facebook : https://www.facebook.com/kryll.io
Support : support@kryll.io